Located on 60 County Route 20, Oswego, NY in back of Galletta's Greenhouse.
The 2012 season was one of our best. This season saw a crop of highly-eager rookies join the fray, although unfortunately, a few vets had to call full-time racing quits. Hopefully, they'll come back soon, and we'll have even better racing with highly experienced and talented racers week in and week out!
---
6/10/2012: 17th Annual Opener
Posted on June 13th, 2012 by ChrusherComix Studios
SUNDAY, JUNE 10TH, 2012: As most of our fans, followers and racers know, our season usually starts the first Sunday in June annually. For 17 years, this has been the case, as the founders of the club, Matt and Chris Stevens – work at Galletta's Greenhouse and can't get the karts and track ready until then. Even then, it is reeeaaallly pushing it, and things are always rushed. However, our original date of Sunday, June 3rd, 2012 was rained out (technically, it rained too much on Friday and Saturday for the track to dry out suitably despite a nice day). Then, we hit several snags that delayed us further today, and the race was only half completed, ready to resume before next Sunday's race. Here is the story. with race videos….
---
6/17/2012: 17th Annual Father's Day 45
Posted on June 23rd, 2012 by ChrusherComix Studios
SUNDAY, JUNE 17TH, 2012: That darn Matty-Joey. Matt may not have been the fastest kart on the track. Maybe not even the 2nd fastest. But he was the craftiest, and used his patented slingshot maneuvers to sneak by faster karts and win the 2nd half of the postponed 2012 Opener (that grew to 16 karts), and the 13-kart/45-lap Father's Day 45. He's still the most dominant force in Oswego County karting by far, for the seventeeth year. Here is the story along with race videos…
---
6/23/2012: The Brian Almost Had It 50 60 Lapper?!
Posted on June 25th, 2012 by ChrusherComix Studios
SATURDAY, JUNE 23rd, 2012: That gosh darn it all to heck Matty-Joey. Already he is a class above all Oswego area karters (yes, that includes the other tracks) with his experience and win totals (racing more years that some local racers have been alive, more years than other tracks have been open, and having more wins than countless of the other leading racers combined have), and many have been hard-earned/"damn-it-he's-good" wins, but he wins some where he just doesn't really deserve them as much as another driver… they just fall into his lap anyway! This was another one. Brian Galletta deserved to win this one. He has raced for years – being one of the original members of the club that his cousins founded – with only one regular feature win to his credit (that happened so long ago–2004–most of us forgot about it, including himself, and a second "All-Galletta" race where it was technically a rookie race where he was the only experience driver on the track at the time). He had been fast in prior Klassics. And tonight, he led fifty four of the first fifty-six laps, and at times pulled away from the pack. But then here comes Matt. Now keep in mind, Matt hears the rumors that some people actually have the gall to believe that Matt's karts are just better than the rest and he rigs it. When he hears this, he gets pretty peeved off considering that he often spends more money on and more time repairing everyone else's karts (usually they are slow, and he helps speed them up for them! Yes, that's right… he helps speed up his competition!) and often neglects his own (like in the opener, he gassed visitor's karts while his own was not gassed since last year and he ran out of gas in the lead!). So, he likes to prove naysayers wrong and hops into a kart that everyone else says sucks and can't win. Something that Kyle Reuter also has done. Then he proceeds to smoke them in said kart. Oops, Matt did it again. Here is the tale, with videos…
---
7/1/2012: 17th Annual GKC Independence Day 45
Posted on July 2nd, 2012 by ChrusherComix Studios
SUNDAY, JULY 1st, 2012: WTH. I mean.. seriously. I mean, every week, we know what Matt's going to try to do. And we can't stop him. No matter what kart he drives, he is able to run a lower groove than his fellow competitors, stay out of entanglements, and pick up wins. For the 1st time ever in our club's history, we have the same person win four straight to open the season, and it is the undisputedly winningest karter in the local area and likely points beyond – Matt Stevens (yes, people at the lil' track out back downtown may think they're the $#!t until they look at Matt's track record and that he's been winning kart races since before most of them were born, and before the track they race at even existed. They may even write us off as unsanctioned "yard karts" with weird rules on specs that don't adhere to WKA/NKA guidelines. But just remember… real men don't race in the missionary position… and the ones that do wuss out against Matt, so the locals who do not show up on raceday forfeit by default). If this were any other track, he'd be booed out of town. But, let's step back a bit… it isn't like he is utterly dominating anybody this season – although he has done that in past years. Rather, he is being challenged every race by people the same speed, and sometimes a little more. He just gets to the front being the crafty (and sometimes lucky) lil' driver that he is and keeps taking that checker. How'd he do it this time? That's what this website is for. Here is the story with complete race videos….
---
7/8/2012: Twin 30s Night (w/Father-&-Son Love)
Posted on July 10th, 2012 by ChrusherComix Studios
SUNDAY, JULY 8th, 2012: Father and son – Tim and Justin Galletta – took the eleven-competitor twin-30 features at Galletta's, finally breaking their cousin Matt's furious streak of FOUR straight wins to open the 2012 season. It was (driving his own Galletta #54) Tim's seventh feature win in his four year career, while his son Justin took the Galletta's Greenhouse #7 and secured his second feature win in just his second season. And both look stronger and stronger with each race. Here is the story & vids….
---
7/15/2012: Twin 30s Night – The Brian Finally Got One 60
Posted on July 17th, 2012 by ChrusherComix Studios
SUNDAY, JULY 15th, 2012: Brian Galletta – one of the original members of the Galletta's Karting Club – got his first feature win in eight years by winning the 2nd 30-Lapper in his Plattitude #287 (chassis built by Randy Platt, motor by Matt Stevens). And even though Dave Spanfelner, Matt Stevens, and Chris Stevens all almost took the win in the first feature, it was Melissa Stevens who evaded several spinning and wrecking karts to take it in her Scissor's-n-Fur #19. The complete story is here, with videos….
---
7/29/2012: Justin's Got Soft, He's In Love 45
Posted on August 1st, 2012 by ChrusherComix Studios
SUNDAY, JULY 29th, 2012: After we took a week off (the property owner was not feeling well and we all decided it was going to be better to take a week off for her sake), the racing resumed at Galletta's Speedway for our Annual HarBOREfest Championship. And Softy McSoft Pants Justin Galletta (formerly known as Justin "Hard As F***" Beiber "The Credit Carder" Galletta) couldn't make it because he's in love, so we named the race after him in a loving tribute. And what a race it was, with lots of passing and action. But damn it all… that crafty Matty-Joey Stevens did it again. He just wins, and wins often. Yeah, Matt, you are already the all-time leader in feature wins in all of Oswego County, you don't have to rub it in. Anyways, Mighty Matt, posing here with his wife Melissa, flexed for you all to let you know that you can't beat him. Yaawwwnn… As for the race, here is MORE, plus vids…
---
8/6/2012: "Brotherly Love" – Raindate Make-up Twin-30s
Posted on August 11th, 2012 by ChrusherComix Studios
MONDAY, AUGUST 6th, 2012: Sunday saw a monsoon-like downpour turn turn 2 into a small lake, so the race was postponed for Monday. Another good show was in store, but that crafty lil' Matt Stevens pulled out another win by trapping his fellow competitors behind early-leader Dave Spanfelner and not looking back. The 2nd feature saw Chris Stevens and Joe Sereno battle back and forth, but Joe was able to execute the pass on Adam Lytle for the lead around the half-way point. Then, he broke. Again. Chris Stevens took the rest of the laps for his first feature win since the 2011 Klassic 200-Lapper. And when the victory photos were being taken… a long-lost karter decided to call… and announce his return for the next race! READ MORE…
---
8/8/2012: "One More For Tim" – Mid-Week Twin-30s
Posted on August 11th, 2012 by ChrusherComix Studios
WEDNESDAY, AUGUST 8th, 2012: To make up for a couple rain-dates we've lost and the fact that one of our regular racers is moving south for a while and may miss most of if not the rest of the year, we held a special mid-week Twin 30s night. Joe Sereno FINALLY did not break while leading the race to win the first 30-lapper. The second one saw the returning Randy Platt dominate most of the race until Matt Stevens caught him in traffic late. Now… Matt usually is unbeatable once he takes the lead, but with two laps to go, his brother Chris caught him sleeping on a restart to take his own 2nd feature win in three nights, and keeping hope alive in terms of keeping Matt within distance in the points race! As for the race descriptions, READ MORE, and WATCH MORE with vids…
---
8/13/2012: "Awww Yeah, Son" – Rain Date Twin-30s
Posted on August 18th, 2012 by ChrusherComix Studios
MONDAY, AUGUST 13th, 2012: Sunday saw, for the second week in a row, a monsoon-like downpour turn turn 2 into a small lake–but this time DURING the race–and again was postponed for Monday. The first feature saw Randy Platt break in the lead which set up Chris and Matt Stevens battling for the win (with Chris getting him by a wheel). The 2nd feature saw Randy Platt extract sweet revenge on all with a win, but not before his "hip bar" broke (the left side of our seats, which is essentially what you ride in a 1-WD Galletta-kart) which led to an exciting close race! READ MORE, & WATCH THE VIDS…
---
8/19/2012: "Chris Is On A Tear" – 50-Lap/10-Karts
Posted on August 21st, 2012 by ChrusherComix Studios
SUNDAY, AUGUST 19th, 2012: 
Per usual in Mid-August at Galletta's, we have a mid-summer lull in driver turnout. Only ten drivers showed this past Sunday, but, per usual, this did not stop a tremendous race that saw the lead change six times, and had several battles and wrecks to make things interesting for drivers, spectators, and the video alike. In fact, three 1st-year rookies battled back and forth for the lead most of the feature! But at the end of the day, it was Chris Stevens who emerged in first at the end, winning his fourth feature win in four race events! READ AND SEE MORE HERE, INCLUING VIDEOS!
---
8/26/2012: "Anything Joe Can Do Chris Can Do Better" Twin-30s
Posted on August 31st, 2012 by ChrusherComix Studios
SUNDAY, AUGUST 26th, 2012: Winners of the Sunday, August 26th, 2012 "Anything Joe Can Do, Chris Can Do Better 60" race – also known as the "JUSTIN IS MAD THAT SOME ON THE SHOCK ARE SELLIN' ASS ALTHOUGH HE'S SELLIN' ASS ON US! 60" – Joe Sereno won the 1st 30-Lapper in the Galletta's Greenhouse #5, and then Chris Stevens won the 2nd one in the very same Galletta's Greenhouse #5. That means that kart has won three of the last races it was in with two different drivers! Definitely a HOT kart right now a month away from our 17th Annual Galletta's Greenhouse Karting Klassic 200 Championship – and a kart that won two Klassics (2000 and 2001 with Chris Stevens behind the wheel and placed well with several other drivers at the helm)! MORE + VIDS…
---
9/1/2012: "The "Dan Buske is an Ignorant, Irrational, Argumentative Busket Case AND a TERRIBLE Driver 50 75?! "
Posted on September 6th, 2012 by ChrusherComix Studios
SATURDAY, SEPTEMBER 1st, 2012: 12- Karts/50-Laps + 23 caution laps = 73 LAPS?! (23 caution laps! Did I count that right?!) – and so many cautions meant one thing… 1ST TIME ROOKIES! Not terribly unusual for newbies… except for one reeeaaaallly arrogant and loud n00b – who was involved in 8 cautions and warned 4 times about our 3-cautions-and-your-out-n00b rule we've had since 2008 – threw an angry, childish, irrational, and antagonistic temper tantrum of epic proportions when he was asked to sit after his 8th accident. The worst temper tantrum we have ever seen in our 20-year history of racing and 17-year history of racing for points. The funny thing was? Every single one of his arguments was utterly empirically refuted on video. He just didn't like sucking and took it out on us, I guess. And, according to the Busket case, he has bigger balls than every racer who raced here this year and ever because he spoke up about his perceived bias that we supposedly have, even though we gave him every benefit of the doubt until he just had to leave the track so we could finish the race. And when he left… only one caution after he left the race surface for one spin. Guess he proved his point, huh? Maybe it *IS* you? Talk about it on Facebook, or view the rundown, points, pics and videos, including one where you can hear the idiot mouthing off like 0 other people have ever done since our club's founding in the 1990s. ZERO. Busket care indeed…
PS- Dan "Busket Case" Buske is indefinitely barred from the property for his irrational, out-of-control, unwarranted and empirically false, hysterical-fueled temper tantrum based on ignorance of how terrible of a driver he was and complete disrespect for the agreed upon rules of our backyard speedway). In the past we have had a few disagreements with drivers (and some helpers) at the track, but never had to actually BAR a driver (one helper was barred for being in weekly fights and repetitive rumors of stealing from rentals, but never a driver). This is the first.
---
9/7/2012: "The "Now THAT'S What I Call Racing! Twin 30s"
Posted on September 12th, 2012 by ChrusherComix Studios
FRIDAY, SEPTEMBER 7th, 2012: Also known as, "Now THAT'S A Better Buske! Twin 30s", we ran 11-Karts in 60-Laps (our new regular-season favorite it seems – two 30 lap features) and had Joe Sereno take the first feature and Matt Stevens take the second. Both Matt and Joe look very fast heading closer and closer to Klassic, with Matt having two fast karts, and despite Joe having just one, he also is building a backup, as he purchased a couple of karts and just needs time to get them race-ready. Chris doesn't look too shabby either, in both his karts as well. Great racing all around! And now with a helmet cam for some awesome race footage! What's that you say? You want more? You say, "FEED ME MORE!"? OK, here.
---
9/15/2012: "The "It Felt Like A Samoan Wrestler On My Lap!" 45
Posted on September 20th, 2012 by ChrusherComix Studios
SATURDAY, SEPTEMBER 15th, 2012: Although Billy Truax, Dave Spanfelner and Chris Stevens were the top three for most of the race, a late wreck put you know who in the lead late. That's right, even with a loose kart, the winner of last week's 45-Lap Feature was none other than… Matty Joey Stevens… again! People… we need more drivers on track to make it harder for Matt to pick up wins, because now even when his kart is loose and he gets passed during the race, the wins STILL fall into his lap. Oh, wait… I forgot… local drivers that don't show up to race with us are wussy pussy wimps, er, I'm sorry… scaredy-pants. Nevermind. However, this race is perhaps most memorable for Brian Galletta losing control of his kart and crashing into the pits, where a spectator (nephew of one of our drivers) was struck and landed on Brian's lap, which his quote is where the race's title came from. Note: Although you can view and comment on the picture via facebook right here, but if you want more, then go here!
---
9/24/2012- Ogie Commentates Klassic Tune-up 30
September 24th, 2014 – On a day that has been the traditional Klassic 200 in the past, we needed more time to get karts ready and butts situated in them. In the meantime, some drivers wanted to get a race in. So, we decided to have a driver optional non-Summer point race. WHile these races still count for the all-time points, they do not count for the season's tally (June through Klassic), thus anybody competing for the track title could sit this one out and not lose ground. What made this nighttime race memorable was… Ogie stepped out from his cobweb encrusted throne to commentate the race, and he did so in his usual insulting manner. Dammit, Ogie. More here, including a race video with Ogie mouthing off.
---
10/6/2012: 17th Annual Championship 200-Lap Galletta's Go-Kart Klassic Race
Posted on October 7th-27th, 2012 by ChrusherComix Studios
SATURDAY, October 6th, 2012: The 17th Annual Galletta's Greenhouse Karting Club Championship 200 just went down. 14 karts, son.

The complicated story will be told on the page when all of the points are sorted. In short, the race was highly competitive throughout, with Brian Galletta, Kyle Reuter, Randy Platt, Matt Stevens, and Chris Stevens all leading significant portions of the 200-lapper with karts easily fast enough to get the win. But late in the game, controversy struck with five laps to go! Although Chris Stevens passed the line in 1st place on lap 200 – which would've sealed him his 2nd straight Klassic 200 victory and put him ahead of his brother Matt for the 2012 points title – the race win was lifted. Why? Well, Matt Stevens and Mary Stevens both deeply protested the fact that Matt needlessly and voluntarily went to the rear of the field after he and Chris were battling back and forth for the lead through traffic and bumped the Dave Spanfelner #54 off
track during their battle with 5 laps to go. The race was then declared no winner, and Ogie Stevens stepped up to the winning kart and took credit for the win. It is Ogie's 1st career win of any kind, although he claims that he has won everything he's ever tried, including things that he never knew he even was trying. Due to the controversy, the likely decision will Chris and Matt technically tie (with nobody else losing a position), but will split 1st (Chris' final position) and 6th (Matt's final position)'s points. With this being the case, Matt holds on to the points lead and takes the 2012 Galletta's Track Championship. Oh, that tricky Matthew, stealing wins even after he didn't win! ? PAGE IS FULLY UPDATED, with the COMPLETE RACE VIDEO and multiple angles of the controversial incidents!
Guess who won the tremendous 200-lap battle!? Yeeaah, beaotches!
---
10/13 – 11/10/2012: FALL BONUS POINTS RACES & 1st Annual D.S. Humphreys Twin-35s Fall Bonus Race
Posted on November 10th, 2012 by ChrusherComix Studios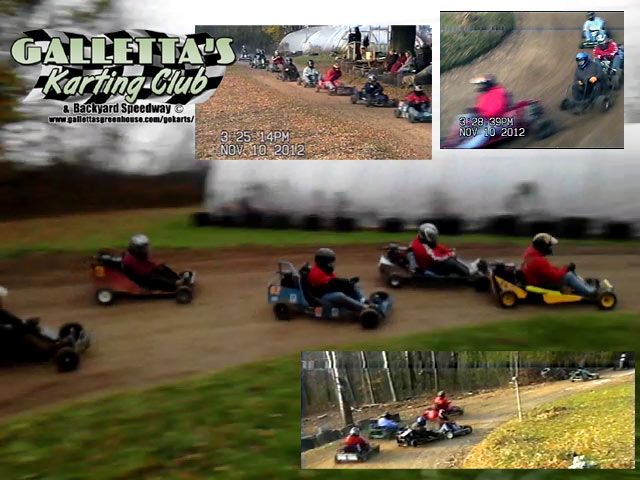 SATURDAY, November 10th, 2012: Ten karts – including a handful of new DS Humphreys invitational rookies – battled for seventy laps in the first ever DS Humphreys sponsored Fall Twin-35s race on 11/10/2012! Brian Galletta took the 1st feature in his brand-new #13 (his 2nd win of 2012), while Dave Spanfelner picked up his 1st career feature win in his DS Humphreys #54. The page also covers two other Fall Bonus Series races – a pre-Klassic shake-down (9/24/2012) and another post-Klassic rained out race on 10/13/2012, which Chris was a bit angry about starting without him before he could get home from work AND racing his kart without permission (Yet I was the bad guy. Again. Sigh…) PAGE & POINTS ARE FULLY UPDATED WITH VIDS!
FINAL 2012 Point Standings after 11/10/2012's Fall Event
For the Galletta's Karting Club's World Championship of 1WD Gas Flatheads held on Galletta's Greenhouse Backyard Karting Speedway for the 2012 season to date, scored in this manner. Our complete All-Time Points Standings from 2000-to-'the-last-completed-season' are found on this webpage, our division's complete 2006-08 standings on Oswego Speedway's lil' Kartway onthis page, and our 2000-to-'the-last-completed-season' wins are onthis page. At season's end, the current totals will be added into the below:
Pos. (Last Week)

Name (Go-Karts Piloted)
[Most drivers have clickable Driver Profiles]

Total Points (Place)

Average Points Per Feature

2012
Events

2012
Features

2012
Heat Wins/
Entered

2012
Feature Wins
*=Tie

2012
Klassic
Win/
Entered

Career Feature Wins (2000-up)

Years Pro at GKC

1st.

Master Matt Stevens (tt)
(Galletta's #3,33, 0, 1, 6, 02, 74, 80)

3,389.5

125.54

19

27

3/9

11*

1*/1

115*

17th

2nd.

Chris "Chrusher" Stevens
(Galletta's #8, 4, 74)

3,068.0

133.39

16

23

2/9

6*

1*/1

64*

17th

3rd.

David Spanfelner
(D. S. Humphrey's #54, 81, Galletta's #9, 7, 6) (^) (t)

2,672.5

98.98

18

27

2/9

1

0/1

1

1st

4th.

2,660.0

98.52

19

27

1/9

2

0/1

3

7th

5th.

2,544.0

106.00

17

24

2/9

1

0/1

6

6th

6th.

Eric Woolworth
(Galletta's #1, 2, Woolworth #78, 02b) (^) (t)

2,398.5

88.83

18

27

1/9

0

0/1

0

1st

7th.

Joe Sereno
(Galletta's #5, 6, 7) (^^^)

2,106.0

91.57

12

23

1/6

3

0/1

4

2nd

8th.

Adam Lytle
(Lytle #33c, Ruggio #02b) (t) (^) (t)

2,049.0

81.96

16

25

0/9

0

0/1

0

1st

9th.

Bill Ruggio
(Ruggio #02, Galletta's #6, 0) (^^^^) (t)

1,821.0

79.17

11

23

1/9

0

0/1

0

1st

10th.

Randy "Bobandi" Platt
(Plattnum #187, Galletta's #2) (^^^)

1,456.5

104.04

6

14

1/4

1

0/1

6

5th

11th.

1,161.0

89.31

8

13

1/4

1

0/0

7

4th

12th.

Joe Buske
(Galletta's #9, 7, 28) (^)

716.0

119.33

3

6

0/1

0

0/0

0

®

13th.

Kyle Reuter
(Galletta's #2, 1)

688.0

688.00

1

1

0/1

0

0/1

4

5th

14th.

William Truax
(Galletta's #9, 7, DS Hum. #81) (^^) (t)

528.0

66.00

4

8

1/2

0

0/0

0

®

15th.

Justin Galletta
(Galletta's #7)

523.0

104.60

3

5

0/1

1

0/0

2

2nd

16th.

Clue Gilman
(DS Humphreys #54)

416.0

138.67

2

3

0/1

0

0/1

0

®

17th.

Brandon Matott
(Galletta's #7)

280.0

280.00

1

1

0/1

0

0/1

0

®

18th.

Doug Bradford
(Galletta's #0, #1)

257.0

85.67

3

3

1/2

0

0/0

0

®

19th.

246.0

61.50

2

4

0/0

0

0/0

0

2nd

20th.

Eric Sereno
(Galletta's #6)

176.0

88.00

1

2

1/1

0

0/0

0

®

21st.

Brad Rees
(Galletta's #7)

166.0

83.00

1

2

0/0

0

0/0

0

®

22nd.

Fred Collins
(Galletta's #9) (^)

159.0

79.50

1

2

0/1

0

0/0

2

6th

23rd.

Russ Crutchley
(Galletta's #1)

158.0

79.00

1

2

0/0

0

0/0

0

®

24th.

Kim Rees
(Galletta's 6)

151.0

75.50

1

2

0/0

0

0/0

0

®

25th.

Matthew McGinley (Galletta's #7, 6) (^)

146.0

48.67

1

3

0/1

0

0/0

0

®

26th.

James Fragale
(Galletta's #6) ^

146.0

48.67

1

3

0/0

0

0/0

0

®

27th.

Jason King (Galletta's #9) (^)

145.0

48.33

1

3

0/1

0

0/0

0

®

28th.

John Moore
(Galletta's #9) (^)

137.0

68.50

1

2

0/1

0

0/0

0

®

29th.

Shawn Malone
(Galletta's #9) (^)

133.0

66.50

1

2

0/1

0

0/0

0

®

30th.

Shane Fetterly
(Galletta's #6) (^)

127.0

63.50

1

2

0/2

0

0/0

0

®

31st.

Chris Bartlett
(Galletta's #6) (^) (ttt)

119.0

59.50

1

2

0/1

0

0/0

0

®

32nd.

Jared Halstead
(Galletta's #5)

116.0

116.00

1

1

0/0

0

0/0

1

1st

33rd.

Edward Bristol
(Galletta's #6) (^)

117.0

39.00

1

3

0/0

0

0/0

0

®

34th.

Alex Santana
(Galletta's #2, 0)

95.0

47.50

1

2

0/0

0

0/0

0

®

35th.

John Galvin
(Galletta's #6)

74.0

74.00

1

1

0/2

0

0/0

0

®

36th.

Ron Ingison
(DS Hump's. #54)

74.0

74.00

1

1

0/0

0

0/0

0

®

37th.

Trevor Jock
(Galletta's #9) (t)

72.0

72.00

1

1

0/2

0

0/0

0

®

38th.

Mike Ledger
(Galletta's #28)

41.0

41.00

1

1

0/0

0

0/0

0

®

39th.

Dan "Busket Case" Buske
(Galletta's #7) (^) (tttt)

-93.0

-46.50

1

2

0/1

0

0/0

0

®