DRIVER PROFILE FOR JEFF TETRO (2007-2011)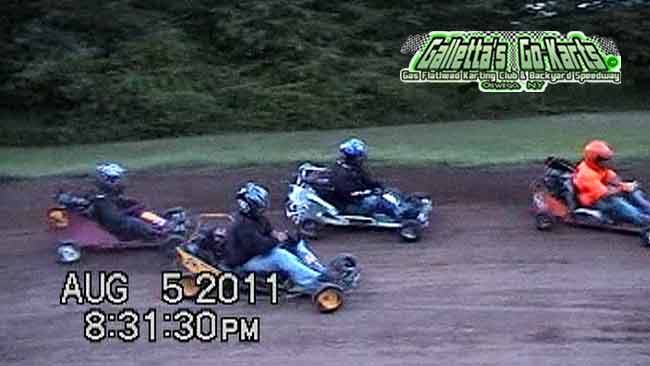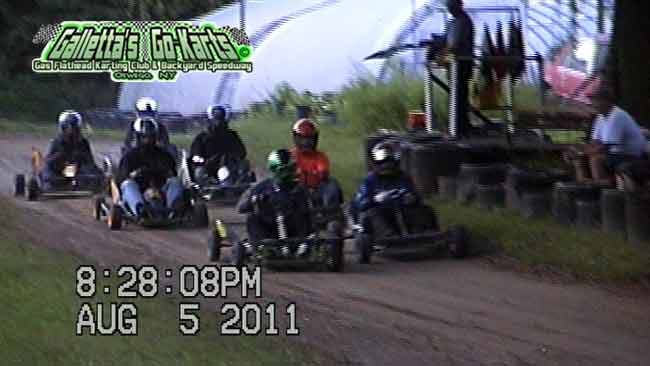 AUGUST 5th, 2011: A Special Friday Night event took place at Galletta's Greenhouse Backyard Karting Speedway saw another 60-lap race night. Yep, that's right, sixty 15-17 second green flag laps for one division. Jeff Tetro took the 1st feature, again holding off Matt by a nose at the stripe like he did a few weeks ago!
JULY 24TH, 2011: Jeff Tetro got the pass on a good restart early and looked tough to catch until Matt Stevens worked his way to 2nd to test Jeff. They battled through lapped traffic, even splitting it 3-wide more than once. And although Matt nearly got him three of four times, Jeff nipped Matt at the finish line for the closest finish of the year! As Russ Bartlett said, "Those last few laps were worth the price of admission!"

2010 Season, Event #7- Sunday, July 18th, 2010–Driving the Galletta's Greenhouse #9 kart, Jeff Tetro, won his 1st feature race at Galletta's Greenhouse Backyard Karting Speedway, with his then-girlfriend and… just what on earth the beer-bath-giving Eric Howell and Russell Bartlett have to be in his victory photo is anybody's guess.  But this pic is all sorts of hysterical!
Nickname:
'Chet the Jet'
<- Jeff drove a heady race in the 15th Annual Galletta's Karting Club 200, finishing 3rd place, his 1st Galletta's 200-Lapper.
Fun facts:
Jeff has raced on and off since the 2007 season, but in racing regularly in 2010-and-up, the experience paid off with several good finishes and his first feature win in 2010, followed up by more wins in 2011. His strong 2010 season enabled Jeff to climb the Galletta's Greenhouse Karting All-Time Point Standings and join the All-Time Galletta's Karting Feature Win List.

Russell Bartlett picked up his first feature win at Galletta's on 6/27/2010 in the Galletta's #9 kart, which has been in Victory Lane for two straight weeks! Here he poses with — and I have no idea why, but oh well — Jeff Tetro and Jeff's girlfriend. 12-karts, bumper-to-bumper action throughout, and we even survived a small rain shower, which made the track VERY fast!
Untimely retirement:
Jeff stopped racing oddly at the absolute height of his career during the 2011 season, when he had won two straight features — including nipping Matt Stevens at the stripe in one, a feat accomplished by very few! He claims that it was due to work, but it may have been pressure from being friends with the Russell family, who quit the club over false rumors and slander. Sad, because he was starting to get really good at finding the lead and holding it, and we love good, clean competitors at our track… but that is exactly when he just flat out stopped….
COMPLETE TAGGED RACE VIDEO ARCHIVES:
Dec 31, 

2011

2011 Season Recap: The 16th Annual Points Championship of Oswego Karting & 200 Lap Klassic Race!

Aug 05, 

2011

8/5/2011 – Jeff Tetro & Matt Stevens Split The Mr. Oswego Karting Special Friday "10,000-Rocks-To-Win" 60-Lap Night! (+YouTube)

Jul 24, 

2011

7/24/2011 – Jeff Tetro Nips Photo Finish in 10-Kart/55-Lapper in Galletta's #9! (+YouTube)

Jul 10, 

2011

7/10/2011 – 50-Lap Feature Taken by Matt Stevens (+YouTube Video)

Jul 03, 

2011

7/3/2011 – Chris & Matt Stevens Sweep the '11 Independence Day 70-Lap Night +YouTube Videos!

Oct 02, 

2010

10/2/2010 – 15th Annual Galletta's Karting Klassic 200-Lapper won by Kyle Reuter! +YouTube

Sep 18, 

2010

9/18/2010 – George Russell Beats His Son Shadoe In 9-Kart/45-Lapper! (+YouTube Video!)

Sep 12, 

2010

9/12/2010 – Randy "Hard As F*** Bobandi" Platt Wins 11-kart/45-Lap Feature Event [+YouTube]

Aug 29, 

2010

8/29/2010 – Matt Stevens Passes Shadoe Russell Late to Seal Yet Another 12-kart/45-Lap Win! +YouTube CRASH Video!

Aug 01, 

2010

8/1/2010 – 15-Kart/45-Lap Mr. Oswego Karting Race goes to Matt Stevens for his 1st win of '10! (+YouTube)
Jul 18, 

2010

7/18/2010 – Jeff Tetro wins 15-kart/45-Lapper – his 1st & the 8th winner in 8 races! (+YouTubes)

Jul 11, 

2010

7/11/2010 – 7th Winner in 7 Races, George Russell Takes Career 1st in Galletta's #6, 13-karts, 45-laps (+YouTube)

Jul 05, 

2010

7/5/2010 – DJ Mike "mc" Howell & Melissa Stevens take the 11-Kart/Twin-30s (+YouTube Videos)

Jun 27, 

2010

6/27/2010 – Russ Bartlett wins 12-kart/45-Lapper in Galletta's #9! (+YouTube)

Jun 20, 

2010

6/20/2010 – Jared Halstead Wins 14-Driver/45-Lap Father's Day Feature! (+Videos)

Jun 22, 

2008

6/22/2008 – Ryan Coleman & Matt Stevens win the Twin 30s! (11-karts) +YouTube Video

Aug 12, 

2007

8/12/2007 – 21-Driver field! Matt Stevens Victorious in Rain-Shortened 35-Lapper! (+YouTube)
[PAGE LAST UPDATED AFTER THE 2011 SEASON]