DRIVER PROFILE FOR RYAN COLEMAN (2007-08)

Ryan Coleman with the Team Galletta's Gas Stocker #9 Kart after he won the Galletta's The Independence Day 50 on July 6th, 2008.
Name: Flyin' Ryan Coleman
(although according to Buddy Cottom, Cryin' Ryan)
Hometown: Oswego, N.Y.
Birthdate: August 14, 1987
Year Started Racing at Galletta's: 2007; Previous Divisions: Quarter Midgets, Half Midgets, Small Block Supermodified #29, Team Galletta's Gas Stocker Karting #9, Heavy Methanol Flatkart Division at Oswego Kartway


Ryan Coleman with his SBS #29 at Oswego Speedway in 2007.
Past Accomplishments:
1999 – OCQMC & SQMC Track Champion, New York State Series Champion
2000 – New York State Series Champion
2001 – New York State Series Champion
2002 – OCQMC & SQMC Track Champion, New York State Series Champion
2003 – New York State Series Champion
2004-2008 – Limited Supermodified/SBS #29, Feature Winner (and winning in the tough SBS division is truly an accomplishment).
2007-2008 – Galletta's Karting Club Driver. Won several Features (and has one of the best win-percentages of all Galletta's Karting History).
2009 – Heavy Methanol Flatkart Division at Oswego Kartway
Ryan's Galletta's Karting Club highlights: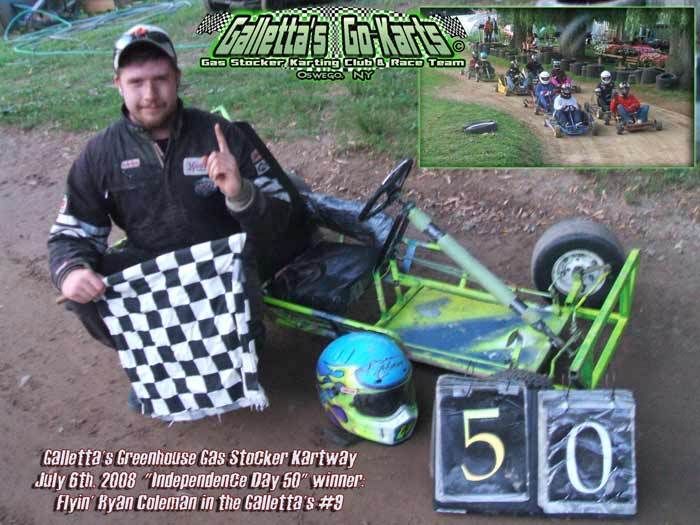 The Independence Day 50 was held on July 6th, 2008. Flyin' Ryan Coleman took his second straight feature of 2008, which was his third feature win at Galletta's since his rookie 2007 season. Ryan Coleman not only won, but pulled away in dominant fashion for his most convincing Galletta's karting win to date. Unfortunately, Gary Miller psyched him out by lying to him and he retired for the rest of the 2008 season. Odd considering he is one of the most successful visiting Galletta's Karters in our history (one of the best points-per-race and win percentages of All-Time on our track), was getting better every week, and we love racing with him.

The Galletta's Karting Club held a Twin-30s night on June 22nd, 2008 Races at John J. Galletta Memorial Speedway, both having 11-karts each! And all *gasp* with 5hp flathead motors, Jimmay! With each feature having several different leaders in close races all night, it was Matt Stevens and Ryan Coleman that took the checkered flags to both using both great driving skill and a little luck. More details and pictures will come later in the week.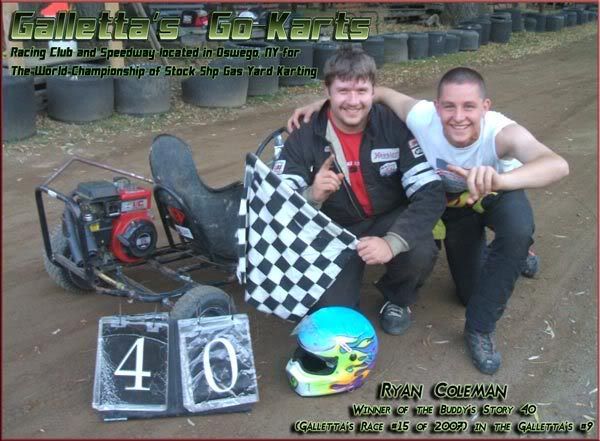 On Monday, September 10th, 2007, Flyin' Ryan Coleman swept his heat and the Buddy's Story 40 Feature in the Kelly Miller/Galletta's hybrid 9-Lives, holding off several charging competitors. Posing with him is giddy-as-a-schoolgirl Kyle Reuter, who was absolutely thrilled that the kart, originally designed for him, actually didn't flip in a race let alone win one. Ogre, under the tutelage of Matt, can be thanked for the successful operation on the #9-Lives kart.

Race Video Pages Tagged Flyin' Ryan Coleman win

Ryan posing at the Galletta's Klassic on 2007/09/23 – Photo by Chris Stevens

2007/08/26 before the Galletta's #9 was rebuilt. – Photo by Chris Stevens
Karts Raced:
A few different Galletta's Karts. Currently the only living master of the Kelly Miller/Galletta's #Super9Lives kart. (Update: Since it's rebuilds, now more drivers have mastered the kart).
Fun Facts:
Ryan is statistically one of the best drivers in Galletta's Karting History, as evidenced by his standing on our All-Time Points and All-Time Wins lists, especially win percentage-wise. Since he is a slightly heavier driver than most, his win percentage refutes people who believe you can't win at Galletta's unless you are as light and compact as Matt Stevens.

However, in 2008, with several drivers (Gary Miller Sr., Nick and Dick Dann) actively complaining that he was racing too aggressively, along with Matt and Chris also feeling that he was bumping a bit too much in the turns (which is dangerous on our track and for safety reasons, it is frowned upon and the driver can be penalized if done often enough according to our rules), Gary Miller played a mind-trick on Ryan. He told Coleman that we gave him a slower motor on the #9, which is untrue. At Galletta's, we play musical motors with all of the house karts, and motors were swapped between the #9 and #5. Both motors are fast and both motors have won around the same amount of features before and after this switch, and the one swapped may have even won more. But Ryan fell for Gary's psych-out because of a temporary carb blockage (an occurrence that happens from time to time to every kart), and believed we intentionally screwed him by giving him a slower motor. This wasn't the case, as the motor was even fresher and has since won more features than the other. Ryan never came back to see the truth, which disappointed us (well, Gary was happy though). It's too bad that Ryan never came back, because we love good, competitive drivers, and he definitely is one, even if he needed to not bump so much in the turns for safety purposes.

Ryan has a lot of racing experience for his age, and has raced the #29 (formerly Limited Super) Small Block Supermodified at Oswego Speedway. Here is an older Coleman Racing website featuring pictures and information during his Quarter-Midget days.
Race Video Pages Tagged Ryan Coleman