DRIVER PROFILE FOR SHADOE RUSSELL (2007-2010)

Shadoe Russell and his Doe/Bartlett Racing #26 kart after a minor rebuild thanks to Russell Bartlett to also give the Doe-man more leg room and a little better handling to go along with a race cam installed by Galletta's master engine builder, Matt Stevens. Here he is after the July 26th, 2010 race at Galletta's.
Shadoe posing with his Russell #26 kart (which was just completed earlier in the morning by Wes and Matt Stevens) before the 2009 Galletta's Klassic 200.
Name:
Shadoe Russell
Nicknames:
"Mr. Hotass & Badass Doe", "Doeboyfresh", "Cavedoe!", "The Shadow!"

Year Started Racing at Galletta's:
Shadoe raced a couple times in 2007, including the 2007 Oswego Kartway Classic, the 2008 Oswego Kartway Classic, and the 2009 Galletta's Klassic. Shadoe loves "Classic" races! He raced most of the late-2009 and nearly all of the 2010 seasons and plans on being in a racing team with his father George.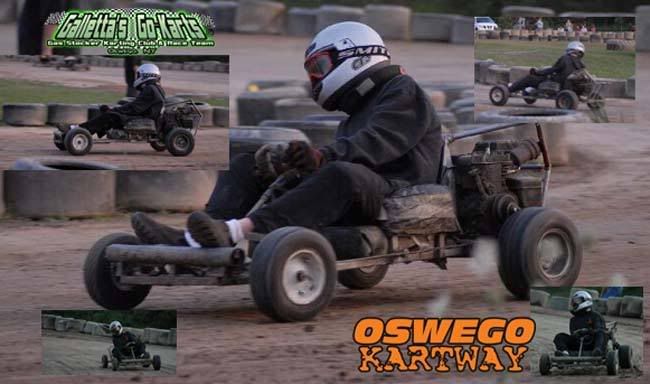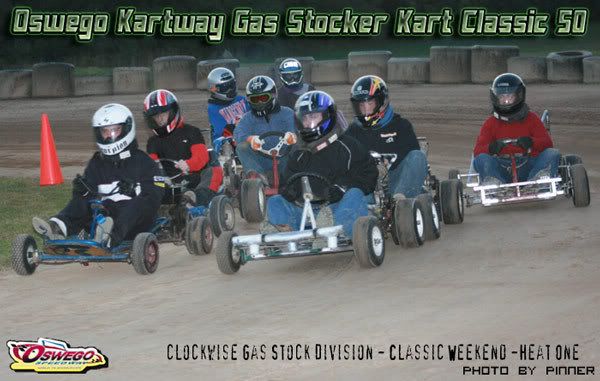 Assorted pics of Shadoe racing Galletta's Karts at Oswego Speedway's Dirt Kartway.
Career Highlights:

2010 Season, Event #17 – Friday, September 24th, 2010– We knew one of these days it was going to happen due to his progression from his shaky rookie campaign (where one local track operator never wanted to see him on his track), and it finally did — Shadoe Russell led all 45 laps from his pole starting position en route to his 1st career feature win in his Rubbin' Is Racin' #26! Hopefully this means that Matt's wife will stop throwing karts around because he passed Doe for a win, and maybe his mother-in-law will stop calling everyone terrible names and calling people and institutions with malicious lies and gross exaggerations n order to try and destroy people. Naaaahhh…. spoke too soon!
Shadoe at the 

15th Annual Galletta's Greenhouse Karting Klassic 200 of 2010

. Doe again raced all 200 laps in his 2nd straight Klassic, which is an amazing feat considering Doe's shaky beginnings as a racer. Plus, in 2010, he only got lapped once (but he also pulled off the track before crossing the line on lap 200). Do you know how many drivers tried and failed to go all 200 for years? Doe did it both times he tried!
Unfortunately, Shadoe oddly was caught in the middle of a gossip war between his mother, father, and the highly volatile lying gossip (Matt Stevens' malicious, delusional, and hateful mother-in-law Monica Gable) over false accusations of name-calling, effectively ending his excellent progression as a driver from his bad rookie season and the rumors of the family not racing at Galletta's in 2011, as unfortunately the entire family claims to not want to race at Galletta's any more because of it. Amazing that a delusional gossip angry at us over debunked nonsense and lies caused such a rift between not only good friends but even three whole families. Doe-boy even de-friended us all at Galletta's on Facebook after all of the hard work we put into his kart and hospitality to him and his family. 
Again, we loved racing with Shadoe and his father, and it was both highly disappointing and maddening that they allowed a proven nut-job liar to ruin the relationship we built with them, and highly upsetting that they badmouthed and slandered us with false, unproven, and debunked claims by a madwoman, while staying friends with people who actually did say awful things about them.
FULL TAGGED RACE VIDEO ARCHIVES:
Oct 02, 

2010

10/2/2010 – 15th Annual Galletta's Karting Klassic 200-Lapper won by Kyle Reuter! +YouTube

Sep 24, 

2010

9/24/2010 – "So Easy a Cave Doe Can Do It!" Shadoe Russell shocks the world & wins a 9-kart/45-Lap Feature! +YouTube

Sep 18, 

2010

9/18/2010 – George Russell Beats His Son Shadoe In 9-Kart/45-Lapper! (+YouTube Video!)

Sep 12, 

2010

9/12/2010 – Randy "Hard As F*** Bobandi" Platt Wins 11-kart/45-Lap Feature Event [+YouTube]

Sep 05, 

2010

9/5/2010 – AJ Nason & Tim Galletta take the '10 Labor Day Weekend Twin-30s! (+YouTube Videos)

Aug 29, 

2010

8/29/2010 – Matt Stevens Passes Shadoe Russell Late to Seal Yet Another 12-kart/45-Lap Win! +YouTube CRASH Video!

Aug 24, 

2010

8/24/2010 – Chris Stevens Utterly Dominates Special Tuesday Night 55-Lap Feature! (+YouTube)

Aug 15, 

2010

8/15/2010 – 12-Kart/45-Lapper Winner Matt Stevens Attracts Goose to the Party (+YouTube Videos)

Jul 26, 

2010

7/26/2010 – Kelly Miller wins 12-Kart/45-Lapper passing Matt Stevens for his 1st Galletta's Victory! (+YouTube)

Jul 11, 

2010

7/11/2010 – 7th Winner in 7 Races, George Russell Takes Career 1st in Galletta's #6, 13-karts, 45-laps (+YouTube)
Jun 27, 

2010

6/27/2010 – Russ Bartlett wins 12-kart/45-Lapper in Galletta's #9! (+YouTube)

Jun 20, 

2010

6/20/2010 – Jared Halstead Wins 14-Driver/45-Lap Father's Day Feature! (+Videos)

Jun 14, 

2010

6/14/2010 – Tim Galletta Wins His 1st, a 12-Kart, 55-Lap Feature! (+YouTube Videos)

Jun 07, 

2010

6/7/2010 – Gary Miller Sr. Unretires, Wins 11-Kart/45-Lap Opener, Then Retires Again (+YouTube Videos)

Nov 08, 

2009

11/8/2009 – Fall Bonus Points Race '09 Finale won by Matt Stevens (+YouTube)

Oct 03, 

2009

10/3/2009 – 200-Lap 14th Annual Galletta's Karting Championship Klassic of Oswego! (+YouTube)

Aug 31, 

2009

8/31/2009 – Flippin' Freddy Collins & Rapid Russ Hockey Win Twin 30s! (+YouTube)

Sep 04, 

2008

9/4/2008 – Oswego Kartway Classic swept by Wes, Matt & Chris Stevens, take top-3 in largest class for 2nd year in a row in Final Appearance! (+YouTube Videos of ALL CLASSES!)

Aug 28, 

2008

8/28/2008 – Oswego Kartway Classic rains out! Time Trials All in (+YouTube of ALL Classes) [+Dick Dann uses illegal carb to win the Gas Flathead Classic Time Trials before rain sets in!]

Nov 28, 

2007

2007 Season Recap: 12th Galletta's Season & 2nd Oswego Speedway Dirt Season DVDs! [+ Complete YouTube Playlists]
[PAGE LAST UPDATED AFTER THE 2010 SEASON]