6/7/2009 – The 14th Annual Season Opener, 45-Laps/10-Karts won by Matt Stevens (+YouTube)
Galletta's Kart Club – 2009 Season Opener:
Sunday, June 7th, 2009 in Oswego, NY
YouTube Video to our weekly DVD Highlights
---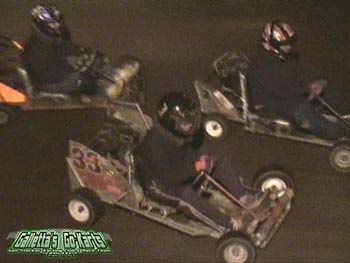 The Galletta's Kart Club 2009 Volume #1 DVD:Two camera angles of the races held on June 7th, 2009. Ten drivers, two 10-lap heats and a 45-lap feature. One hour in highest-quality resolution. 16:9 Anamorphic widescreen video, Dolby Digital 2.0 Stereo Surround, and two camera angles of all of the action.  Price $5.

Sunday, June 7th, 2009 – A great night led to a great opener at John J. Galletta Memorial Karting Speedway – the original and still the biggest, most banked, and best dirt karting track in Oswego, NY. And, as can be seen in the above video clips and snapshots below, the racing was clean, the track was smooth, and the tradition of professional, yet highly affordable 1-WD Gas Karting at Galletta's in Oswego, NY continues…
The first heat saw Russ Hockey collect the win, followed by Larry Phillips, Nick Dann, and Chris Stevens. The second heat saw Buddy Cottom's newly redesigned Galletta's #6 take the win, followed by Melissa Stevens, Matt Stevens, and Andrew Miller. Buddy's radical new system allows us to change the handling of each kart by dropping or rising the frame in three areas, and works similar to how torsion bars and suspension works on larger racing vehicles – minus the cost. The revolutionary system is a success, and more karts will be adapted as the season progresses.
The forty-five lap feature event was filled with a fast-paced, clean, and highly competitive field of ten drivers. The 2008-installed clay seemed to cure over the winter, as it was smooth and a tad bit slick, but fast. Larry Phillips started on the pole in his L&K Engine #04, and led the first two laps until Russ Hockey took over the lead on lap two.
Here we see some fantastic battles from our new camera angle in the back turn. Matt Stevens (#33), Chris Stevens (Galletta's #5), Buddy Cottom (#6), Nick Dann (#7) are featured in these shots. The track was as smooth as glass, but a little loose, and we can see some skillful loose driving in the back turns between these four talented drivers. 
But in the end, Matt Stevens took over the lead on lap fifteen and led the rest of the way, although Russ hunted him down in traffic and made a race of it late. The track was smooth, and the clay held up well, only being just a bit loose. Although Matt broke a dry spell dating back to last Fall with a win (and will now have more weight strapped onto his kart which should only make things closer), the racing was overall very close, especially considering that there was only a couple of cautions during the whole 45-lap event, which is impressive and speaks highly of all of our driver's skills.
Another great night at the original, biggest, and still the best dirt karting track in Oswego!  The final order of finish is the same as the point standings below. There was some confusion due to a lack of volunteers flagging – the tape had to be closely reviewed for Chris, Buddy, Melissa, and Larry to know where they finally finished –  so anybody wants to come out and help, it would be appreciated. We're sorry we don't have the "big track's" name and funds supporting us, so we have to make do with people who are genuinely looking to have fun racing karts, and not necessarily just doing it to try to forward racing careers and forcing people out who don't buy into their racket. We could probably get Ogre out of retirement if we had people flagging.  Galletta's… the only track in Oswego that does not allow cheaters, biased rule-making, and class-ism does it again! Now for the…
2009 Gas Flathead Dirt Karting Championship of Oswego Point Standings:
After 1 combined event at John J. Galletta Memorial Go-Kart Speedway  from 7/8/2009 -thru- 7/8/2009.
Our complete Points Standings from the last eight seasons are found on this webpage.
| | | | | | | | |
| --- | --- | --- | --- | --- | --- | --- | --- |
| Rank | Name (Go-Karts Piloted)Most regular drivers have profiles | Total Points (Place) | Average Points Per Event | Events | Heat Wins | Feature Wins | Feature Win % |
| 1 | Matt Stevens(Galletta's #33, 3) | 174.0 | 174.00 | 1 | 0 | 1 | 100% |
| 2 | Russ Hockey(Hockey #00) | 167.0 | 167.00 | 1 | 0 | 0 | 0% |
| 3 | Chris Stevens(Galletta's #5) | 141.5 | 141.50 | 1 | 0 | 0 | 0% |
| 4 | Buddy Cottom(Galletta's #6) | 130.0 | 130.00 | 1 | 1 | 0 | 0% |
| 5 | Larry Phillips(L&K Small Engine #04) | 126.0 | 126.00 | 1 | 0 | 0 | 0% |
| 6 | Melissa Stevens(Galletta's #80) | 111.5 | 111.50 | 1 | 0 | 0 | 0% |
| 7 | Andrew Miller(Galletta's #0) | 108.0 | 108.00 | 1 | 0 | 0 | 0% |
| 8 | Nick Dann(Galletta's #7, 4) | 103.5 | 103.50 | 1 | 0 | 0 | 0% |
| 9 | Gary Miller Sr.(G-Miller #24) | 97.0 | 97.00 | 1 | 0 | 0 | 0% |
| 10 | Ray Castaldo (Galletta's #7) | 88.0 | 88.00 | 1 | 0 | 0 | 0% |
NOTE: All karts are 1-WD and all Motors are 1-WD 5hp Gas Flatheads with Stock '90s Carb, shaved head, and select pre-approved Dyno Racing Cams.
DVD is available via PayPal, Money Order, or Cash Pickup or watch on YouTube:

Post-Race Notes Rant after our offseason banishment from Oswego Speedway's Dirt – the Oswego Kartway:
Welcome to Galletta's Greenhouse Backyard Karting Speedway and Karting Club – and in our 14th annual season of points championship racing – we are the original, biggest, longest-running and still (in our opinions) the best dirt karting class and track in Oswego. Don't believe us? Well, let's run down what we mean, shall we?
We are not just the backyard track that predates the Oswego Kartway by over a decade, but also inspired its operator to build it when he visited and raced upon it (coincidentally it must be, right?) the year before it was built.
The track where you get a few hours of racing 15-16 second laps on a large track per weekend instead of 5-10 minutes of racing 8-10 second laps on a small track per weekend.
Where you get to race in ONE 8-18 kart division with easy-to-follow and flexible rules (regarding weight-to-horsepower allowances) instead of a dozen of 1-10 kart divisions with strict weight and motor groups.
We are the track that does not charge a fortune to race on. We are the karting class where for a few hundred bucks you field a championship-caliber kart, where others you will have to put at least a grand or more to field a halfway competitive kart, and a few grand to actually compete to win with (and that does not even cover weekly expenses).
We are the only local track that has proven winner arrive-and-drive karts for anybody to climb into for just a gas-and-parts rental donation. And when we mean proven, we mean PROVEN. Every kart has won feature
The only track that has not just a seasonal points system, but an all-time points tally dating back to the 1990s!
The only track where you run anywhere between 45-60 green flag laps a week and not 25-30 a week. And a 200-lap annual championship race, not a puny 40-50 lapper (LOL!).
The only track that videotapes EVERY SINGLE RACE since 2005, and every single Championship race since 1998 and sells the DVDs to anybody who wants them for $3-$5 a disc and also put their entire race video archive online for free!
And… last but not least… we are the ONLY division that raced BOTH local tracks for THREE seasons, and our division's original three co-founders not only raced against LARGER-MOTOR karts all three years when we ran there, but we SWEPT THE TOP-THREE TROPHY POSITIONS IN THE KARTWAY'S 1st TWO SEASONS OF OPERATION – AND AGAINST BIGGER MOTORS WHO ADMITTEDLY BROKE THE RULES TO BEAT US. Repeat that… we raced gas stock flatheads against gas stock Animals.. the track operator did not care… AND YET WE STILL BEAT THEM! Yeah, and the operator called us crybabies? And kicked US out? Let's see if any of you would do the same with your DOZEN OR MORE divisions based on age, weight and motor.
The facts are facts. Our class is the biggest, most affordable, longest-running and most seasoned in Oswego and probably many many points beyond. So… what do they got on us? Location, sponsorship and several grand of clay funded by the Oswego Speedway. Period. They can have that, where men race with the kids and we can race like men with other men (and a woman or two).
In previous years, we only 100% box stock cams (but were forced into more expensive cams by Oswego Speedway's rather inconsistent and unprofessional dirt track – which then removed our class after  we were forced into the upgrades. Nice, huh? typical of their kind.). Hence, by default, we will now allow specially installed cams (all of the karts within the weight limit must have a Dyno 94-SS – which is a stronger cam than WKA-legal karts are allowed to legally use, but they are legal in OUR rules, except for heavier-competitor drivers over the weight limit who are allowed an stronger cam – but you MUST see Matt for details on if you want to race but are over 210 lbs. ONLY… all others must have a Dyno-94-SS). See Matt, he will show you any and all motors, karts, setups, and practice if desired. We value transparency on our track, no secrets withheld from others, everybody who races here is a friend, and no racer has ever been asked to leave in the twenty year history of our track, unlike other local tracks, which force good drivers out.
This year, we are open to more classes racing on our track. Contrary to certain people – who we have never met, nor have ever visited here, nor have ever raced here–slandering our track on 4-Cycle.com and secod hand word-of-mouth–our track is flat enough for flatkarts, it is safe (twenty years of racing and in all of that time only one case of broken bones – a freak accident which could have been avoided with some extra protective padding – whereas people have died racing methanol karts simply because of the raw speed), and we allow other classes outside of our 1-WD Gas Flathead class, and unlike local tracks that have since booted us, cheats are not allowed, no politics, no "big name" stars get special treatment, and no matter who is a buddy with the track operator or property owner. Anybody and everybody has a chance to win on our track, and all of our karts are competitive and can win on any given night, as proven by our extensive winners list, and, in general, the people who raced often enough to gain experience win, and the drivers who only race a few times, don't win, as seen on this chart.
The only thing that Galletta's is guilty of "rigging" is doing our best to make sure every single one of our karts is fast and the racing is very close. This is proven over and over as one person will drive a kart and say, "it's slow, you guys are cheating" and then someone with more racing experience climbs in that very same kart during that very same race and either wins in it or comes extremely close. It's also proven by how someone will come to Matt and ask to tune up their kart, Matt does so, and they are one of – if not the – fastest karts out there, even beating Matt himself! He helps people to beat him. This means we do not make our personal karts faster than everybody else's, because we want people to race against us. Rather, we help out our competition all of the time because we believe in affordable and fair racing. Chris and Matt have raced for so long (they've been racing karts since 1988!), they are quite confident in their racing abilities, and really don't care if another kart is faster than theirs, as many times is the case (why else would they take on people with larger-horsepowered karts between 2004-2008?), but rather they WANT people racing with them to be talented and fast. They appended their rules to allow drivers over the weight limit to have extra horsepower. It has worked great, besides when people used entirely different motors altogether (but that subject has been beaten to death on earlier pages between 2005-2008). They want the challenge, and love it. The only rule they have is obey the rules, use the same motor, and race your heart out safely and fairly. So, this is a rule of thumb that you can use whenever you hear someone speaking badly about the racing here at Galletta's: "One: It is absolutely not true, as we are transparent and let everybody know everything we do on this website and in person – which is the reason why a small handful of vocal people dislike us so strongly, and Two: they themselves are almost certainly guilty of the very charge they bring against us – and then some, and their guilt and jealousy makes them say such things."
Well, perhaps these rants went on too long, but put yourselves in our shoes and not be a little ticked off about how we were treated.
Oh well, it's in the past now. And as we did for over a decade before the Kartway ever existed… on to the next week's race!