2011 Season Recap: The 16th Annual Points Championship of Oswego Karting & 200 Lap Klassic Race!
Tallied between June 5th, 2011 through October 8th, 2011 by ChrusherComix Studios
Our season thus far at Galletta's has been action-packed, competitive, clean, and fun. Instead of blowing a few grand to be herded on and off a pay track racing for stickers, we do it for the fun and have these cool videos and website to star on. Below is the total point standings so far this year, followed by the complete rundown of every race we've had thus far at Galletta's Greenhouse Backyard Speedway. This season had the top six spots all in play going into the Klassic, with Tim Galletta within 20 points of his cousins Chris and Matt, but Matt and Chris spent so much time in the top 3 positions that they pulled away at the end, and Matt led so many laps – in fact two laps that made the difference – in the Klassic that clinched the title even though Chris won the 200. That is close, folks. The Klassic alters the landscape of the points dramatically, which is why your goal is to be in every race, if you miss a couple, use a retcon makeup race, and *never* miss the Klassic – THE undisputed most important single karting race in Central New York, bar none (needs no trophies or cash prizes, just the prestige of the 16+ year annual marathon event). The 2011 season's races are complete, the All-Time Points were tallied 11/2011.
Posted on October 9th, 2011 by ChrusherComix Studios

Our 16th Annual Galletta's Greenhouse Karting Klassic 200-Lap Championship – Saturday, October 8th, 2011:
SATURDAY,OCTOBER 8th, 2011:
 A grueling 200 laps. But yours truly – webmaster 
Chris Stevens
 – broke a 10-year dry-spell by winning his first Galletta's Greenhouse Karting Klassic since 2001 (while running almost on fumes)! It was not easy, as he time trialed 5th, and had to come from the back of the field twice when he blew a tire in 2nd early, then clobbered a tree in 2nd late. But everything fell his way when the leader of the first 157 laps of the race, 
Matt Stevens
, decided to refuel putting Chris in the lead with barely sputtering off enough fumes to get him the win with Matt all over him. Several competitors didn't finish the marathon event, and the closeness of competition made this the 
HARDEST
 Klassic to date, with tough competition form first to last, including 2010 defending Klassic Champ 
Kyle Reuter
 (who lost a front wheel while in 2nd himself, crashed into the buckwheat in turn 2 and retired). For most of the first 100 laps, Kyle pressured Matt to set a fast pace, which in the end was the deciding factor that forced Matt to refuel with 43 laps to go, which put Chris – who made it back to 2nd for a third time in the race – in the lead. Chris actually benefited from blowing a tire early and conserving gas in the rear during the 2nd 4th of the race, which led to him having enough gas to take the checker, the first time the Galletta's #8 kart won a Klassic – Chris' previous Klassic wins came in the Galletta's #2 (1999) and Galletta's #5 (2000 & 2001). Chris has had several close calls in those last ten years (many 2nd and 3rd places, and a few bad luck breaks while up front in position to win). Outstanding show from start to finish with some close racing and a few exciting accidents to keep you viewers satisfied. Complete race videos on DVD only $5 each disc and are ready. Meanwhile, here is a recap of the 2011 season thus far, including the 2011 Finalized Point Standings, where Matt Stevens led enough laps in the Klassic to earn enough bonus points to surpass his brother by two points! This after Chris had enough top-3 points to beat Matt by 1/2 point in 2010! And consider that going into Klassic, the top 6 were all up for grabs That's racing, folks!
Posted on September 26th, 2011 by ChrusherComix Studios
SATURDAY, SEPTEMBER 17th, 2011: In a day that saw the start time change from 4pm to 5pm to 6pm and finally 7pm as we scrambled to get the Platt-inum #28 race-ready for intended buyer Brian Galletta (only to see it break the drive-wheel right off at the axle bolt during the race… ugh), and the a twin-35 night get turned to twin-30s and then finally a single 45, we just had a long, weird race day, intended to be the last regular show before Klassic (unless our schedule changes, and right now it is OPEN to include as many drivers as possible on a Saturday with a Sunday rain date). It finished with Joe Sereno dominating only to lose a throttle cable in the lead and Randy Platt hold off everybody else in the extremely close and competitive 45-lapper. Pics, descriptions, points and videos all coming, but the webmaster being busy with work and being slightly sleep deprived is slowing all this stuff down! SEPTEMBER 26th, 2011 UPDATE: 9/17/2011 PAGE IS NOW UPDATED WHILE TRACK & KARTS ARE BEING PREPPED DURING THE FULL TWO WEEKS LEADING UP TO THE 16TH ANNUAL KLASSIC 200!
Posted on September 12th, 2011 by ChrusherComix Studios
SUNDAY, SEPTEMBER 11th, 2011: On the 10th anniversary of the worst attack in America's history, we dedicate our special Sunday afternoon race in honor of the people who lost their lives in the attacks and inn the following years defending our country's safety and freedom. The race was worthy of being called special, with close battles throughout, 2010 defending Klassic 200 champ Kyle Reuter getting some track and kart time in in preparation to defend his title in a few weeks, battles in traffic for the lead, a 1st-time rookie flipping a kart and starting a spectacular small fire on the dirt track, and then at the end it comes down between the three point leaders battling it out at the end. Click here for pics, descriptions, and points, now up. Check back soon for videos!
Posted on September 5th, 2011 by ChrusherComix Studios
SUNDAY, SEPTEMBER 4th, 2011: In honor of the Oswego Speedway's Supermodified Classic 200 -a race which we shaped our own karting club's season and 200-lap "Klassic" championship after – we originally planned to race on Labor Day Monday. However, due to the Oswego Classic being moved up three hours to avoid rain, we tried to race Sunday after Classic knowing that Monday could very well rain-out our race. Kenny Lindsley III flew off the track while leading most of the show, which set up Justin Galletta to lead late. But on turn 4, Justin's clutch teeth literally gave out on the spot and his father Tim Galletta took the Labor Day 45-Lapper! (Oddly, a bit of a mirror image of Otto Sitterly passing his teammate on the last turn to win the Oswego Classic 200). Our own 16th Annual Galletta's Greenhouse Karting Klassic 200-lapper (that's right, not a 40-50 Lapper, that's our regular weekly race, not a championship) will be at either the end of September or the start of October. Racers – please help us plan ahead and lock down a good date by giving us dates that you can and cannot do. Thanks! Pics, descriptions, results & points are up soon (my new work schedule has put me WAYY behind… sorry!). Check back soon for videos!
Posted on August 30th, 2011 by ChrusherComix Studios
MONDAY, AUGUST 29th, 2011: 10 competitors raced karts raced on a Monday due to Hurricane Irene's leftover winds and rain preventing us from racing Sunday (no problem, we've been rained out of a handful of Sundays the last few weeks anyway). Returning veterans Mike "MC" Howell and the two Ken Lindsley's added with the the core group that have raced all year to increase the competition on an already tough and competitive season thus far. And it was Chris Stevens spoiled Randy Platt's plan of putting his freshly reinstated "Murder 187" kart back in victory lane, catching him snoozing on a restart in the Galletta's Greenhouse #8 for his 2nd feature win of the year. Race results, pictures, stats, and videos coming when done! Sorry for the delays, work has been throwing monkeywreches into my usual duties, such as updating the videos and website as quick as I'd like. Pics, descriptions, results & points are up on this page. Check back soon for videos!
Posted on August 23rd, 2011 by ChrusherComix Studios
MONDAY, AUGUST 22nd, 2011: With the regularly scheduled Sunday the 21st getting a washout, our race was moved to Monday the 22nd. Randy "The Bobandi" Platt made his triumphant return from his self-imposed half-summer hiatus to promptly win his first race back relatively unchallenged, taking his first feature win of 2011. The 2nd 30-Lapper saw Chris Stevens lead the first 27 laps only to break a throttle cable, and Tim Galletta took care of the final three en route to his 2nd win of 2011. The track was smooth and fast, and passes were at a premium. In a show of how fast and equal these karts are, the Galletta's #2 has sat idle for most of the season without a pilot, until Randy took it to victory lane just like he did last year. It is no lie, but it seems as if some people don't believe it when we say we have 14 race-ready/feature-winning/arrive-and-drive karts on site, many of which are free to drive, open to anybody who donates for gas/parts, and a good, experienced driver can win in each and any one of them on any given race. And, we can help you build your own potent/feature-winning kart as well for bottom dollar. It is proven and proven again and again, yet some weeks we don't have driver butts in the kart seats. Fortunately, this week was not amongst them, as we had 8 karts on the track… but do the math – that means there were several still sitting idle. Get out and race, people! Our 200-Lapper is coming soon, and you want to be seasoned for that one! Anybody can win, but you have to work at learning the track and the karts to do so. Join us today! Videos and race results are up here! Check back soon!
Posted on August 17th, 2011 by ChrusherComix Studios
TUESDAY, AUGUST 16th, 2011: Now, as many usual-readers knew, our SUNDAY, AUGUST 14th, 2011 race was postponed. Not due to rain, as we thought, as we didn't even get enough to wet the track enough to race on. It was due to our leader, commanda', track operator, and head mechanic Matt Stevens suffering a scratched cornea (that's a part of the eye, for the dumber of our readers. Just kidding… none of our readers are dumb! Just the ones who didn't know and/or got offended by that, heheh…), which forced us to postpone our regular racing action. Why? Well, because unlike any racer in the area, the one-man racer/pit crew didn't have enough karts ready to race, nor could race himself. Oddly enough, the injury occurred in his sleep of all things. While I (webmaster, co-founder, fellow racer and brother Chris) offered to gouge his eye out for him so he could race with one good one, he – very agitated – declined. When I offered to run the races without him since he has a comfortable lead anyway, my life was… ahem… Um… endangered. So, per doctor's orders, Matt was asked to take 7 days off any strenuous activity, and dirt racing, as everyone who has ever been around it knows, can irritate the eyes. However, Matt is too powerful and stubborn of a lad to let a scratched cornea stop him. With a good pair of goggles, he went from last to first — trapping Tim Galletta and Chris Stevens behind early leader Joe Sereno — to win our special Tuesday Night Delight. And as any of the 212 different drivers who have raced against Matt (between 2000-2011) at Galletta's Greenhouse Backyard Speedway and the 39 different drivers who have raced against him at Oswego Kartway (between 2006-2008) knows, he always capitalizes on even the slightest mistake and almost always gets to the front, even with the same motor (or less of one in some cases)! He holds the wins and points on both tracks in the gas flathead division, and will likely never ever be caught in the all-time rankings of both tracks. Good race for sure, but c'mon now… it's getting a little boring. Too bad that in all of Central New York, we have yet to find a driver anywhere who can beat him. We have an open challenge, and have had one for years. We see the results. Now let's review the race: [RACE PAGE UPDATED & YOUTUBE VIDEO UP!]
Posted on August 6th, 2011 by ChrusherComix Studios
AUGUST 5th, 2011:
 A Special Friday Night event took place at Galletta's Greenhouse Backyard Karting Speedway saw another 60-lap race night. Yep, that's right, sixty 15-17 second green flag laps for one division. Jeff Tetro took the 1st feature, again holding off Matt by a nose at the stripe like he did a few weeks ago, but Matt roared back to take the 2nd 30-lapper after the track developed bumps in turn 2 and Matt survived to take his 5th of the season. [
8/8/2011 UPDATE: RACE PAGE UP
 & YOUTUBE UP!]
Posted on August 1st, 2011 by ChrusherComix Studios
JULY 31st, 2011:
 You wanna' crown someone the winner of Har-bore-fest? We crowned 'em! The only local track with enough bawls to run ran and we crowned the champion to the city's annual gigantic waste of time cluttering the city's roads because it needed a champion. And got one it did. Melissa Stevens dominated the Har-Bore-Fest 50, and embarrassed your @$$, son. Details forthcoming for your fine self, my brahs! 8/3/2011 Update: 
RACE PAGE IS UP
 12/18/2011 Update: 
Complete 30+ minute race YOUTUBE VIDEO IS UP!
Posted on July 25th, 2011 by ChrusherComix Studios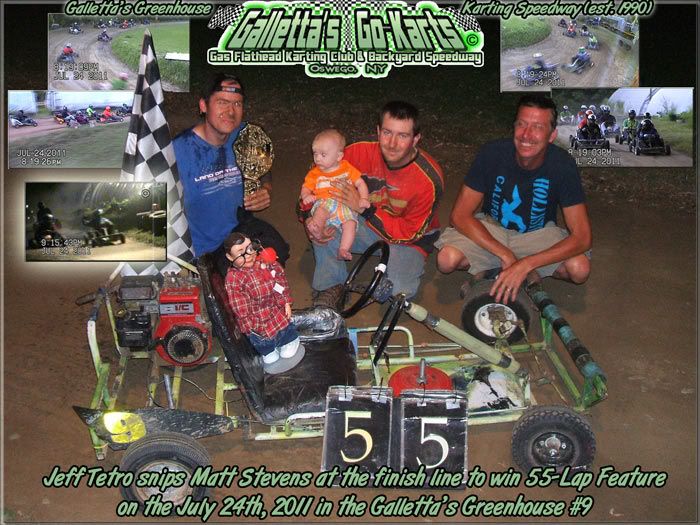 JULY 24TH, 2011:
 Every week it seems as we say, "What a great race! Close, fast, competitive and clean!" Well, we had another one, as 10 competitors battled it out during the 55-lap feature on July 24th, 2011. One of the original members of the GKC, Brian Galletta led early, challenged by Melissa Stevens and Jeff Tetro. But Tetro got the pass on a good restart and looked tough to catch until Matt Stevens worked his way to 2nd to test Jeff. They battled through lapped traffic, even splitting it 3-wide more than once. And although Matt nearly got him three of four times, Jeff snipped (or is it nipped?) Matt at the finish line for the closest finish of the year! As Russ Bartlett said, "Those last few laps were worth the price of admission!" Good show, and finally, we got to double-digits in 2011! Thanks to all who raced and congrats to Jeff!
12/1/2010 Update: YOUTUBE VIDEO is available now!
Posted on July 17th, 2011 by ChrusherComix Studios
JULY 17TH, 2011:
 The undisputed winningest karter in Central New York did it again. Matt Stevens won the 2nd Twin-30 of the night, leading all 30 laps, but did so by actually coming in last in the first 30-lapper, which was won by his cousin Tim Galletta. 60 laps of racing only saw 1 caution for one spinout. Clean, competitive racing from green to checker. Come back later today and again all week for more updates. Also, we are looking at Saturday race for next weekend to get more drivers (per request of some drivers who 
WILL
 come opposed to leaving Sundays open for a few drivers who 
used to
 and 
might
 come, but don't anymore), as so far this season, 7-9 drivers per class a week may be cool beans for gyno-exam seat cookie-cutter kart kiddie track classes, but it is not how grown men (and woman) drivers like to race. Contact us and more will be posted soon. 
8/10/2011 Update: 7/17/2011′ TWIN 30s ON TWO YOUTUBE VIDEOS ARE UP (30 minutes of the COMPLETE races online!!!)!
Posted on July 11th, 2011 by ChrusherComix Studios
JULY 10TH, 2011:
 Seven competitors battled it out on 7/10/2011, and although we have had the smallest summer fields in our recent history, the racing is as close and exciting as ever, and perhaps cleaner. Where else can you see open-wheel go-karts race side-by-side, sometimes three-wide, and race clean and run 50 laps (plus 8 lap heats) with barely a caution all evening? Sure, Matt Stevens won, but it wasn't easy. Polesitter Jeff Tetro looked like the winner early (but had a blown drive tire), Tim Galletta looked poised to win (but pitted to adjust tire pressure), and late leader Joe Sereno had a half-track lead, but a caution and then traffic did rookie in, as Matt – who himself had to fight off his brother the whole race – snuck by him in a pack of 7 karts bottled up wheel-to-wheel to barely pick up the win. Jeff Tetro and Tim Galletta won the heats. Several race-ready, feature-winning karts again sat idle without drivers, and it is easier for Matt to pick off a seven or eight drivers and win than it is for him to do so with ten to fifteen drivers. So we need more — come on out! So if you are sick of seeing Matt win so much, then do something about it and race him like the rest of us active GKC drivers are doing. If you did, you'd see why he's the most winningest driver in the area. Weighed down, same motor as everyone else, older chassis than anybody else, starts in last almost every week… and he still triumphs. Racing more expensive karts on kiddie tracks doesn't mean you're a better driver. Just means you're afraid. Yes, that does mean local racers who read this page, can race with us, but never show up on race day. Read more: 
[RACE PAGE UPDATED] 8/1/2011 UPDATE: YOUTUBE RACE VIDEO IS UP!
Posted on July 4th, 2011 by ChrusherComix Studios
SUNDAY, JULY 3RD, 2011: Although we took a week off, the racing did not miss a beat for the Sunday, June 3rd, 2011 show. In fact, so far this season, we had some of the most fun and clean racing that we've had in years, with today's show being possibly the best yet! Tim Galletta and Chris Stevens debuted new motors and were flying. But Tim had an accident in lapped traffic while leading the 1st 35-Lapper, enabling Chris Stevens to take the lead and the win, with Matt pressuring him. Tim also was leading late in the 2nd 35-Lapper, but a bump knocked his foot off the gas, which enabled Matt Stevens (this time pressured by Chris) to sneak by him for the win of the 2nd Feature, as fireworks cracked downtown in Oswego. RACE PAGE IS UP. 7/29/2011 YOUTUBE VIDEO UPDATE: YOUTUBE VIDEO IS UP!
Posted on June 19th, 2011 by ChrusherComix Studios
JUNE 19TH, 2011:
 Week 3 of the Galletta's Greenhouse Karting Club's 2011 Season saw Rookie Justin Galletta hold off challenges from several veterans,. including his father Tim Galletta, and cousins-once-removed Matt and Chris Stevens to duplicate his brother's feat the prior weekend and win his first feature. The race was exciting and action packed, but all around the great action ON the track it seemed that everything else was… well… some say cursed, as cameras, tapes, lights and caution lamps were all failing. As a result, we only have one camera angle of each race. 
Read more on our race page.
7/22/2011 Update: YouTube Highlight Video is up!
Posted on June 12th, 2011 by ChrusherComix Studios
JUNE 12TH, 2011:
 Twin 30s were in store for week two of the Galletta's Greenhouse Karting Club Season. Rookie Joe Sereno won his first feature in his 2nd race he's ever entered in the Galletta's Greenhouse #5 kart, while Melissa Stevens took her Scissors-n-Fur #19 back into victory lane in the second 30-lapper. Both features were close and action-packed! 
July 6th, 2011 Update: Details, pictures, points up, and YouTube videos are here).
Posted on June 5th, 2011 by ChrusherComix Studios
JUNE 5TH, 2011:
 The Galletta's Karting Club kicked off it's 
16th Points Season (and 21st season of kart racing overall)
 with a bang. Literally a few! Nine karts battled it out, with five of the drivers battled to five different lead changes during the 55-Lap feature, with Randy Platt going for a wild ride off the track in his new "Platt-num" #28, and Chris Stevens blowing the motor on the Galletta's #8 while leading with only 4 laps to go. This left Matt Stevens to capture the first feature of the season when he inherited the lead late, coming back from a couple early cautions! Plus three rookies drove an impressive race on top of all that! 
June 22nd, 2022 Update: Full results, and point standings and TWO YOUTUBE HIGHLIGHT VIDEOS go here
.
For the Galletta's Karting Club's World Championship of 1WD Gas Flatheads held on Galletta's Greenhouse Backyard Karting Speedway for the 2011 season to date. Our complete All-Time Points Standings from 2000-to-'the-last-completed-season' are found on this webpage, our division's complete 2006-08 standings on Oswego Speedway's lil' Kartway on this page, and our 2000-to-'the-last-completed-season' wins are on this page. At season's end, the current totals will be added into the All-Time points.
Pos.

Name (Go-Karts Piloted) [Most drivers have clickable Driver Profiles]

Total Points (Place)

Average Points Per Feature

2011 Events

2011 Features

2011 Heat Wins

2011 Feature Wins

Career Feature Wins (2000-up)

Years Pro at GKC

1st

Master Matt Stevens (Galletta's #33, 3, 80)

2011 Track Champion

2,963.0

141.10

16

21

1

6

104

16th

2nd

Chris "Chrusher" Stevens (Galletta's #4, 8)

2011 Klassic Champion

2,961.0

141.00

16

21

0

4*

58

16th

3rd

Tim Galletta (Galletta #54, Galletta's #6, 9)

2,644.5

125.93

16

21

1

3

6

3rd

4th

Melissa Stevens (Scissors 'n Fur #19, 80, Galletta's #7)

2,576.5

122.69

16

21

0

2

6

5th

5th

Justin Galletta (Galletta's #7, 6, 9) @@@

2,574.0

122.57

13

21

0

1

1

1st

6th

Joe Sereno (Galletta's #5, 1, 2, 9)

2,569.5

122.36

16

21

2

1

1

1st

7th

Randy "Bobandi" Platt (Platt-num #187, 28, Galletta's #2, 0) @@@@

1,851.5

132.25

8

14

4

2

5

3rd

8th

Brian Galletta (Platt-num 28, 187, Galletta's #1, 7, 9) @@@@@@

1,294.5

99.58

7

13

1

0

2

5th

9th

Jeff Tetro (Galletta's #9, 0) @@@@

941.5

94.15

4

10

2

2

3

3rd

10th

Kenny Lindsley III (Lindsley #14, Galletta's #0, 2) @@@

752.0

78.20

2

5

0

0

0

3rd

11th

Kyle Reuter (Nason #35, Galletta's #1, 0) @

602.0

200.67

2

3

0

0

4

4th

12th

Kelly Miller (Galletta's #9, 1)

414.0

414.00

1

1

0

0

0

4th

13th

Jason Platt (Galletta's #2) @

367.5

91.88

3

4

2

0

0

(R)

14th

Chris Doviak (Galletta's #1, 9) @@

328.0

65.60

1

3

0

0

0

(R)

15th

Jerry Galletta (Galletta #54)

320.0

320.00

1

1

0

0

0

(R)

16th

RaYzor Castaldo (Galletta's #6, 1)

300.0

300.00

1

1

0

0

0

2nd

17th

Arnold "AJ" Nason (Nason #35, Galletta's #1)

283.0

94.33

2

3

1

0

1

2nd

18th

Chase Sereno (Galletta's #6, 9) @

283.0

94.33

2

3

0

0

0

(R)

19th

Mike "mc" Howell (Galletta's #6) @

199.5

99.75

1

2

1

0

0

2nd

20th

Rob Clarke (Galletta's #2) @

194.0

97.00

1

2

0

0

0

2nd

21st

Harold "Hal" Borland (Galletta's #6) @

177.0

59.00

1

3

0

0

0

(R)

22nd

Ken Lindsley Jr. (Galletta's #1) @@

143.0

71.50

1

2

0

0

0

3rd

23rd

Nicholas Kazmierski (Galletta's #2) @

125.0

62.50

1

2

0

0

0

(R)

24th

Josh Hartley (Galletta's #9) @

120.0

60.00

1

2

0

0

0

(R)

25th

Andrew Pullen (Galletta's #1) @

80.0

80.00

1

1

0

0

0

(R)
Key: @ = Used Make-Up Retcon Races (Heat race scored as if raced in the back of a previously missed feature) T = Used Time-Outs (3 per driver per season; 5-10 minute break blocks) L = Raced Light in handicap kart; Point penalty & warning only, no harsh DQs. (R) = Rookie (Inexperienced beginner with less than 1 full season at Galletta's)  * = Includes 2011 Klassic Victory
Notes: Scoring: Point scoring scale is found on our scoring page in addition to our rules page, heats are bonus points, and more bonus points are awarded for each lap run in 1st place (1 point per lap) and 2nd & 3rd place (0.5 points per lap) for regular-season feature races and Klassic 200 (not for heats and Fall Bonus Races). Starts: Regular season race starts are handicapped via inverting (a) feature wins and (b) points-per-race. 2nd of a Twin-30 start is inverted from the 1st finish, minus winners are still inverted . Klassic is started via time-trials.
VISIT THE 2000-2010 GALLETTA'S WINS & POINTS STANDINGS, TALLIED AFTER EACH COMPLETED SEASON
---