This page documents the history of The Oswego Kartway's (formerly known as Oswego Speedway's Dirt Track) relationship with the Galletta's Karting Club of Oswego, NY. Since the Kartway banished the club in January 2009 and deleted all references of them shortly thereafter despite the club attending and supporting the track since it's inception in 2006, this page is meant to keep a record of the relationship between the track and the club and exactly what happened. Why were the two parties disgruntled at each other? Why was the club banned? Why did Oswego Kartway's operator and some of his friends publicly mock Galletta's Karting Club founding members? Why did the Galletta's Karting Club post harsh accusations against the Kartway on their website? Realizing that rumors can get out of control, and many people taking the side of the Kartway because they do not know us and only know one side of the story, the Galletta's Karting Club wishes to put out all of the facts on record for anybody to read. Instead of cluttering up too many webpages with it, it's all documented here.
The Galletta's Karting Club at Oswego Kartway Archive (2006-2008):
Between 2006-2008, the Galletta's Kart Club ran 31 events at the Kartway. For each of these races, we brought between 5-15 PAYING customers to their track weekly, many of whom would never buy a $3,000-$7,000 go-kart just to race there with, so raced in our class where karts cost around $300-$700 and have the same excitement of competitive racing. Most of these races, we were forced to run mixed against a different, more powerful motored class of OHV Outlaws. Our complete archive of events at Oswego is here, many with DVDs that contain partial program (some classes in 2007) or complete program (All classes in 2008) race DVDs are available:
Now it would take quite some time to look at every race from 1st to last (although they are all in the above window). So, it has been recapped for you here:
2005: Before the Oswego Kartway Existed...
.
Not always were things bad between the Galletta's Karting Club and the Oswego Kartway. Quite frankly, once upon a time, they were great, and mutually helpful to one another. In fact, in 2005, before the Oswego Kartway existed, the man who would later become the original (and rather agile and active for an injured fellow) track operator of the Kartway --visited the Galletta's Karting Club's Backyard Speedway with some friends who were racing with us. He watched our races and even joined in a couple. Go-kart racing had been taking place behind Galletta's Greenhouse since the early 1990s when brothers Matt and Chris Stevens (who live and work at Galletta's) started racing a yard kart and a recreational park kart, based after both their grandpa Galletta's idea to have a kart track and their love for Oswego Speedway racing. Over the years, the karts were adopted for racing, and with frame-building assistance from their dad Wesley, became somewhat of a hybrid between a yard kart and a racing kart. But money was the key, as the brothers wanted a form of equalized, competitive racing that we could be able to afford as a summertime hobby, unlike WKA-type karting, which is fairly expensive to enter let alone compete in, as many people use it as a stepping stone to real race car racing and spend top-dollar as a career opportunity. Competitive karts in such classes can cost up to ten times as much as what the brothers were willing to commit to a hobby. This is why the club used pump gas-fueled, 100% box stock Briggs & Stratton 5-horsepower flathead engines from the early 1990s through 2005, and essentially built and maintained our own frames instead of purchasing prefabricated racing chassis.
However, the operator's friends used the new (at the time) Overhead Valve motors. Galletta's allowed them on an experimental basis, provided that they were box stock and 5.5hp and only for drivers in excess of the 190-200 lbs. range (most club regulars were in the 150-170 lbs range and drove karts that were appropriately light or heavy to make up the difference). However, these motors proved to be extremely powerful and were easily overpowering the 5hp flatheads. As it was, the Galletta's Club rules were altered to allow shaved heads, which equalized the competition somewhat, until the OHV motors again got even faster. After the flatheads proved no match for the 6.5hp OHVs, as novice/1st year drivers were defeating veteran/10-15 year drivers on a regular basis by pure motor power.
When it was discovered that the operator's friends were using 6.5hp OHV motors with the stickers removed, in addition to other internal work, the Galletta's Club decided that we should either have everyone use the same flathead 5hp motor, or split the classes in two by motor type (in essence have 5hp flatheads for drivers under 190 lbs., and OHV motors for anyone over 190 lbs.). His friends were upset and unfortunately never came back to race at Galletta's, which disappointed us greatly, but the integrity of our rules had to come first to keep competition equal and prices down, even if it meant we lost a few strong competitors.
2006 - Oswego Speedway's Dirt Track Opens
In late 2005, the Oswego Speedway Dirt Track was created. One Galletta's Club driver tested it Labor Day Weekend 2005, and we felt that if they allowed us to race in our own gas 5hp flathead 1-wheel-drive class (AKA right-turn instead of the 2-wheel-drive karts usual left-turn), it would be very fun to race at. In 2006, it opened to karting classes. The Galletta's Club members were eager to try a new track in addition to racing in back of the famed Oswego Speedway, the track that founders Chris and Matt had attended on a near weekly basis for most of their lives and based their races after. The first week was a success, we enjoyed the experience of racing on a small track with a tight clay surface (far different from our 2x's larger, looser Galletta's track) and we were thrilled to have a second change-up track to race at, so we agreed to go back. The second week, however, our friends with OHV "Outlaws" were at the track and we were forced by the track operators to race with them. We did, but there was some
controversy
about allegedly purposeful wrecking, not obeying race rules by not going to the back after a wreck, passing under caution and angry arguments over
that and motors. After one wreck, where the #18 flathead was spun out (according to the driver of the then-leading #18 and several spectators) by an OHV kart that the track operator forced us to race against, and after the race the OHV drivers (OHV Outlaws) challenged the flathead drivers (Galletta's Karting Club) to a fight in the pits. The track operator was quoted saying that he hoped one of them would "pound the piss out of" one of our club members, and that he never forgave us for kicking his buddies out of Galletta's the prior year, which was not true (they stopped coming when we decided to split motors into classes). The track also allowed 'Open' methanol karts to run in our class and even wreck some of our 'Gas Stock / Super Yard Kart' drivers without penalty, which further disgruntled many of our club members. We figured if that is how they allowed people to run on their track, we wouldn't come back even if we did enjoy the different experience of racing there. And many of our club members never did go back.
.
2007 - Growth & Expansion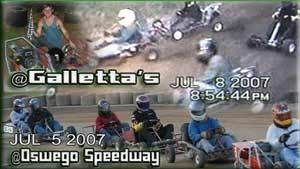 In 2007, track operator Jim Losurdo invited us back, provided we adopted slicks on our drivewheel tires. Initially we resisted after (1) what happened last year with forcing us to run against bigger motors, (2) the allowance of unpenalized and seemingly purposeful wrecks, and (3) the fact that our inexpensive club would have to change tires twice a week from treads on our backyard speedway to slicks on the pay track, but decided to give it a chance. We began videotaping the races at Oswego Kartway in '07, like we have done at Galletta's for every "Klassic" since 1998 and every weekly Galletta's race since 2005.
2007 Season YouTube Video Playlist Volume #1:
Jim was also gracious enough to give Matt tips on how to improve Galletta's racing surface, and let Matt borrow a grate to drag and smooth the track. Our track's large size and without anywhere close to enough funds to buy clay, so we make do and enjoy Oswego's tight clay surface, which is different from our loose one, and gives a drastically different two-a-week race season. However, we again had concerns about OHV Outlaws having too much horsepower for our standard club motors.
It was proven for much of the year, with one OHV kart not only having more power than anybody else, but also wrecking and arguing with some of our club members. In fact, one wrecked all of our members in one race alone. Some of our club members refused to even go to the track anymore. But others persisted and raced weekly, as they felt a good balance between the top speed of the Galletta's 5hp flatheads and the low-end power of the 6.5hp OHVs was at a somewhat workable middle ground.
2007 Season YouTube Video Playlist Volume #2:
The season culminated with the three original members of the Galletta's Karting Club - Chris, Wes, and Matt Stevens - taking the top-three trophy positions in the first ever Oswego Speedway Dirt Track Classic (Gas Stock Division). All race recaps can be seen and DVDs can be purchased via our archives located at the left side of this page.
2008 - Renamed Oswego Kartway
In the 2008 offseason, Galletta's agreed to do
weekly DVDs of all of the races for $5 each per disc in '08
, something that many Kartway racers and family members were
very
happy about. In addition, we agreed to do the logo and banners for the Kartway's new website, and promotional materials (trophies, signs, pamphlets and programs). I agreed to do them for a cheap price ($10-25 each for banners, $50 for a logo to use everywhere) in comparison to most graphic artists, as it's mixing
my profession
with
my low-cost hobby, racing go-karts affordably
. However, the fee for the logo and banners went unpaid during the hectic season.

2008 Season YouTube Video Playlist Volume #1: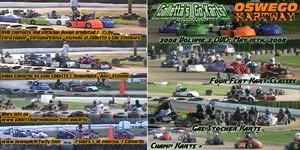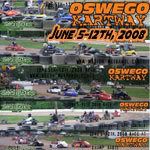 Galletta's also attended the 2008 winter driver meeting. There, we agreed to use the same rules that we used in 2007, which was gas Briggs 6.5hp OHV motors (box stock except carb cast imperfection cleaning) for the "Outlaw" team and gas Briggs 5hp Flatheads (stock parts and shaved heads) for Team Galletta's, as in 2007, we felt that they were at least close, even if the 6.5hps had a shade more power. However, when week one lined up at the newly renamed Oswego Kartway, it was apparent that the OHV Outlaws stepped up their game and had far more horsepower than previous seasons. Many began to speculate immediately that they were using Animal motors, which would be in violation of our simple, yet effective rules (of allowing them to use store-bought, stock Briggs Intek 6.5hp OHV motors with a sputter-corrected carb as a weight handicap against our 5.0hp Briggs flatheads with heads shaved).
A few weeks into the season, one race in particular, they were blowing Galletta karts away, and smelled like they were burning fuel additives, something that was also not allowed in Galletta's rules. After this, we contemplated never coming back. Then, the track operator walked into our kart garage at Galletta's Greenhouse and let us know face to face of skullduggery - that the Outlaws indeed were using stock Animal take-out parts (that he personally sold them, as he and his Champ Kart Methanol Animal class removed and did not need) and fuel boosters. He also told us to speed up our own karts and screw our racing partners (at Galletta's, whatever we do to upgrade our karts, we also do for all of our fellow racers, as we believe in equal competition and fair sportsmanship, we do not cheat and abhor cheaters).
In order to counteract this, Galletta's implemented something that they had never done before. Legalize the use of some racing cams for all drivers. Previously, only the heaviest Galletta's Club drivers were allowed them, and we had to radically change our rules to adapt to the Outlaws for the 3rd time in the last three years. This did temporarily equalize the races again, but the disagreements continued. The two divisions of the 1-WD Gas Stockers decided to mutually part ways and split the division by motor, and the track operator reluctantly agreed. In fact, a few weeks when Galletta's came forth to the Outlaws and we agreed to run both classes on the same track (in order to have one 9-12 kart race instead of two 4-6 kart races) but score them as two different divisions, a few Outlaws were so angry with us over the motor split that they refused to even do that.

2008 Season YouTube Video Playlist Volume #2:
Disrespect from track officials and other divisions
One of the biggest insults to our club came by the other divisions unwillingness to accept us as a racing division. Because (1) we drive the other way -- turn right instead of left --, and (2) our karts and engines cost 1/10th of theirs but yet we put on a show equal or better to the other classes (which we later on saw as cookie-cutter karts and kiddie classes in response to hearing the derision).
Then, there's this... the Oswego Speedway's Weekly Eagle Magazine:

Every divison winner's picture was posted. Except ours. And the track promoter made sure he made his pic in there. And his engine builder. And his engine builder's son. Well, at least Kyle got in there, a graduate of our division.
But here was our divison winner pic that week -- which THEY HAD and STILL got left out:
And it was easy! Why? Because our guy -- Matt Stevens, the founder of Galletta's Greenhouse Karting -- SWEPT TWO DIVISIONS THAT ONE NIGHT? The 1-WD Gas Flatheads and 1-WD Gas OHVs. Two birds with one stone to use this pic! And there was a HUGE, UGLY white box with HUGE letters in it's place! More than enough room for another pic and STILL post next week's race's date in big font with room to spare!
The track promoter at the time called it an honest mistake to forgot to add our victory photos. When it happened again, he forgot again, just a coincidence. But it happened all year. You know, guys, you can be honest. You just didn't like our "yard karts" putting on an equal-to-better show and you thought we downgraded the class" of the track. Just admit it. It's ok.
Or maybe it's because our guy SWEPT TWO DIVISIONS THAT WEEK? Maybe? Maybe... just maybe you had a problem that a lil' yard kart dude showed you up? Naw... can't be that. Otherwise, you'd put the winners to ALL OF THE CLASSES... right? Yeah, whatever. Thanks for the support.
The Final Straw: The Oswego Kartway Classic Screw Job
The 2008 Classic was the final straw in the storied history of Galletta's Club racing at Oswego Kartway from both sides (Most of the Galletta's drivers and the track operator's). During the 2008 Classic, points and wins leader Matt Stevens was leading the race by a straight-a-way on the last lap.
One corner man held out the yellow flag, and Matt believed that the caution came out and slowed. But the track operator threw the checker, and when Matt's father Wes passed Matt at the finish line, the race was awarded to then-2nd place Wesley. This confused everybody, and quite frankly we didn't fully understand it until after the race was well over and we reviewed the tape over and over. Matt was particularly hurt and felt betrayed by the track operator, who called the race under a caution and rewarded the to someone who did not lead one single lap under green. But regardless, the founders of the Galletta's Karting Club still swept the top three positions for the 2nd straight year, but in a different order (Matt/Wes, and Chris). Again, all race recaps can be seen and DVDs can be purchased via our archives located at the left side of this page. We never have anything to hide, our huge website covering every season from 1996 and every race from 2005, our ever-growing supply of edited YouTube videos and unedited race DVDs are all an open book, and we do not censor or threaten people that we disagree with. After this, although 75-80% of the kart/driver combos were all within 5 lbs. of each other in terms of weight, the Galletta's drivers, based both on the operator's request in addition to help our three heaviest drivers at the time, enacted definite weight/cam guidelines, and all agreed that we probably would only go to a handful of shows at Oswego Kartway the following season due to the annually increasing costs of racing there and the above noted poor experiences with the track operator being unfair, biased against us, disrespectful to our rules, and even sometimes downright hateful and threatening to us despite the fact that we - without special treatment or pay - brought the biggest class of paying customers to his track throughout 2006, 2007, and 2008.
Aww, you guys just don't like them because you can't race there like us real racers!
Been there.
Done that.
The Galletta's Karting Club raced in the first three seasons of the Oswego Speedway Dirt Track (which later became Oswego Kartway). In all three seasons, club founder Matt Stevens won all three track championships in the mixed-motor 1-WD division. And Matt, his brother Chris and father Wes SWEPT 1st, 2nd, and 3rd place in the first two Classics at Oswego Kartway - with the 2007 one still being the largest (15 karts), most diverse (Flatheads and OHVs, all weights and ages) and longest (50 laps) Classic to date on the track.
We had nothing else to prove before our division was removed from competition.
There was a 3 year open challenge during our stay there to any driver on the track in any division to step into any of our karts and beat us in them. We had no takers. Well.. we had one, who didn't do bad, but didn't beat us either. The challenge has still been out there since 2006 to today - come on out and race us at Galletta's. What it tells us is... they know their place.
.
.
The All-Time Oswego Kartway Points:
.
Between 2006-2008, the Galletta's Kart Club ran 31 events at the Kartway, many mixed with a different class of OHV Outlaws. Of 40 drivers who raced in the 'Gas Stocker / Racing Yard Kart' division, nearly 30 were from Galletta's Karting Club and raced our standard 5hp flathead motors. During this period, the class was the only one to have 10-16 kart weekly races (of paying customers I might add!) and count points and wins. We were one of the original support classes for the track in 2006-07, as when we were having 10-16 kart races, a few methanol classes were a meager 1-5 karts each. Of course they grew, but never thanked us, and disposed of us as soon as enough support classes came in and we were deemed unnecessary or even a burden by the track operator (see below). Here are the point and win totals for the club at the track during that three year period.: