DRIVER PROFILE FOR MATT "GALLETTA" STEVENS (1990-current)

Matt Stevens after beating the entire "Outlaw" 6.5hp Gas-Open Kart" Class with his 5hp Gas Stocker #33 at Oswego Kartway on 8/1/2008
Matt Stevens is the undisputed winningest karter in Oswego County. Beginning his career in the early 1990s and racing full seasons every year since, collecting several track Championships and "Classic" race victories on the two original dirt karting tracks of Oswego – Galletta's and Oswego Kartway.

Name: 
Matthew Joseph Stevens
Occupation:
Galletta's Greenhouse Co-Operator/Head grower; Househusband & dad.
Hobbies:
Co-founder, head mechanic, and Multi-time Champion racer of Galletta's Greenhouse Karting Club; Galletta's Greenhouse Backyard Speedway Operator, Undisputed All-Time Winningest Racer in Oswego, NY Area Karting (Any disputes? Let us know. We think not).
Marital Status:
Married. His wife is driver of his backup #3, the #80 (clone of his #33), and #19, Melissa Gabel Stevens.
DOB:
1976
Years Racing:
1990-current.
Tagged articles featuring Matt:
Matt Stevens, Matt Stevens win,
All-Time Points & Wins Leader in Oswego Karting:
Career Highlights, 

Victories & Profile Pictures:

2020
---
7/5/2020 – A Rocky 25th Annual Independence Day 45 Leads to BIG Crash & Matt Stevens Getting an Easy Win! [+YouTube]

Sunday, July 5th, 2020 – Matt Stevens survived to win his 2nd feature of 2020. Even he had to admit, this one kind of fell into his lap, as early leaders Greg Blanchard (spin), Travis Bartlett (lost header pipe) and Chris Stevens (HUGE crash with Steve Sixberry) all ran into problems that led to him inheriting a win. But sometimes that's how she goes and a win is still a win. Read more and enjoy the Tower camera and Helmet-cam angles of our Independence Day 45 Lapper, seen here!
6/14/2020 – 25th Annual Season Opener: 14 Karts, 45-Laps, Chris & Matt Stevens Survive to Take the Wins! (AKA, "Did We Hit a Bunny!?" Race)
Sunday, June 14th, 2020 – Our 25th Point racing season began — Chris & Matt Stevens outlasted 14 other competitors to win the 25/20 Lappers — but it went far from smoothly! Everything got started late and finished late. And during our twin feature races — particularly the 2nd feature race — the track started eroding and taking its toll on the karts and more and more started dropping out due to breakage, and even a couple of flips. And our camerawoman had to retire to put the kids to bed before the start of the 2nd as well. Just… everything piled on. Even the website coverage was behind due to the late night and errands I had to run for two weeks, myself! But it's finally done! More here.
2019
---
2019/9/29 – Matt Stevens wins 24th Annual Galletta's Greenhouse Go-Karting 200-Lap Klassic [+YouTube]
Sunday, September 29th, 2019 – The 24th Annual Galletta's Go-Kart Klassic 200 Lap 1-WD Championship of the Galaxy! Watch past Klassic Champions Chris Stevens, Matt Stevens and Kelly Miller battle it out for 200-laps with hard-charger newcomers Steve Sixberry, Nic Olivares, Zach Blanchard and several more! Plus, an unplanned Fall Bonus Point Race to boot! And we have it all here: Time Trials & The 24th Annual Galletta's Go-Kart Klassic 200! Race rundown and race videos are found here!
8/11/2019 – Twin-25 Feature, 10-Kart Battle Royale SWEPT by Matt Stevens; Steals both from bro, Chris! [+YouTube]
Sunday, August 11th, 2019 – Oswego, NY – In what was the most populated race in the past year (and could have been the most in a few seasons if just a couple more vets just simply showed up), 10-drivers started and battled it out. And the racing was close and fun to behold. A LOT of side-by-side racing and more passes than usual. A handful of rookies that joined the club last weekend are getting the hang of it, and it made for some exciting race footage! However, the more things change, the more they stay the same, as win machine Matt Stevens stole BOTH features from his point-scoring, but win-starved brother Chris! See him laughing, son? Yep. It's at and laughs at Oswego Beta Kartwayers who could never dream to beat him. TWO race videos (Tower Cam and Helmet Cam) with an edited video containing both cameras synched. Read & watch more on this page!
7/21/2019 – Man Run Over during Twin-25s as Stevens Bros. Sweep [+YouTube]
Sunday, July 21st, 2019 – Our Mr. Galletta's Speedway (AKA 10,000-**cks-To-Win) was won by GKC founders Chris and Matt Stevens. For Matt, this makes 3-events-in-a-row where he won the 2nd of a Twin-25 in the #74 kart. Chris however, finally snapped a 21-month-and-8-days winless streak by taking the 1st checker of the night in the #4 kart. To judge how long that's been, his-1-year-old daughter Celeste either didn't even exist yet, or was just conceived around the time of his last feature win — the 2017 Klassic 200! Oh, and two rookies got into a scary wreck when Tony Hemingway literally kamikaze drove over fellow rookie Andy Hook in turn 1. Ouch! But look… why read my typing about it when you can just go and WATCH THE VIDEOS HERE?
7/14/2019 – 3rd Set of Twin-25s Go To Matt Stevens & Josh Arnold [+YouTube]
Sunday, July 21st, 2019 – After a week off for the fireworks of Independence day, the racing resumed at Galletta's. And twin-25s made for another two winners: In the 1st feature, Josh Annold led all 25 laps from pole position in his #93 in a race that saw almost no passing. In the 2nd, Chris Stevens led almost the entire race until the Galletta's #78 slipped off the track into some grass which enabled his brother Matt Stevens to capitalize and scoot by his brother in the Galletta's/Chrusher.com/OswegoSushi.com #74 for the win. MORE INFO, POINTS & FULL RACE VIDEOS HERE.
6/30/2019 – Steve Sixberry & Matt Stevens Take Twin-25s [+YouTube]
Sunday June 30th, 2019 – Two very competitive 25-lap features went to Steve Sixberry and Matt Stevens, although neither had it easy. They battled tough, close races and earned those wins. But wait… unlike the early days of this website, you don't take my word for it and complain about me writing a godhdang book every week — go ahead and watch the video and view the point standings on this page here to find out and same my fingers from getting raw!
2018
---
9/22/2018 – 23rd Annual Galletta's Greenhouse Go-Kart 200-Lap Klassic Championship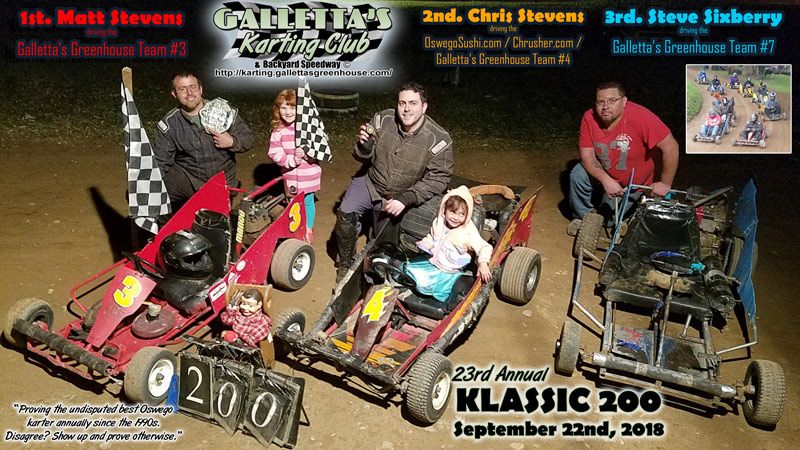 Saturday, September 22nd, 2018 – The 23rd Annual Galletta's Go-Kart 200-Lap Klassic Points Championship was held, 10-drivers strong! And, only FIVE cautions!
Matt Stevens used a 2/3rds of the way pass (catching his fuel-conscious brother Chris off-guard) and held on to win his 13th Galletta's Greenhouse Karting Speedway Klassic (His brother Chris has 7, while Wes Stevens, Kyle Reuter, and Kelly Miller each won 1).
With the win, Matt swept both the '18 Track and Klassic Titles… but it almost wasn't the case, and why we race the races! Chris passed his brother Matt in traffic early and led the vast majority of the race, scoring massive amounts of bonus lead laps. Chris only needed to lead around 6 more laps to win the track title, and if he held Matt off for the win on top of that, he would have stole BOTH titles from Matt (who had dominated all year) on the final lap of the season! Matt caught Chris sleeping as he was preserving fuel and did not expect Matt to go for it at that point of the race.
Good racing from start to finish, only marred by a back-jarring crash early on. Read more and watch the video here!
2019/08/19 – A Mostly Rookie-Filled 40-Lapper won by *shocker* all-time winningest vet Matt Stevens!!!!!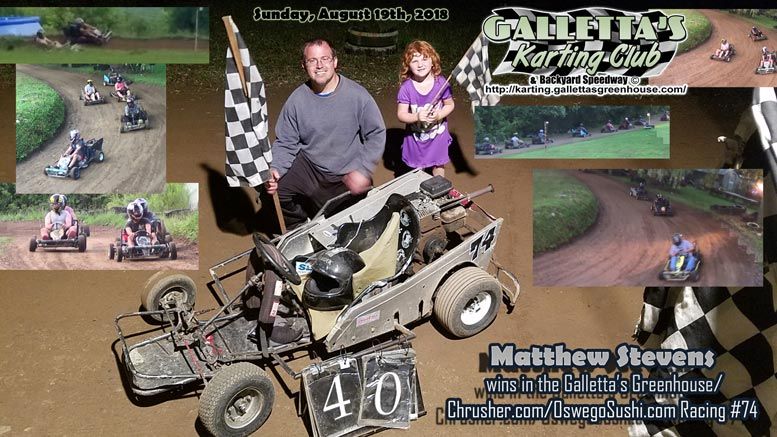 Sunday, August 19th, 2018 – Several rookies raced in a heat and a 40-lapper. With enough drivers, two vets could join for points (although perhaps they should not have, as a familiar face started 3rd and dominated after 2nd place blew a tire and 1st place had a sputtering engine, making it a relatively easy win for someone that you can probably guess who they are (especially if you know our races or just keep scrolling through our history).
Race video and points are found here.
2018/08/05 – Twin-15's for Rookies & Make-Up Points won by Steve Sixberry & Matt Stevens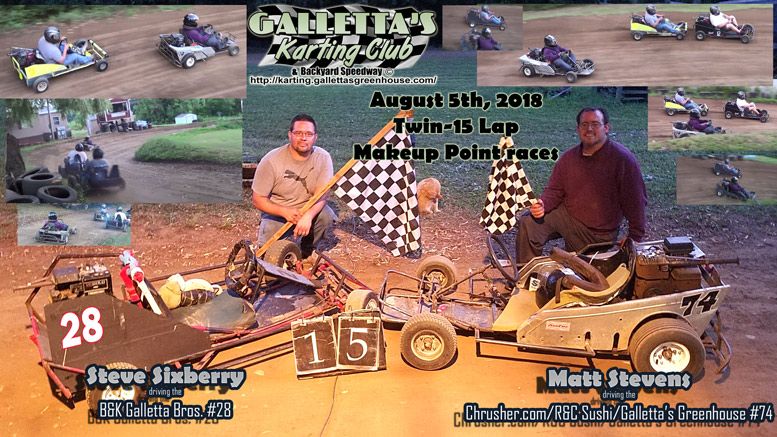 Sunday, August 5th, 2018 – In an unfortunate twist, most of our regular drivers could not make it, so due to only three visiting drivers, we rescheduled to a "Make Up Points / Rookie Race" — although you can't keep Matt Stevens off the track and races with no points or feature wins at stake.
Chris Stevens took the opportunity from the regular-season point racing to try and get a wide variety of different shots, not just the tower angle which everyone who knows us is accustomed to. Enjoy it here, along with the points and pics!
2018/07/29 – Oswego Harborfest Champ '18 CROWNED — Matt Stevens!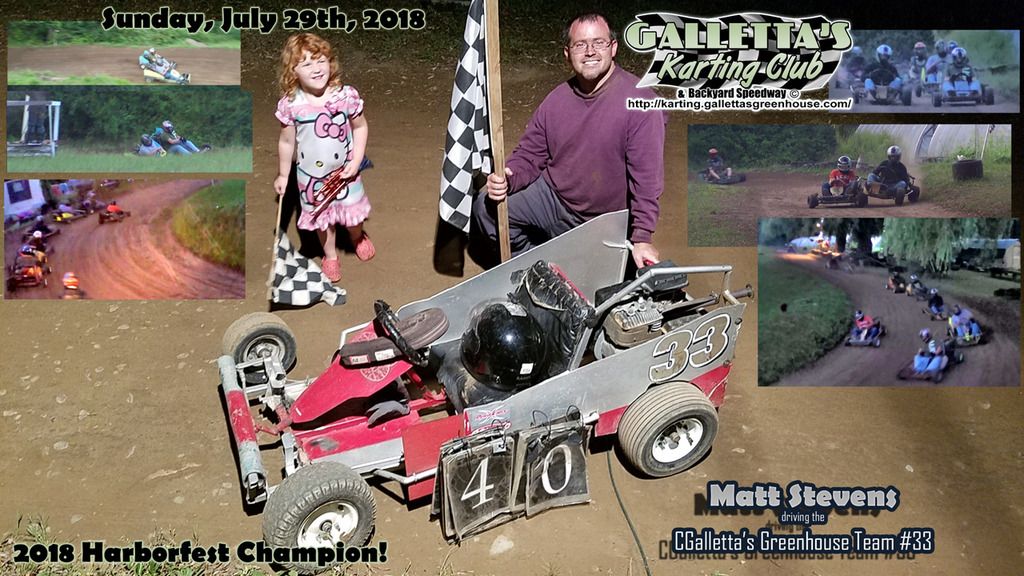 Sunday, July 29th, 2018 – Another year, another Harborfest champion has been crowned. Little do most people know, we see who is the champ of the Oswego gathering annually on our track on the outskirts of Oswego. It's almost as if it was a top secret cabal event… except it's only been on this website every year since it first went up in 2005! Two 8-lap heats and a 40-Lap feature were up for grabs for 10 competitors, and it was good, hard racing (with a few mishaps)!
More — including complete race videos and point standings — can be found here.
2018/07/22 – "Mr. Galletta" 10,000 Rocks-to-win Twin Feature Nite Swept by Matt Stevens in the #74

Sunday, July 22nd, 2018 – Twin features on a loose and bumpy track were on tap, and both were exciting as usual. Matt Stevens was able to successfully navigate the low groove to sweep both features, although he needed two karts to pull off the 2nd one when his Team Galletta's Greenhouse #33 stalled with a clogged carb early on. Fantastic race action in both!
Video, points and more coming on this below page.
6/28/2018 – Exhibition Race for Doug Didero by Kelly Miller, Matt and Chris Stevens!
Thursday, June 28th, 2018 – Doug Didero–Oswego Speedway Hall of Famer (three time Oswego Supermodified track champ, two time Oswego Super Classic 200 winner and 9th all time in Oswego Super Feature wins), not to mention a veteran of many other forms of racing, (including NASCAR Busch, IRL, and more)–stopped by to watch a 3 kart exhibition by Kelly Miller, Matt and Chris Stevens. Chris and Matt have been fans of Doug since the early 1990s and finally got him up to check out our big backyard speedway as Kelly was able to pull him and his car owner away from his Super for a bit to check it out. He loved it and wanted to see 10-15 karts out there! (We wholeheartedly agree! Where have the drivers been?) NOTE: Kelly was saddened that he had to leave before we got a picture in. (Also: Really cool of the Oswego Speedway to shout out this picture on Facebook and Twitter!)
---
2017
10/13/2017 – The 22nd Annual Galletta's Greenhouse Karting Klassic 200!
Friday, October 13th, 2017 – Our 22nd Annual Galletta's Go-Karts 200-Lap Klassic Championship FINALLY went down after a near month of delays due to lousy driver attendance, occasional bad weather, colds, and other strange anomalies. The top 3 in points all season — Chris Stevens, Matt Stevens and Josh Arnold — this year were the top 3 in the Klassic as well!  [UPDATE: Done!]
Matt was a few points away from another Track Championship and one refuel gamble away from a Klassic 200 win. His brother Chris — the only man to ever beat Matt in a Track Title that he has ever entered in on Oswego's original two dirt karting tracks — won both in 2017.
8/26 – 8/27/2017 – WILD crash during 17-Kart Doubleheader: Saturday Night 40-Lapper AND Sunday Night 35-Lapper for a Double Show Weekend; Josh Arnold and Matt Stevens Victorious!
SATURDAY, AUGUST 26th, 2017 – SUNDAY, AUGUST 27th, 2017: Several drivers (a few that raced with us before a couple of years ago) enabled us to get a show in and it wound up a good one. There was also a nasty wreck late in the feature with bodies flying. Then, the next day, several MORE drivers (this time a handful of rookie 1st time racers at Galletta's and a surprising return of Team Dann) joined us for a surprise Sunday evening showdown. As you can see from the video, the racing was actually extremely good both Saturday AND Sunday considering the amount of new drivers in both! Read more & view YouTube video here!
8/5/2017 – Twin-30s won by Kevin Galletta & Matt Stevens!
Saturday, August 5th, 2017 – In Tim Galletta's 2-weekend return for the 1st time in 4 years, Kevin Galletta led every lap of the 1st 30-Lapper to take his 2nd feature win of2017. Matt Stevens then led zero laps and just stole Lee Gleason's 1st victory away from him by sneaking the front bumper past the stripe on the final lap of the night. The funny thing was Lee's kart has had terrible motor sputtering issues and lack of power for a while now, and Matt put around a week of work testing and fixing the motor until it got up to par. And if not for Matt's craftiness on the final lap, Lee would have put the #29 (the former Thunder Island/Larry Phillips/Kenny Lindsley III/Eric Woolworth/Billy Ruggio/Eric Woolworth/Keith Raymond/David Hall/Lee Gleason ride) in victory lane for the 1st time in a long time. Full race YouTube Video, results and points are here.
7/23/2017 – Matt Stevens & Josh Arnold Repeat as Winners of Twin 33's! [+YouTube]

Sunday, July 23rd, 2017 – Deja-vu to opening night '17, as Matt Stevens win a feature in the Galletta's Greenhouse/Chrusher.com/OswegoSushi.com #74, and Josh Arnold in his Arnie Racing #93 won the other! Lots of cautions and kart breakdowns this evening, but nonetheless — as the video shows —  the racing was entertaining!
Full Points, Pics & Video Race Page | YouTube Video |
6/17/2017 – The 22nd Annual Galletta's Go-Kart Opener has Josh Arnold & Matt Stevens win Twin 35s! [+YouTube]
Saturday, June 17th, 2017 – Due to several setbacks (including no track vehicle), we missed the first two weekends of our usual race season. However, thanks to Brian Galletta and his Jeep, we can FINALLY get the season started. Saturday evening was the goal instead of our usual Sunday (for Father's Day & avoiding possible showers), and TWO features were in store to make up for the two week delay. The Arnie #93 driven by owner Josh Arnold passed Mike Patak (who later went on for a WILD flip) to win the 1st Feature, while in the 2nd feature, Matt Stevens stormed into the front and never looked back in the Galletta's Greenhouse/Chrusher.com/OswegoSushi.com Frankenfreak #74! Video is up:
Race Page & Complete YouTube Race Videos Here
---
2016
9/24/2016 – The 21st Annual Oswego County Klassic 200!

Matt Stevens triumphs in the 2016 Klassic 200 yet again, proving that he is still the premiere karter in Oswego County, no matter the class! He wins in the oldest Galletta's Go-Kart, a 1980s Manco kart that has been completely rebuilt a handful of times into the best 1-WD racing yard kart in the world. Chris Stevens won the 2016 Point Standings, as he led the most laps in the 200 and was in the top-3 all season, but a broken pull cord did him in for his bid for the Klassic, and had to settle for a hard fought 2nd place in his Galletta's/Chrusher.com/R&C Sushi #8. 1st year driver Jason King proved to be a survivor, hanging in the full 200 laps, holding his ground and picking up an impressive 3rd place in his King #12. Keith Raymond was a strong and serious contender in the Galletta's #0, but when it broke down, he had to go down a lap in the Galletta's #6. These were the only four to make it from start to finish – the four iron men and iron karts of Oswego County Karting.
7/24/2016 – Master of Oswego Karting Matt Stevens DOMINATES Week 7's 45-Lapper!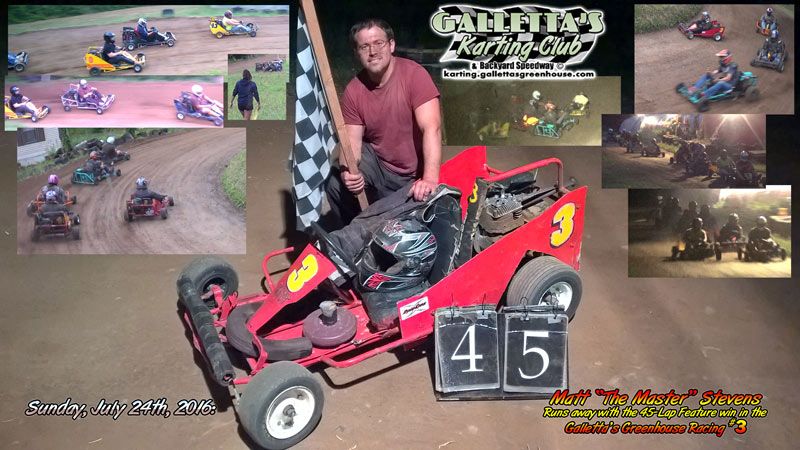 Sunday, July 24th, 2016, Week 6 – Thus far this season, three drivers–Matt Stevens (3 wins), Chris Stevens (3 wins) and Kelly Miller (2 wins)–have been have been hogging all of the wins and the high-point-earning top three positions, and it shows in the point standings. Between the three, it has been whomever can get to the lead first… wins. And today it was Matt Stevens, who pulled away from the rest of the field when he secured the lead after avoiding a mid-feature pileup in turn 2. The track held up much better this week, so Matt's work paid off in two ways – satisfied racers and a victory for himself. Point standings are here and the complete race video on YouTube video is here.
6/26/2016 – Powder-puff Warriors Hospitalized in Devastating Crash; Matt Stevens Sweeps 2-of-2 features to hog Victory Lane!
Sunday, June 26th, 2016 – We had an action-packed Twin-30s night that was unfortunately marred by a wreck between the two rookie powder-puff girl warriors coming together and taking a nasty spill in turn one, effectively ending the second race at 18 laps to get them medical attention. We will pass along more info later as we have it. UPDATE: We have it on the race page.
---
2015:

8/7/2015 – Matt and Chris Stevens steal each others wins at Masters of Oswego Karting Twin-Feature Night!
FRIDAY, AUGUST 7th, 2015, OSWEGO, NY – There were some crazy accidents this week at Galletta's (one would almost think there was a full moon out, but there wasn't). Early leaders spun and collected others and put point leaders Chris and Matt up front again. Usually whomever gets to the lead first between the bros wins. But there was some shenanigans that had the bros pretty competitively mad at each other (happens once or twice a year since they're always so close in points). Chris had the lead in the 1st and Matt used lapped traffic getting sideways to trap Chris for the win, much to Chris' displeasure, as that passing flag apparently simply does not exist anymore. Chris tried to return the favor to Matt in the 2nd feature, but this time the traffic spun out and saved Matt from getting passed. Chris then rode Matt's bumper, one lap pushing him into loose dirt, enabling Chris to sneak by his little bro to win the 2nd feature, much to the anger of Matt. But in reality, every other karter should be getting mad because Chris and Matt keep hogging the wins in Oswego's oldest and longest running karting division! But Matt has succeeded again with creating a new setup on the #9 to help heavyweight drivers to compete with lighter ones (he weighed himself own over 40 lbs. to test the kart, and had plenty of power to spare, proved in the win and near sweep!). Results, pics, and points, & YouTube video are up!
7/19/2015 – Matt Stevens' Mastery of the Low Groove Secures 139th career feature win!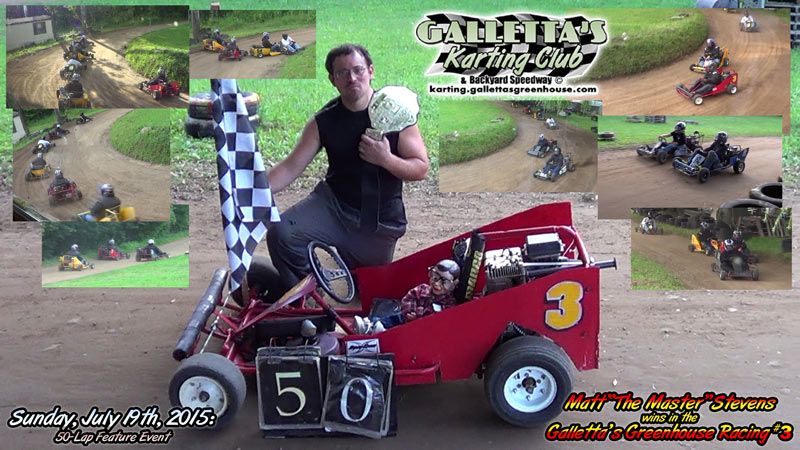 SUNDAY, JULY 19th, 2015, OSWEGO, NY – With rain on Friday and not enough drivers on Saturday, we postponed the feature to a hot and sunny Sunday afternoon. Keith Raymond and Brian Galletta had eyes on the prize leading good chunks of the 50-lap feature, but both broke down while leading. Matt Stevens took the lead from there and – as the high groove proved problematic for the 2nd weekend in a row – he used his mastery of the low groove in turn one to secure his 139th Oswego Karting Feature Win (counting  feature wins at Galletta's and Oswego Kartway combined since 2005 and counting 1990s Klassic wins). All while in his trusty old Galletta's Greenhouse #3, which he has won a majority of those features in. While a YouTube video should be forthcoming, more details (results, points, pics and rundowns) are up… here.
6/26/2015 – Matt Stevens Steals BOTH Twin-35s from bro Chris thanks to Ogre's new NO Passing Flag Rule! (PLUS… Lytle ON FIRE!!!)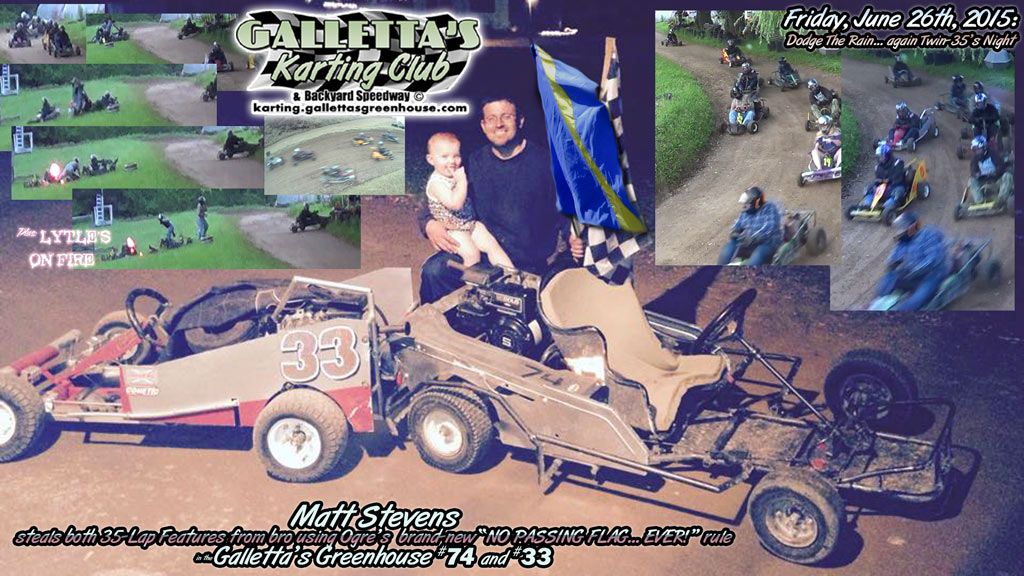 FRIDAY, JUNE 26TH, 2015, OSWEGO, NY – Originally scheduled for Sunday, July 28th, 2015, seeing another rainy weekend looming on the horizon in the Oswego/Central NY forecast (we simply cannot remember a cooler and rainier June in our lives!), all active club drivers elected to instead hold yet another preemptive Friday Night race. Friday, June 26th, 2015 at 7pm it went down. Keith Raymond and George Sweeting had tremendous drives and held early advantages until Chris Stevens was able to squeeze by for the lead in both features. But then, in BOTH features, head flagger Wesley James "TrOgre" Stevens didn't throw the passing flag, and BOTH TIMES, Matt Stevens snuck by for two wins to pad his all-time feature win lead of all Oswego Karters. By two. Again. If there were spectators around, people would be accusing the track official of skulduggery in helping Matt!
---
2014:

10/11/2014 – 19th Annual Galletta's Greenhouse Karting Klassic 200 won by Matt Stevens; Clinches Track Title & Overall best karter in Oswego, NY. Again.

SATURDAY, October 11th, 2014, OSWEGO, NY –  200 laps.  Only 6 cautions. No fuel refills. And 79 consecutive green flag laps to the finish. Matt Stevens again proved why he is the best karter in Oswego County for 19 years now. He not only prepared 23 on-site karts and made them all within 0.66 seconds of each other (we defy anybody on the planet to do that in any motorsport race anywhere at any time!), but he time trialed on the pole for the 19th running of the area's largest, longest-running, and hardest to win kart race, took it easy for a bit and then dominated the 2nd half of clinched what he already led almost all season – the Galletta's Greenhouse Karting Speedway Track championship. Can't buy it. You have to earn it. There are only five drivers in the world that have won a Galletta's Klassic, and only 2 drivers in the world that have won Galletta's Track Championships (see above) and Matt has won more of them than everybody else combined. Matt Stevens wins overall Oswego/World Gas Flathead /Galletta's Karting Points Championship, as you can see here by checking out the 19th Annual Galletta's Klassic page complete with finalized 2014 point standings.
9/1/2014 – 19th Annual Labor Day 50-Lapper stolen by Matt Stevens in Galletta's #1

MONDAY, SEPTEMBER 1st, 2014, OSWEGO, NY –  Due to a severe lack of drivers (3), and camera operators (0), our Saturday, August 30th 2014 race was postponed a few days for Monday, September 1st, 2014 at 5:30pm. Pushing the date back meant that it wound up being a good 8-kart feature (remember, our for-points race cutoff is usually 8) that saw 1st year driver Keith Raymond lead early on (in the Galletta's Greenhouse #5) before drive system problems parked the kart, ending his bid at his 1st career feature win. Chris Stevens then inherited the lead (in the Galletta's Greenhouse/Chrusher.com/Oswego Price Chopper R&C Sushi Bar #4) and looked like he was going to take his first win in over a whole calender year. But on a late-race restart, Chris lost traction in turn 1 and Matt Stevens used that opportunity to put the oft-unused Galletta's Greenhouse #1 into victory lane, something that it rarely gets a chance to do since usually only raw rookie renters run it (again, another lesson that our karts are all of very close and near-equal ability – it's the driver skill and a bit of luck that determines the outcome). During the post-race photos, Chris was a little peeved to see that while he has a bald slick on his drive-wheel tire, the #1 had a treaded tire on the drive-wheel! Something we ruled against in 2008 due to racing on both Oswego dirt tracks at the time. Oh that tricky, underhanded lil' Mr. Matty-Joey! As if the most wins of all karters in Oswego wasn't enough? Maybe this is why the small horde of pay track drivers epically puss-wuss out year after year and don't try to take him on? Sheesh! There may be penalties involved for this one. Stay tuned here!
7/12/2014 – Matt Stevens wins Fast 40-Lapper in Galletta's Greenhouse #5!
SATURDAY, JULY 12th, 2014, OSWEGO, NY –  Matt Stevens did it again! He hops in a backup kart that is available for rent every weekend (and usually sits idle) and DOMINATES the field en route to another Feature victory, padding his total feature wins again – a total that no karter in Oswego (and points beyond) can touch. But it wasn't easy to get into the lead. In fact, Brian Galletta, Chris Stevens and Kelly Miller all got trapped behind some zany lapped traffic to get picked off en route to Matt's win, which means that Matt has now taken 3 straight feature triumphs in 3 different Galletta's Greenhouse racing karts. Still saying Matt oinly wins because he has the fastest kart? He wins in all the ones you lost in. Take it. More details are located here, son.
7/5/2014 – Matt Stevens wins 5th of July 50-Lapper in Galletta's Greenhouse #6!
SATURDAY, JULY 5th, 2014, OSWEGO, NY –  After taking a weekend off due to not enough drivers (we don't believe less than 8 drivers makes a class), sometimes Chris and Matt Stevens have to show that their karts aren't better than everyone else's. They are ALL fast and ALL capable of winning races with an experienced and talented driver at the helm. Many drivers have proven it through the years, but still, from time to time, the sometimes neglected backups that nobody thinks are fast need time to shine. So sometimes they go out in backups that sometimes get scoffed at as inferior, or a newbie will think are junk. For America's birthday 2014, Matt hopped into the often-ignored/scoffed-at Galletta's Greenhouse #6, and Chris hopped into the often-ignored/scoffed-at Galletta's Greenhouse #0, and they promptly scored 1st and 2nd with a half track to to spare. Dave Turner and then Kelly Miller led early with Adam Lytle and Chris Stevens in chase, but a wreck took the top-3 out and set Matt up for the win (although Chris did get back into it and challenge him before settling for 2nd with mechanical problems – no brakes and stuck throttle). Points leader Eric Woolworth took a crazy wreck into the tower as well. More details, pics, points and a video clip up now!
6/21/2014 – Kevin Galletta & Matt Stevens win in the first Twin-Features Night of 2014!
SATURDAY, JUNE 21st, 2014, OSWEGO, NY – The 1st twin-feature night of the young season went down on Saturday June 21st, and it was pole-sitter Kevin Galletta who led all 35 laps of the 1st feature in his most impressive performance of his career thus far. In the 2nd feature, Matt Stevens dispatched a few karts on the drop of the green and beat his brother Chris to the lead to win the time-shortened 25-lap feature of the night. Eric Woolworth – points leader and winner of the 1st two features of the season – had a few wild rides and finally had his 2-week-in-a-row-to-start-the-season-win streak snapped. Bad. Real bad. More details are up now.
---
2013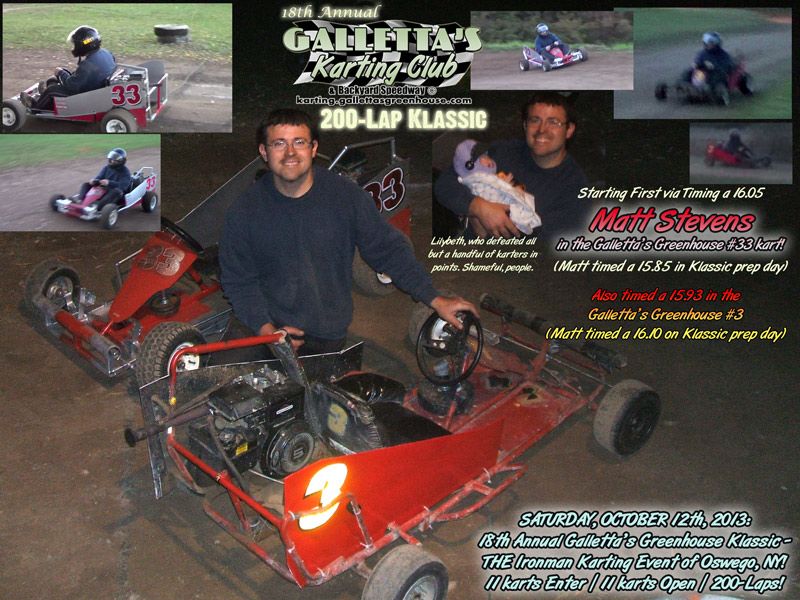 Matt Stevens had another dominant year in 2013. As usual, he's usually the fastest timed driver on the track, and is always the man to beat. However, he was narrowly defeated in the '13 track points title by his brother Chris Stevens and narrowly defeated at the '13 Klassic 200-Lapper by Kelly Miller. But it is unlikely any other driver you could think of could do better. Want to try? We are the most affordable motorsport in the area and have been so for nearly two decades now. Come on out and show us, then.
SATURDAY,OCTOBER 12th, 2013, OSWEGO, NY –  OUTTA' NOWHERE! The 5th member of the Gallettta's Greenhouse Karting Klassic Championship fraternity is crowned! The longest-running Oswego Karting championship ran it's 18th annual marathon event, which decides both the point standings (best overall karter in the area), and also the best Iron-Man karter in the area. Eleven drivers entered but only three led all night (11 drivers?! That leaves several karts on site – including the timed fastest kart of the fleet – Galletta's #5 – unused?! For shame!!! And this is supposed to be a racing town?!) The three you see, Kelly Miller, Matt Stevens, and Chris Stevens had a duel of the ages, as they essentially battled back and forth for the lead for all 200 laps, with occasional challenges by Brian Galletta and Eric Woolworth. All three had the lead and lost it in breathtaking manners (Kelly led early and a slow leaking tired forced him to pit after getting passed, Matt hounded Chris and Kelly, took the lead, then slipped up and Chris got him back, and Chris led several laps late, got pinned and passed by both Kelly and Matt behind lapped traffic, and suffered a  a bent sprocket that took him out of the top 2)! But the one who had it last – Kelly Miller, gets the win. He becomes only the 5th driver – Matt Stevens (won 10), Chris Stevens (won 5), Wes Stevens (won 1), Kyle Reuter (won 1) – in the Klassic's 18 year history to win the big one , all while only picking up his 2nd career win at Galletta's. Although many know him from both racing Stocks and Supermodifieds on the big track downtown, Kelly showed he knows how to drive more than just the big machines! And in a kart THAT SAT UNUSED waiting for a driver ABOUT 97% OF THE YEAR. Congrats to Kelly, congrats and thank you to all who showed, and to all who could've came out and didn't? On your knees, dogs. READ MORE HERE!
9/1/2013 – Branden "Tumor" Matott &  Matt Stevens Win The 18th Annual Oswego Karting Labor Day Championship Twin-30s!
SUNDAY, SEPTEMBER 1st, 2013, OSWEGO, NY –  Another driver steps into the storied 18-year Galletta's Greenhouse Karting Speedway winner's circle, 1st year driver Branden "Tumor" Matott wins his 1st career feature with a 30-lap sweep in his Inkings Tattoo/Woodchuck Saloon #34.5 during the 1st feature. He was then joined by the man who has been in victory lane more than every single other driver (minus his brother) combined – Matt Stevens, as he survived several crazy entanglements en route to putting not one, but two karts into the lead (1st blowing by everybody in the Galletta's Greenhouse/Chrusher.com #74 – which broke a wheel hub while leading, and then blew by everybody again the Galletta's Greenhouse #33) to inch a little closer to his brother Chris in both the points and wins columns. Some entertaining 9-kart races that provided a nice nightcap following Oswego Speedway's Classic 200. More on the race page right here, right now!
8/25/2013 – Matt Stevens Triumphs in Galletta's Greenhouse/Chrusher.com #74 at the "War of Attrition & No-Shows 25" Shortened Event!
SUNDAY, AUGUST 25th, 2013, OSWEGO, NY –  Usually, late Summer at our fine backyard speedway in out 18 seasons of point racing and 20+ seasons of racing in general, we hit a late-Summer/early-Fall rut. This week was the case. Rut hit. Various events (golf tourneys, g@y vampire TV shows that absolutely cannot be missed at 9pm, work, whining-about-not-starting-on-time-but-never-showing-on-time, and broken karts) caused our show to go from an expected 10+ kart Twin-35 night to a 7-kart 25 lapper. Almost 8, but then that g@y vampire show couldn't be DVR'ed! Even though we only had 7 karts on track the racing was exciting. Even if the webmaster and points leader was pretty damn miffed about being bumped out of precious point-scoring positions for the second week in a row – first by a friend last weekend and then (see pic) by his own brother this weekend! *Sigh* Still, in hindsight, despite the small show, the racing was quite good, as we almost had a 1st-time winner (Branden "Tumor" Matott, who blew up his drive-wheel system while leading), and almost a 2-in-a-row-winner (Eric Woolworth, who also broke in the lead after his brother did). But that tricky Matt Stevens won, even if he had to resort to some rough riding on his own bro to get his first win in over a month.  More details are on the race page right here!

7/14/2013: Matt Stevens Breaks Bro's Streak in 45-Lap Feature Triumph
SUNDAY, JULY 14th, 2013, OSWEGO, NY – Matt Stevens (in the Galletta's Greenhouse #3) snapped his brother's 3-feature win streak by passing polesitter and early-leader Adam Lytle (Lytle #33c) on a lap-16 restart and led the rest of the way. Matt wins his 3rd feature of 2013 with the triumph, coming back from a lap 0 warning where flagger Wesley "Ogre" Stevens claimed Matt jumped the gun (he did go from 5th to tied for 1st at the start before Wes threw the yellow for the warning). Meanwhile, his brother Chris trapped Lytle in traffic for 2nd and was hoping for 10 more laps and a little mre traffic so he could challenge. Honorable mention goes to Adam Lytle, who is continuing to show improvement with his fresher motor prepped by Matt a few weeks back and if not for a slow restart and lapped traffic, may have had his 1st career win. The hot temperatures kept some from making the race – and we almost had to postpone, but some late arriving rookies made for 10 competitors in the show, which qualified for our self-imposed minimum driver requirement at 8. However, missing was Brian Galletta, who took some damage in the points race after being in the top-3 all season until now. (And Buddy the Galletta's Greenhouse Patrol cat photo-bombed victory lane… AGAIN!) Points, pictures and descriptions are done, please check them out here!!
6/23/2013: Matt Stevens Sweeps the Twin-35s in his Galletta's Greenhouse #3 & 33!
SUNDAY, JUNE 23rd, 2013 – Matt Stevens is like a high-scoring MVP in a sport. You can contain him, slow him down for a bit, even think you got him figured out. Then he explodes. Matt took over the lead from his handicap starting position of 2nd place in the 1st feature and led most of the race to win the 1st feature. But in the 2nd feature, he really didn't deserve it running 4th the whole way. But Chris Stevens, Dave Spanfelner, and Billy Truax all had serious shots at the win but all made mistakes that Matt capitalized upon, taking Truax by a bumper at the checker. The kid just cannot be stopped, and no driver at the local pay karting tracks is in his league in terms of experience, motor building, and sheer volume of wins and championships. His record speaks for itself, ignored or not. More pictures and points are now updated!
2012
2012 was another big year for Matt, but a bit of controversy in the Klassic ruined an otherwise excellent season for the undisputed winningest driver of Oswego Dirt Karting history. 11 feature wins and a disputed track title, as the taking himself out of the lead late in the Klassic wound up mucking up a near-perfect season…
2011
2011 was another year of sharing championships with his brother for Matt, as he went into the Klassic with a leading six feature wins, but behind his brother Chris in the points. Therefore, Matt took an entirely new strategy, something he never did in the 16 year history of the Klassic… leading the whole race. And he almost did, until he had to refuel. Chris did not, and inherited the lead, and held Matt off for his 1st Klassic since 2001, but Matt won the track title with all those laps led…
2010
Matt had his least successful season ever in 2010 (although that is still better than probably 99% of all other local karters on all local tracks and divisions). He only won 3 regular season features (and one postseason Fall Bonus Feature), lost the Point Standings to his brother Chris Stevens by 1/2 point, and during the Klassic, he wrecked into his brother while battling for the lead late and took both and his bro out of it in the 200-Lapper, which Kyle Reuter then won (the 1st time a non-founding driver won the big show at Galletta's). But that's fine… in sports you win and lose, Matt has won more than his fair share over the nearly two decades of racing, and even when he gets beat, he is still beat by karts and motors he set up, which is still a point of pride for him. What hurt Matt was what came on the final night of the season. To rub salt into the wounds, a family of drivers that Matt exhaustively helped for over two years betrayed him and the club and badmouthed backstabbing lies about us on facebook, spread by the false rumors of his own mother-in-law (a misunderstanding, but nonetheless hurtful). Indeed, after the hurtful betrayal by those he liked, loved, helped, and trusted, Matt almost felt like quitting racing… and that, my friends – even after being booted, mocked and threatened by the track in back of the one he watched, loved, and modeled his own karting club and speedway over – was a first. But like one of his heroes, Braveheart, he won't die that easily.
2009
2009 was the first single-track season for the club in over three years, but don't think that the club suffered. In fact, as usual, we're more relaxed and less frantic without the traveling and dealing with hishonest, hateful people. Our club still thrives without the Kartway, as it did for over a decade before the Kartway was even conceived… and despite people at the Kartway calling us "GAYletta's", threatening to shut is down, and come out into our back yard and smash our skulls in with shovels (stay classy, Kartway!), the club was strengthened by some cousins coming out to race with us for the first time in years once they heard some rednecks were giving the family problems. Of course, the Kartway folks never showed. Matt won 7 out of 20 feature events, including the Klassic (seen below). But, his brother Chris did finally break Matt's streak of Track Point Championships in '09! Most of these pages have video clips from our DVDs via YouTube, so check them out!
2008/2009 Offseason:
We've never had to put an offseason in our highlight reels before now, but we had to for two polar opposite reasons!
Matt getting married and the Oswego Kartway banishing, mocking, and threatening us!
2008
Matt again had an impressive season on the two Oswego, NY Dirt Karting tracks in 2008. Most impressive. He won a combined 14 of the combined 27 feature races on the two tracks (including one "undecided tie"). In doing this, he also swept the 2008 Oswego Speedway Kartway Gas Stock Division Points, clinched in the 2008 Oswego Speedway Kartway Gas Stock Division 50-Lap Classic (that aforementioned "undecided tie", as the Classic race that Matt led and dominated was taken away from him by the track operator Jim Losurdo at the stripe under caution?!), the the 2008 Galletta's Greenhouse Speedway Points Title, and the 2008 Galletta's Greenhouse Karting Speedway 200-Lap Klassic. Most of these pages have video clips from our DVDs via YouTube, so check them out!

2007
Matt Stevens was a dynamo this season, as he raced a staggering 28 races on two tracks, winning 14 features (winning 5 out of 10 features at Oswego Speedway Dirt Track, and 9 out of 18 features at Galletta's Greenhouse Karting Speedway) a ridiculous 50% win percentage with races that had anywhere from 7-17 karts (not dinky 1-5 kart classes like many of the methanol divisions)! Add to that, at Oswego, he raced against larger 6.5hp motors with Stock Animal parts (hint: a lot more than 6.5hp)! The only imperfection on his season was getting involved in an astonishing wreck where his body flung through the air like a Muppet the week of the 2007 Oswego Classic, and although bruised and sore… still scoring a pedestal 3rd to his brother and father.
2006
Matt ran his busiest season to that date in 2006, racing two tracks while being the track operator to one and head mechanic on both. Matt not only won eight features racing in his familiar Galletta's Backyard Speedway, but also raced at Oswego Speedway's backyard on their new dirt track, later to be named the Oswego Kartway, winning two features there. He also took the Track Point Championship on both tracks, although his father Wes "Ogre" Stevens held him off for the Galletta's Klassic 150 win!
2005
In 2005, Matt Stevens won twelve features including the '05 Klassic 150 during our first and only full season of allowingcontroversial mixed-motors at Galletta's – making them even more meaningful as he was beating drivers with way more motor than him, and again won the Galletta's Greenhouse Karting Speedway Track Championship. His undisputed mastery of the only dirt track and dirt karting class in Oswego was soon about to open up to a new dimension, as a dirt kart track in back of the Oswego Speedway was being built by a somewhat disgruntled former Galletta's racer, Jim Losurdo (and rookie Galletta's racer Gary Miller even tested his Galletta's-type kart – against stagger and with a gas stock motor against methanol racing karts – not a fair match – on it on Labor Day weekend)! More…
2004
2003

2002
2001
2000
1990s
"Galletta's Go-Karts" started when Matt Stevens bought a used Manco 2-seater yard kart from a local small engine shop in 1989 in Minetto. When Chris' lifelong childhood classmate & friend Dave Scruton came over for a visit, he realized that Matt purchased HIS old yard kart, which he sold to the small engine shop. In fact, the small engine shop took a good motor off of it, put a crappy motor on it, and sold it for a profit! If only Matt and Dave communicated sooner' they could have given each other a better deal without the middle man! After Dave helped Chris score his own kart in 1990 (a former Thunder Island kart that Dave's cousin sold to him), they started racing!
1980s
---
Track Championship History:
Fun Facts & Profile Extras (2005-08):