DRIVER PROFILE FOR RANDY PLATT JR. (2003-2014)

Bobandi was so ready to race, he could not even be bothered to take off his helmet and pose for his Galletta's Klassic 200 Pre-Race Picture! He will #uc( you up, son.
Name:
Randy Platt
Bio:
Randy "Bobambinator" Platt is a tough, multi-time feature winning racer and kart builder who has raced on again/off-again at Galletta's between 2003-2014. He is one of the VERY few karters who actually builds karts at Galletta's. Well, hell, since pay tracks almost exclusively use prefabricated chassis, he's one of the few overall. Ran is a seasoned vet, and if he makes his way into the lead, he has a good chance of taking it. (No pun intended.)
Nicknames:
Randii, Bobandi, Bobandinator, Bobambinator, Randinator, Randall, Plattitude, Platt-num, Bodacious Bobandi, Boban-the-man, Bobambi, Bobambi-Killah, Hard-N'-S#it Platt, Randy Dandy Fee-Fo-Mandy, The guy who lived across the city and came to every race, now lives 1 minute away and never comes up anymore…?
Year Started Racing at Galletta's:
2003-current (with periodic prolonged disappearances).
Randy's placement in The All-Time Galletta's Speedway Point Standings.
TAGGED ARTICLES: Randy Platt,
TAGGED WINS: Randy Platt win
Career Highlights:

---
2014
7/19/2014 – Randy Platt returns to win 45-Lapper in Galletta's Greenhouse #5!
THE BOBAMBINATOR PLATTITUDE IS BACK! … well… kinda'…  for a limited time….
SATURDAY, JULY 19th, 2014, OSWEGO, NY –  Randy Platt (AKA The Bobandinator, or Bobambikiller) has been MIA for most of the last two years. Family and work have kept him busy enough to miss many races – even living around a minute's drive from the track. But he happened to stroll up before the feature event started, and was talked into racing. He promptly hopped into the Galletta's Greenhouse #5 and wound up in victory lane, although Matt Stevens and Kelly Miller did give him a couple of challenges. 2nd week in a  row the kart won, as Matt Stevens won in it last weekend. And the kart sits idle most weeks. Oh well. Oh, and a scary wreck between Brian Galletta, Adam Lytle and Chris Stevens in the early stages of the feature put Chris on the sideline for the show after the Lytle #33c LANDED on him during the race. Bummer. Ow. Still hurts.  More details forthcoming.. sorry it's taking a while… very busy webmaster with 2 jobs (1 seasonal), a third job that doesn't pay, and a VERY pregnant wife – this karting stuff is just a hobby. Read more here!
---
2012-13
Randy put his racing career in the back seat for unknown reasons. Whether it was multiple growing kids, his work schedule, his fiance, or what… we don't know.
In 2013 he even moved within literally a 1 minute drive of his good buds at Galletta's Greenhouse who love him like a brother and love racing with and hanging out with Boban' the man. He then only came out to race a handful of times. What gives, Boban, the man? :/ :'(
---
2011
Randy won three features during the 2010 season and two features in 2011. He also time-trialed 2nd in the 16th Annual 2011 Klassic 200 in his #187, and finished 3rd. Proving that real drivers can pilot any Galletta's Go-Kart to victory with talent, experience, and hard work, much to the chagrin of countless bad drivers who tried and failed here, he won in the Galletta's Greenhouse #2, his own Murder #187, and the Galletta's Greenhouse #5. He also build an exceedingly quick #28 kart purchased by his good buddy Brian Galletta, sumbitch. Boban' definitely is the man!
O
ur 16th Annual Galletta's Greenhouse Karting Klassic 200 –Saturday, October 8th, 2011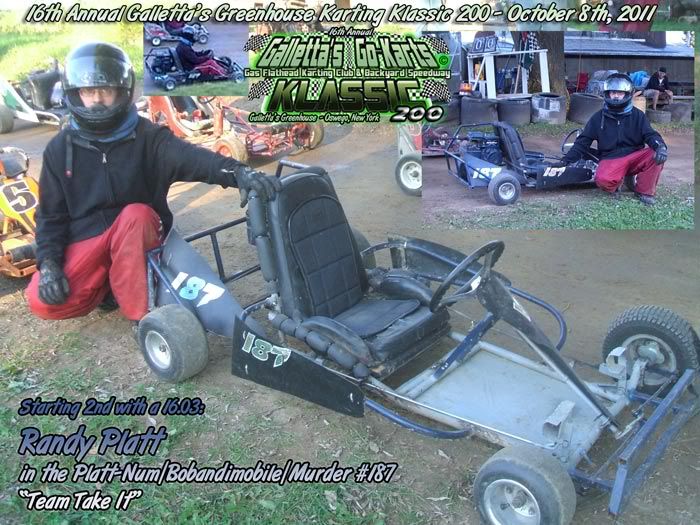 Ran the man. He's MORE man than you. Deal.

SATURDAY,OCTOBER 8th, 2011: A grueling 200 laps. But yours truly – webmaster Chris Stevens – broke a 10-year dry-spell by winning his first Galletta's Greenhouse Karting Klassic since 2001 (while running almost on fumes)! It was not easy, as he time trialed 5th, and had to come from the back of the field twice when he blew a tire in 2nd early, then clobbered a tree in 2nd late. But everything fell his way when the leader of the first 157 laps of the race,
Matt Stevens, decided to refuel putting Chris in the lead with barely sputtering off enough fumes to get him the win with Matt all over him. Several competitors didn't finish the marathon event, and the closeness of competition made this the HARDEST Klassic to date, with tough competition form first to last, including 2010 defending Klassic Champ Kyle Reuter (who lost a front wheel while in 2nd himself, crashed into the buckwheat in turn 2 and retired). Randy Platt netted his best finish ever in the 200 with a 3rd place finish in his homemade Murder #187 machine!
9/17/2011 – Randy Platt Wins the "Brian Galletta Got Raped By His Kart?! That's F***ed Up!" 45 +YouTube
SATURDAY, SEPTEMBER 17th, 2011: Saw Randy Platt take the lead around mid-way and hold off everybody else in the extremely close and competitive 45-lapper to take another win in his own hand-crafted Plattitude #187 B!tc#. But the other hand-crafted Plattitude kart, the #287, broke the drive-wheel axle bolt and flipped violently on top of his good buddy who introduced him to the GKC and bought the kart, Brian Galletta.
MONDAY, AUGUST 22nd, 2011: With the regularly scheduled Sunday the 21st getting a washout, our race was moved to Monday the 22nd. Randy "The Bobandi" Platt made his triumphant return from his self-imposed half-summer hiatus to promptly win his first race back relatively unchallenged, taking his first feature win of 2011. The 2nd 30-Lapper saw Chris Stevens lead the first 27 laps only to break a throttle cable, and Tim Galletta took care of the final three en route to his 2nd win of 2011. The track was smooth and fast, and passes were at a premium. In a show of how fast and equal these karts are, the Galletta's #2 has sat idle for most of the season without a pilot, until Randy took it to victory lane just like he did last year. It is no lie, but it seems as if some people don't believe it when we say we have 14 race-ready/feature-winning/arrive-and-drive karts on site, many of which are free to drive, open to anybody who donates for gas/parts, and a good, experienced driver can win in each and any one of them on any given race. And, we can help you build your own potent/feature-winning kart as well for bottom dollar. It is proven and proven again and again, yet some weeks we don't have driver butts in the kart seats. Fortunately, this week was not amongst them, as we had 8 karts on the track… but do the math – that means there were several still sitting idle. Get out and race, people! Our 200-Lapper is coming soon, and you want to be seasoned for that one! Anybody can win, but you have to work at learning the track and the karts to do so. Join us today! Videos and race results are up here!
Randy Platt built the Platt-num #28 rather quickly, and raced it in the 2011 opener.
Hover, he needed a better welding machine… as breaking a steering rod at the weld and flying into the woods isn't a very good way to debut a kart.

---
2010
2010 Season, Event #19 – Sunday, October 10th, 2010 – Matt Stevens (via the Galletta's #3, which was an unused kart in last weekend's Klassic, although it was qualified and claimed as Matt's backup if he needed it) and Randy Platt (via the Galletta's #5, which was also qualified, open for anybody with at least a little bit of driving experience t drive it, but went 100% unused in the Klassic) took the two initial Fall Fury Bonus Point Twin-30 Features on October 10th, 2010. See how close our karts are? But still there are doubters who think we rig it. Oh well. Pictures are up, points up soon &  videos forthcoming within the next few days and weeks. Also, the previous weekend's Klassic page is complete. Ogie would not let either competitor hold the belt, as he considers himself the true master and ruler, and that we are all his puppets in his grand scheme of making a fixed racing organization. Man, Ogie is imaginative, isn't he?
Galletta's Karting Club – '10 Season, Event #15 – Sunday, Sept. 12th, 2010: Randy "The Bodacious Bobandi" Platt, lookin' all hard n' $#!t, scored a dominant victory in his Murder #187 kart on 9/12/2010, which he has worked tirelessly on with Matty-Joey Stevens for a few months for this moment of glory (no holes included, you twisted sickos). Here he is posing with co-founders of the Galletta's Karting Club Matt and Chris Stevens, and Wesley's detached-parasitic-twin-mini-brother, Ogie.
8/8/2010 – Randy Platt & Tim Galletta take the "Snooze-U-Lose" Twin 30s! (+YouTube)
2010 Season, Event #10- Sunday, August 8th, 2010 – A "Snooze-U-Lose Twin-30s Night" was in store at Galletta's Backyard Karting Speedway, and Timothy Galletta became the 1st 2-feature winner of the season (but first in his Sid Harvey's #54 kart) when he took Feature #1. The 2nd 30-Lapper went top the man who led most of the 1st feature until he broke – Randy Platt (in the Galletta's Greenhouse #2 kart), fighting off a furious last-lap in-traffic challenge from Matt Stevens. 
---
2003-04

HARK! a grainy, old videotape footage shot of… can it be? Yes, it is he! There's that jive-talkin' honkey Randy in the 2003 Galletta's Karting Klassic!
He did get one feature victory between '03-'04, AND wrecked and got knocked the f*** out by flipping into the woods and landing ona  pile of rocks (that we put there to kill people… kid is hard as F***, and CAN'T be killed, muthafuukkkkkaaaaaahhhhhhs!
Despite surviving the wreck, he did disappear for six or seven years after this!
---
ALL TAGGED RACE ARTICLES AND VIDEOS WITH RANDY PLATT JR.
---
Fun-Facts about the Randy The Dandy Bobandinator:
Randy Platt began racing in 2003. He took a few years off racing karts and during this period had a serious ATV accident where he was airlifted upstate. But he is too tough for a broken neck and collapsed lung to stop, yo.
Ran re-found our club and resumed in 2010, scoring his 1st feature win on 8/8/2010. Randy built his own kart (using the front end of an old racing kart chassis that Chris sold him that once belonged to Brian Bortel that before that belonged to Kelly Miller) with the help of Matt, Wes and Chris Stevens, but prefers the Galletta's Greenhouse #2 kart's handling.
Randy was also the only man ever to be knocked out at a Galletta's race in a freak accident in 2003. He also plans to be the first person to knock someone out at a Galletta's race, probably you, beotch.
In addition to racing, Boban-the-man also shoots things. Here he is after a triumphant battle with a buck!
…and two turkeys, which he killed on the back stretch of Galletta's Greenhouse International Backyard Dirt Karting Speedway of Oswego Town shortly after the 2011 Klassic!
Although we at Galletta's believe that time-travel and living corpse zombies are scientific impossibilities, this does not stop Ran-Ran-Boban', as he appears to have mysterious, time-travelling abilities. He is seen here, freakin' your mind out, oddly posing in the mid-1970s looking like a mass-murdering, corpse-like zombie-clown, years before he was born, then re-appeared in 2010 in the same Disco-cat rug-cuttin' Ogarian jacket. Dude is bad-@$$!:
 More Galletta's Go-Karting flips, crashes and tight racing carting highlights on:
 


YouTube And the complete and high quality races found on this site and YouTube can be purchased in our Galletta's Go-Kart DVD store!