DRIVER PROFILE FOR KYLE REUTER (2006-2015)

Kyle posing with the Galletta's Greenhouse #5 at the 2007 Galletta's Klassic (9/23/2007), his final Galletta's race until 2009.
Name:
Kyle X. Reuter
Bio:
Kyle Reuter is a winning driver in every class he's tried in almost every kart he's driven – Quarter-Midgets, Methanol Flat Karts & also at our own Galletta's Greenhouse Karting Club events, as he is one of our highest point-per-race and highest win percentage drivers in Galletta's history, not to mention the 2010 winner of the Galletta's Klassic 200, becoming the first non-founding member of the division to win a Klassic!
All-Time Points & Wins List at Galletta's:
Nicknames:
Self-professed "cutest driver."
Karts:
Galletta's #5, #0, #1, Kelly Miller/Kyle Super-9. Driven other Galletta's rentals.
Years Racing Go-karts at Galletta's:
2006-2007 (Technically one full season). 2010-2014.
Galletta's officials and racers love Kyle and wish he'd come to race at least occasionally — or for at the very least, the Annual Galletta's Greenhouse Karting Klassic 200 — but Kyle races other forms of race cars (WKA flatkarts and is hopeful Supermodified racer), so we understand if he can't make it for more than the occasional race.

Tagged Articles:
Kyle Reuter, Kyle Reuter win
Career highlights:
Kyle has raced different types of cars (including quarter-midgets) semi-professionally before and holds countless wins and many track records. He also has dominated the Oswego Kartway methanol karting division in their premiere class between late 2007 and 2010 until the track got sick of him winning – a common trait linking Kyle Reuter, Matt Stevens, and Chris Stevens. Been there. Won that.
---
2015
---
9/26/2015 – The 20th Annual Galletta's Greenhouse Karting Klassic Championship 200!
Saturday, September 26th, 2015 was the date for our 20th Annual Klassic 200. The race decides both the Track Championship and the Klassic 200 Champion in one fell swoop, as the race counts as the biggest AND the final points race of the season (although after Klassic, we may still have Fall Series races, which still count in the All-Time Points). A race for the ages between Chris Stevens, Kyle Reuter and Matt Stevens went down. And we are willing to say NO karting trio in Oswego, NY can beat those three guys going head to head.
9/4/2015 – Kyle Reuter leads all 50-Laps in 11-Kart Labor Day Triumph!

FRIDAY, SEPTEMBER 4th, 2015, OSWEGO, NY – Five newbie 1st-timer rookies joined us this weekend to make an 11-kart Labor Day Weekend feature event. And Kyle Reuter's return last weekend handicapped him on the pole this one, and Reuter led all 50-laps in the Galletta's Greenhouse #5 to win a feature in it two years in a row, getting pumped for Klassic fever coming later this month. Pics, descriptions & points are here and videos up!
---
2014
---
7/25/2014 – 19th Annual Har-bored-Fest Avoidance 50 won by Kyle Reuter in Galletta's Greenhouse #5!

FRIDAY, JULY 25th, 2014, OSWEGO, NY –  Every late July comes Oswego's Harborfest, which is great for fireworks and a few places deep in the heart of Oswego, but many of its citizens prefer to stay out of the city because it makes it extremely FAR more difficult to traverse through than usual. What's better than having a race in the fairly car-free roads in the Town of Oswego, then? Well, our 19th Annual "HAR-BORE-MESS AVOIDANCE RACE" went down and it was a 10-kart extravaganza. Let me be quite clear. A clinic of driving skill was displayed for the lead between two of the winningest karters in the Oswego area – Matt Stevens and Kyle Reuter. It was a torrid race with Kyle holding off a hard-charging Matt for the win! But it was not without controversy, as a few feathers did get ruffled along the way, including one threat of a helmet throw! In the end, the same kart won 3 weeks in a row WITH A DIFFERENT DRIVER! Two of which come back for their 1st race in over a year! A kart that usually sits idle and sat unused during the last Galletta's Greenhouse Klassic 200! Now everyone's going to be fighting over racing it every week! More details here!
Unfortunately, Kyle was unable to work the 19th Annual Klassic 200 into his schedule and try for his 2nd win in Oswego's biggest/longest-running annual kart race.
---
2013
Unfortunately, Kyle was unable to race in 2013 due to scheduling conflicts.
---
2012
10/6/2012: The 17th Annual Klassic – 200-Lap Championship

SATURDAY, October 6th, 2012: The 17th Annual Galletta's Greenhouse Karting Club Championship 200 just went down. 14 karts, son. That left around ten race-ready karts on site not starting the show (althugh around half of those are backups to starter karts, but another handful were available to be raced. Be there next time local racers, as your @$$e$ just got called out. The complicated story was so
complex, it had to wait nearly two months to be told on the page due to all of the points that needed to be sorted. In short, the race was highly competitive throughout, with Brian Galletta, Kyle Reuter, Randy Platt, Matt Stevens, and Chris Stevens all leading significant portions of the 200-lapper with karts easily fast enough to get the win. But late in the game, controversy struck with five laps to go! Although Chris Stevens passed the line in 1st place on lap 200 – which would've sealed him his 2nd straight Klassic 200 victory and put him ahead of his brother Matt for the 2012 points title – the race win was lifted. Why? Well, Matt Stevens and Mary Stevens both deeply protested the fact that Matt needlessly and voluntarily went to the rear of the field after he and Chris were battling back and forth for the lead through traffic and bumped the Dave Spanfelner #54 off track during their battle with 5 laps to go. The race was then declared no winner, and Ogie Stevens stepped up to the winning kart and took credit for the win. It is Ogie's 1st career win of any kind, although he claims that he has won everything he's ever tried, including things that he never knew he even was trying. Due to the controversy, the likely decision will Chris and Matt technically tie (with nobody else losing a position), but will split 1st (Chris' final position) and 6th (Matt's final position)'s points. With this being the case, Matt holds on to the points lead and takes the 2012 Galletta's Track Championship. Oh, that tricky Matthew, stealing wins even after he didn't win! 😉
---
2011
O
ur 16th Annual Galletta's Greenhouse Karting Klassic 200 –Saturday, October 8th, 2011:

SATURDAY,OCTOBER 8th, 2011:
 A grueling 200 laps. But yours truly – webmaster 
Chris Stevens
 – broke a 10-year dry-spell by winning his first Galletta's Greenhouse Karting Klassic since 2001 (while running almost on fumes)! It was not easy, as he time trialed 5th, and had to come from the back of the field twice when he blew a tire in 2nd early, then clobbered a tree in 2nd late. But everything fell his way when the leader of the first 157 laps of the race,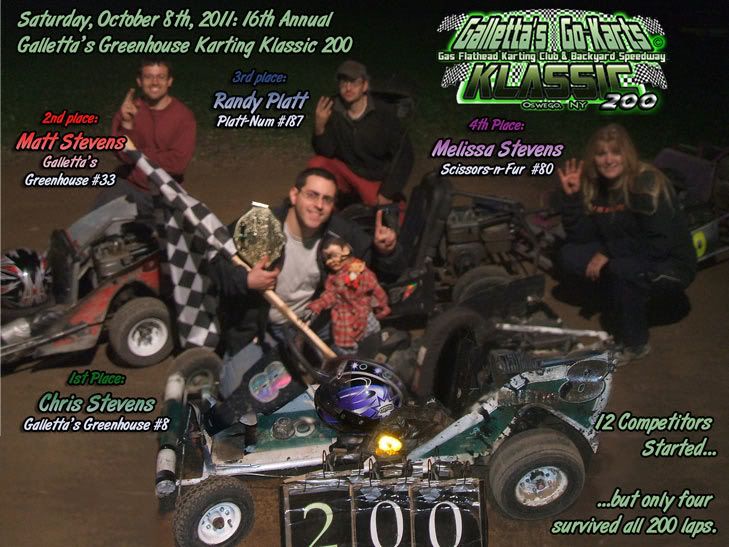 Matt Stevens
, decided to refuel putting Chris in the lead with barely sputtering off enough fumes to get him the win with Matt all over him. Several competitors didn't finish the marathon event, and the closeness of competition made this the 
HARDEST
 Klassic to date, with tough competition form first to last, including 2010 defending Klassic Champ 
Kyle Reuter
 (who lost a front wheel while in 2nd himself, crashed into the buckwheat in turn 2 and retired). For most of the first 100 laps, Kyle pressured Matt to set a fast pace, which in the end was the deciding factor that forced Matt to refuel with 43 laps to go, which put Chris – who made it back to 2nd for a third time in the race – in the lead. Chris actually benefited from blowing a tire early and conserving gas in the rear during the 2nd 4th of the race, which led to him having enough gas to take the checker, the first time the Galletta's #8 kart won a Klassic – Chris' previous Klassic wins came in the Galletta's #2 (1999) and Galletta's #5 (2000 & 2001). Chris has had several close calls in those last ten years (many 2nd and 3rd places, and a few bad luck breaks while up front in position to win). Outstanding show from start to finish with some close racing and a few exciting accidents to keep you viewers satisfied. Complete race videos on DVD only $5 each disc (or $10 per 3-disc set) and will be ready shortly. Meanwhile, here is a recap of the 2011 season thus far.
---
2010
Kyle took a few seasons off at Galletta's to concentrate on his methanol flatkart, but returned in 2010 to race the 15th Annual Galletta's Klassic 200.
 Kyle Reuter becomes the 1st driver other than the Galletta's Karting Club Founders — Matt Stevens (10 Wins from 1996, 1997, 1998, 2002, 2003, 2004, 2005, 2007, 2008 and 2009), Chris Stevens (3 Wins from 1999, 2000 and 2001) and Wes Stevens (1 Win from 2006) — to win the Galletta's Greenhouse Karting Klassic 200 Lap race. In addition, he also became the 1st driver to come back from the rear using a back-up kart to win (started the race with the Galletta's #1 kart and finished the race in the Galletta's #0 kart), and the 1st driver to ever win a Klassic with the Galletta's #0, as it got as high as 2nd in 2007 and 2003, but went un-used some years. Kyle called this, "The most fun I've ever had in a single race!"
---
2008-09
Kyle Reuter put his time and energy into racing at Oswego Speedway's "Oswego Kartway". He wanted to run Galletta's too, but his busy schedule did not permit it.


Kyle's new 2007-08 methanol kart. Currently the only driver with the talent to run in both methanol kart and gas Supermodified yard kart classes. Some have tried. All have failed… except Reuter. Kyle promptly dominated the track's premiere division for years, again proving two things: (1) He'd pretty damn good and (2) Galletta's veterans always whoop butt on the Kiddie Kartway.
---
2007
In his only one season of racing at Galletta's, Kyle amassed one of the highest points-per-race, total wins and win percentages of all visiting drivers, proving his skills as a racer and proving wrong the terrible drivers who tried our karts out and thought we rigged them. We do not. If you can drive, you can win. Kyle proved that. He also explained before the 2007 Klassic that, "it is not easy to win at Galletta's, no matter what anybody else believes." There is too much talent, too big of a track, and too many laps to get an 'easy' win.
In '07, he raced full schedules at both Galletta's Backyard Karting Speedway and Oswego Speedway's Dirt Track (later renamed Oswego Kartway) in the Gas Stocker Division, which Kyle preferred to call – "Single-Cylinder Supermodifieds".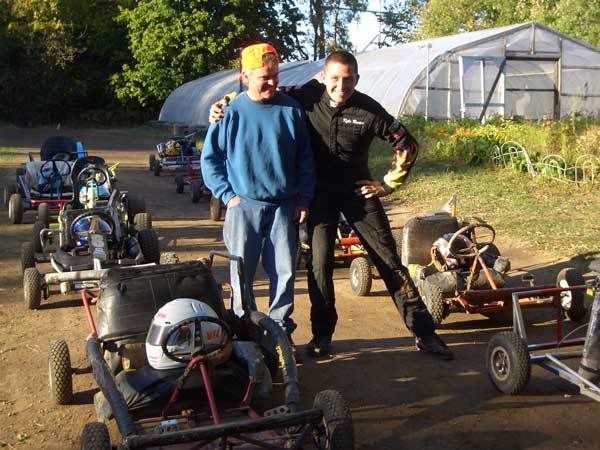 Kyle gettin' some lovin' from Ogre before the 2007 Galletta's Klassic. In 2007, Kyle also did very well, as he was one of the top-runners all season at Galletta's, getting some impressive wins with some VERY talented racing fields – that particular year probably had the most racing talent in one single class in the history of Oswego County dirt karting, as several have raced in many types of race cars, not just karts.
Galletta's 2007 Race #12 : 8/19/2007 45-Lapper won by Kyle Reuter in Galletta's Greenhouse #5: 


On Sunday, August 19th, 2007, Kyle Reuter wins a competitive 15-kart, 45-Lap feature, this time in the Galletta's #5. Chris Stevens was 2nd, and Matt Stevens was 3rd. Ken Lindsey Sr., Missy Berry, and Chris Stevens won the three heats. All in all a great race. Here are pics, video clips, and the updated points!
Galletta's 2007 Race #4 : 6/24//2007 45-Lapper won by Kyle Reuter in Galletta's Greenhouse #0: 


Kyle Reuter winning a feature on 6/24/2007 in the Galletta's #0.
Assorted '07 videos:

THE WORST CRASH EVER TAPED AT GALLETTA'S BACKYARD SPEEDWAY:

Oddly enough, this video is our most-watched (and most lambasted) video on YouTube, despite the fact that it isn't even close to our best video (it's just a compressed and edited wreck clip). It's odd how many people hate this video and let us know about it with harsh criticism aimed at me (a good percentage of which are simply from unfulfilled bloodthirsty morons that want to see someone die in a 50 MPH karting accident). I suppose that's a good thing – our worst wreck ever recorded on tape was actually not that bad looking (although it does look worse uncompressed – the YouTube quality does it no justice), and apparently this offends people (mostly total strangers) to the point of angry retorts towards us. Go figure. People are generally good, aren't they?
An extremely scary accident took place early on when Wesley Ogre Stevens, Kyle, Matt, and Chris were battling in the middle of the field, side-by-side, 2-rows-deep. When Ogre and Kyle brushed wheels down the front stretch, it sent Kyle into Matt and then they both crashed extremely hard into Fred Collins, who had retired and nonsensically parked in the interior grass just barely off of the track. The crash was horrific, as Matt, Kyle and Fred all flipped over each other, but wouldn't have even been a footnote if someone wasn't parked in the interior of the track. This action is forbidden. A retired kart must park in the garage area, deep in the middle of the track, or the caution must come out. Luckily, thank God, they were all OK other than some bumps, scrapes and bruises. (It has since been remastered/upconverted to HD! Check it out!)
ALL TAGGED RACES:
Nov 28, 

2007

2007 Season Recap: 12th Galletta's Season & 2nd Oswego Speedway Dirt Season DVDs! [+ Complete YouTube Playlists]

Sep 23, 

2007

9/23/2007 – 12th Annual Kart Klassic 200-Lap Championship of Oswego County Karting won by Matt Stevens, Marred as father Wes injured! (+YouTube/11-Karts/200-Laps)

Sep 10, 

2007

9/10/2007 – Ryan Coleman holds off Stevens Bros, Reuter & Cottom for the Buddy's Story 40 win! +YouTube Video

Sep 03, 

2007

9/3/2007 – 16-Kart/45-Lap Labor Day Race, Reuter breaks leaving Matt Stevens taking of 12th of 24 Oswego's 2 track's Features! +YouTube

Aug 30, 

2007

8/30/2007 – Chris Stevens wins 1st Annual Oswego Speedway Dirt Kartway Classic (50-Laps/16-Karts) & Galletta's Chris, Wes & Matt Stevens SWEEP Podium! +YouTube

Aug 26, 

2007

8/26/2007 – Chris Stevens Wins "Worst Wreck on Tape In Track History" 12-Kart/45-Lapper (+YouTube)

Aug 19, 

2007

8/19/2007 – Kyle Reuter wins 15-kart/45-lapper in Galletta's Greenhouse #5! (+YouTube)

Aug 16, 

2007

8/16/2007 – Matt Stevens wins Oswego Speedway Gas Stock Kart Race in Team Galletta's Greenhouse #33! +YouTube

Aug 12, 

2007

8/12/2007 – 21-Driver field! Matt Stevens Victorious in Rain-Shortened 35-Lapper! (+YouTube)

Aug 09, 

2007

8/9/2007 – Matt Stevens Dominates YET AGAIN at Oswego Speedway's Dirt Kartway +YouTube
Aug 05, 

2007

8/5/2007 – 17 Large, Dick Dann Penetrates the Threshold of Victory Lane after flipping on his head, wins 17-kart/45-Lap 10,000 Rocks-To-Win race! (+YouTube)

Jul 22, 

2007

7/22/2007 – Matt Stevens Passes Chris Stevens & Kyle Reuter on Final Laps To Win 11-Kart 50-Lapper (+YouTube)

Jul 15, 

2007

7/15/2007 – Hysterical Go-Kart Flips & 13-Kart/50-Lapper won by Matt Stevens (+YouTube)

Jul 13, 

2007

7/13/2007 – At Oswego Speedway Dirt Track Money Show, Matt Stevens steals late win from Kyle Reuter, Wes Stevens & Eric Raponi! (Gas Stocker Division) +YouTube

Jul 08, 

2007

7/8/2007 – 15-kart, Wreck-Filled Extravaganza won by Matt Stevens [+YouTube!]

Jul 05, 

2007

7/5/2007 – Galletta's Club Karts Taken Out at Oswego Speedway Dirt Track by Eric "Rammer" Raponi, Tarnishes teammate Joe Hayden's 1st win at the track! +YouTube

Jul 01, 

2007

7/1/2007 – 1st Female Winner at Galletta's: Melissa Gabel steals it late! +YouTube

Jun 28, 

2007

6/28/2007 – Galletta's Karting Club at Oswego Speedway Dirt Track, Outlaw Eric Raponi's strangely powerful kart wins! +YouTube

Jun 24, 

2007

6/24/2007 – Kyle Reuter passes Matt Stevens for the 12-Kart/50-Lap Win! +YouTube

Jun 21, 

2007

6/21/2007 – Galletta's Go-Karts Exhibition at Oswego Speedway's Mixed-motor/Open Yard Kart Class won by Matt Stevens! +YouTube
---
2006
Kyle posing next to the Galletta's/Pigsley #10 for the Galletta's Klassic 150 on 2006/09/23 – his 1st race at Galletta's Backyard Karting Speedway. Sheesh, he looked like he was 16!
---
Some of Kyle's racing outside of Galletta's:

Kyle winning races as a 13-year old youngster at Fulton Speedway. Kyle has so many wins and track records, he lost track of them all.

Kyle trying a modified at Thompson Speedway. [Later on he also tried Small Block Supermodifieds.]

Racing is not Kyle's only sports talent. He was also a sharp-shooting guard for the SUNY Oswego men's basketball team, and is generally known as the only Galletta's Club driver whose game is accepted in the 'hood. Kyle is also a runner and fitness trainer… so if by chance he can't beat you in a kart, he'll likely beat you in a foot race.
Kyle was quite dominant at Oswego Kartway and won often, as his father, a former Supermodified driver — was an expert at setting up karts to maximum effect. And with a talented driver like Kyle, that's a 1-2 punch that was too much for those at the Kartway.