3rd. Melissa Gabel Stevens
DRIVER PROFILE FOR MELISSA GABEL STEVENS (2007-up)
Before the 2013 Galletta's Go-Kart Klassic 200, Melissa Stevens poses with her Scissors n' Fur #19 and #80 karts and her newborn baby Lilybeth Stevens, who oddly enough scored more points than all but a handful of human beings ON THE PLANET this season in her mom's womb. Pregnant with Lilybeth, Melissa took the green flag and pulled off for points, and both mom and unborn daughter were scored.

Name: 
Melissa Ann Stevens (Formerly Melissa Ann Gabel)
Motor:
Briggs & Stratton gas 5hp-type flathead w/Galletta-Style racing enhancements maintained by Matt Stevens.
Chassis:
#19 – A former yard kart rebuilt into a Galletta's 1WD Gas Stocker 2009 Chassis.
#80 – A 2008 Galletta's 1WD Race Chassis built by Melissa, Matt, and Wes Stevens.
#3 – Originally a 1980's 1WD Manco yard kart, rebuilt for racing by Wesley and Matt Stevens.
Assorted backup Galletta's Team Karts if the #3, #19, or #80 is OFN.
Sponsors:
Scissors-N-Fur, Galletta's Greenhouse, er, asked to have it removed, Herself
Years Racing Go-karts at Galletta's: 
2007-current.
Career Races:
Races Entered
Career Wins
Career Point Standings:
Career Wins List:
Profile Pictures, Wins & Career Highlights:
---
2015-Up
Melissa retired from racing after having her kids. However, she still takes a kart out for a lap or two every race for points, then pulls off the track. In doing so, she still gets a top 5th to 7th place finish in points every year.
---
8/23/2015 – Melissa Stevens & Keith Raymond win Twin Features!

SUNDAY, AUGUST 23rd, 2015, OSWEGO, NY –  Melissa Stevens (w/ daughter Lilybeth) dusted off her racing clothes and led all 35 laps of the 1st feature for her first feature win since 2012! In the 2nd 30-lap feature, it looked like Kevin Galletta was going to score his 1st win since 2014 when his kill switch shorted out and he stalled while leading. Keith Raymond inherited the lead and took his 3rd career feature win (all this year thus far). Kevin knighted him in some sort of ceremony that we have still not yet fully deciphered. Fields have been larger, with three rookies joining the fun, now and with (two and possibly a third) purchasing seldom-used karts, the stretch run to the Klassic 200 looks like it will be a doozy! Pictures, points, and race video here!
---
2014

Melissa Stevens started almost every race in 2014, and won a few heats, but either dropped to the end or did not finish most features in '14, due to watching Lilybeth Stevens. Due to this, she was unable to score a feature victory for the 2nd straight season.
---
2013
Melissa Stevens was pregnant with her first child Lilybeth Stevens throughout the 2013 regular season. She started every race and was scored with points, alongwith Lilybeth who was also on the track with her. Lilybeth was born by Klassic 200, but she started the race for points. This made for the 1st season in her career where she was unable to score at least one feature victory a year. 
---
2012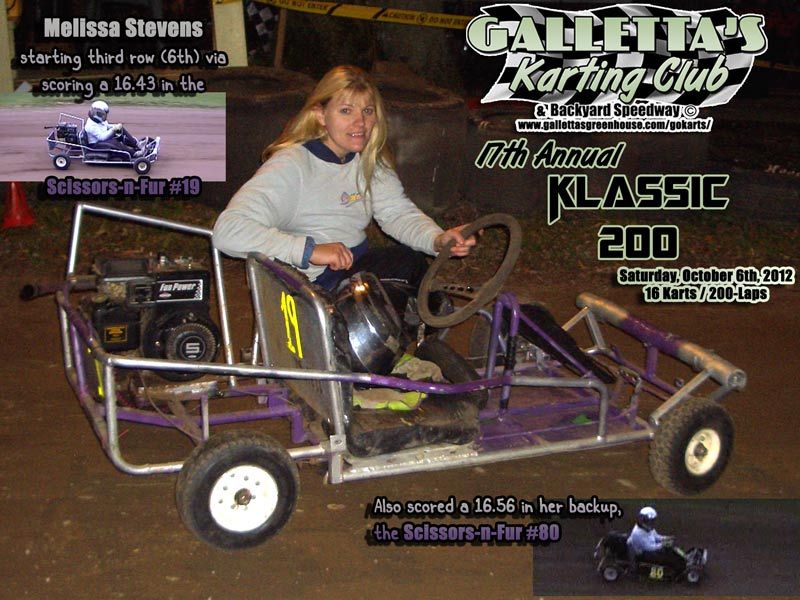 Melissa Stevens before the 17th Annual Oswego 200-Lap Karting Klassic Galletta's Greenhouse Karting Speedway10/6/2012. Also available via Facebook here.
---
2012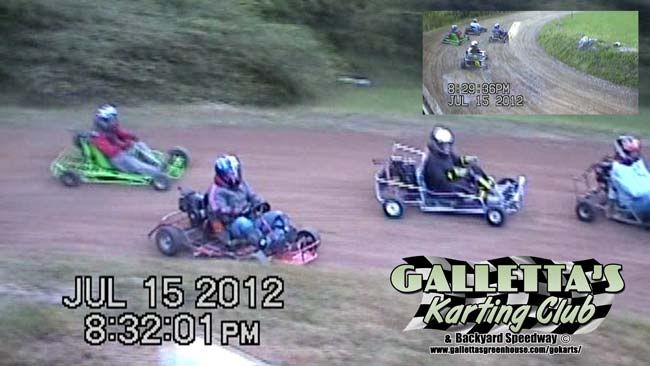 SUNDAY, JULY 15th, 2012: Brian Galletta – one of the original members of the Galletta's Karting Club – got his first feature win in eight years by winning the 2nd 30-Lapper in his Plattitude #287 (chassis built by Randy Platt, motor by Matt Stevens). And even though Dave Spanfelner, Matt Stevens, and Chris Stevens all almost took the win in the first feature, it was Melissa Stevens who evaded several spinning and wrecking karts to take it in her Scissor's-n-Fur #19. Facebook discussion on the victory photos are here (Galletta's Karting Club Facebook) and here (Brian Galletta's Facebook). As for the race, here is MORE…
---
2011

Melissa before the 16th Annual 200-Lap Oswego Kart Klassic at Galletta's Greenhouse Backyard Karting Speedway on 10/8/2011.
JULY 31st, 2011: You wanna' crown someone the winner of Har-bore-fest? We crowned 'em! The only local track with enough bawls to run ran and we crowned the champion to the city's annual gigantic waste of time cluttering the city's roads because it needed a champion. And got one it did. Melissa Stevens dominated the Har-Bore-Fest 50, and embarrassed your @$$, son. Details forthcoming for your fine self, my brahs! 8/3/2011 Update: RACE PAGE IS UP
12/18/2011 Update: Complete 30+ minute race YOUTUBE VIDEO IS UP!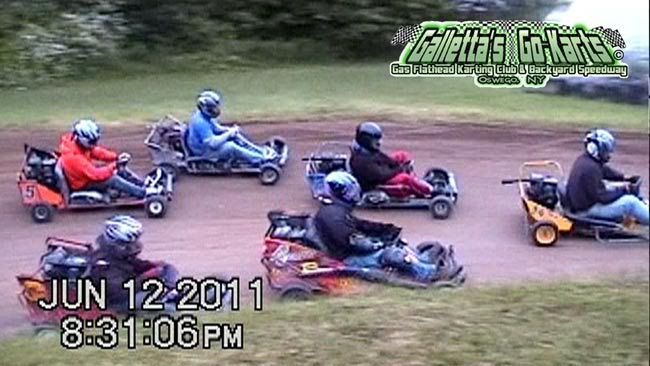 JUNE 12TH, 2011: Twin 30s were in store for week two of the Galletta's Greenhouse Karting Club Season. Rookie Joe Sereno won his first feature in his 2nd race he's ever entered in the Galletta's Greenhouse #5 kart, while Melissa Stevens took her Scissors-n-Fur #19 back into victory lane in the second 30-lapper. Both features were close and action-packed!July 6th, 2011 Update: Details, pictures, points up, and YouTube videos are here).
---
2010 Fall Series
Melissa's mother, Monica Gable, has been banned from trackside after her cancerous actions before and after the 2010 Klassic, cheering for accidents (except if her daughter wrecks, then it's WWIII against all who were near her), and ignored the ban (and seemingly shows up in spite of it).
The primary reason for banishment was after she was caught personally calling a few karters off the track and told them nonsensically confused, garbled, frantic, and weirdly made up lies about out-of-context discussions before the 2010 Klassic (to which these friend/karters wrecked us after she spoke to them, then never came back to race with us and even went as far to slander us on Facebook afterwords). She then attacked Chris Stevens for racing "too close" to Melissa, and told both Chris and his wife Rung (AKA Aou) to, "Go to hell!" Monica also called Aou, who is Thai, a "Go wash dishes, you CHINK!", a racist insult Melissa also repeated years later when she was offended that Aou was breastfeeding her daughter (Mel's own niece, which she also allowed her own daughter to bully for years).
Years after the event, Monica has NEVER apologized, and years later is believed to have called at least three different authorities with often nonsensical and imaginary untrue accusations attempting to get Chris and his wife fined and/or fired from their occupation (Co-owners and Chefs of their Sushi production small business) on multiple occasions, with nonsensically inaccurate to outright false accusations, half-witted complaints, and unrelated frivolous information that would have never been known to her if not for Melissa — who stalkishly watches and reports every single thing Chris and his wife do from her nosy neighbor perch, including their Facebook, which required a block, to which she whined ON Facebook without ever saying WHY they had to do this — telling her such made-up things about Chris and his wife that are untrue and unrelated to anything within the confines of reality and only exists in the mindless rants of crazy, vindictive and malicious people consumed with irrational hatred and jealousy.
---
2010
Melissa before the 2010 (15th Annual) Galletta's Karting Klassic 200-Lap Championship.

2010 Season, Event #5- Monday, July 5th, 2010 – Independence Day Twin-30s Night: The 2nd of two features went to Melissa Stevens in her Scissors N' Fur #19 kart, keeping her streak of at least one feature win per season alive, and she has now won in three karts – her husband's Galletta's #3, and her own Scissors & Fur #80 and #19 karts.
---
2009
Melissa in her brand-new #19 kart, posing before the 14th Annual Galletta's Klassic 200 on October 3rd, 2009.

Melissa Stevens

 picked up her third career feature win on Monday, August 3rd, 2009 – 

"THE SHOVELER DIDN'T MAKE IT 60″.

Here is a YouTube Video of Melissa's most impressive win to date, leading all 60-laps on 8/3/2009:
---
2008:

Melissa Gabel with the brand-new Galletta's Greenhouse/Scissors-N-Fur #80 at the Galletta's 2008 Klassic (9/21/2008).
FALL CHALLENGE TWIN-30s at GALLETTA'S on OCTOBER 19th, 2008:

Melissa Gabel won the 1st 30-Lapper in her Scissors-N-Fur/Galletta's #80, the 2nd feature win of her career; while Dick Dann won the 2nd in his Dann #68 kart (usually driven by his son Nick) on October 19th, 2008. (More here.) While the Summer Series (June-September) is where the majority of your points and victories are earned, but the Fall series has traditionally proved to see some of the most competitive races of the year, and often new winners. This cold night proved no different. Melissa Gabel led from start to finish to win the 1st 30-Lapper, and Dick Dann passed Larry Phillips late in the race to score the 2nd 30-Lapper. With all veterans in both races, we only had 1 caution in 60 green laps. More here.
Congratulations to Matthew Stevens & Melissa (Gabel) Stevens, who were married on Saturday, November 8th, 2008! This means 'officially' one more member of the Team Galletta's racing. New pictures are up on my MySpace! Enjoy!
---
2007: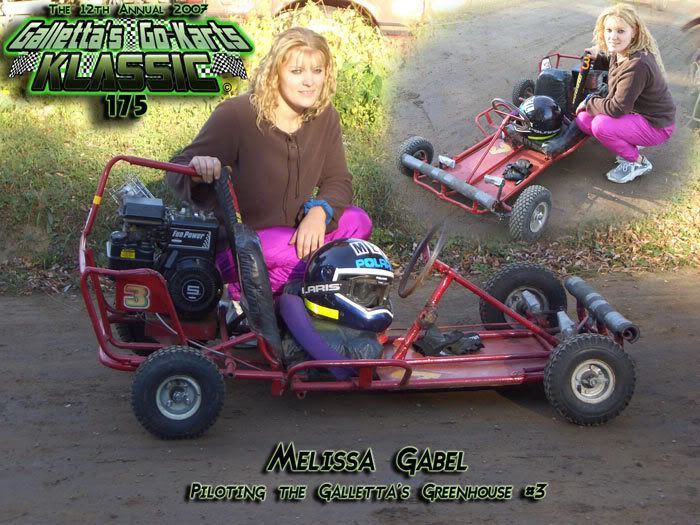 Melissa Gabel with the Galletta's Greenhouse #3 at the Galletta's 2007 Klassic (9/23/2007).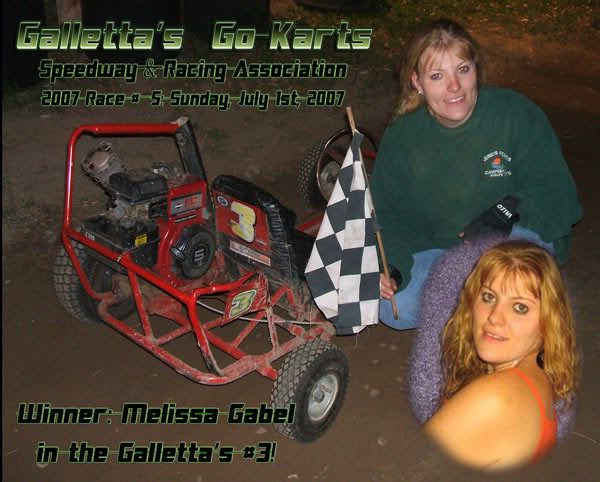 2007/07/01 – Photo by Chris & Rungnapha Stevens.
Accomplished her first win in 2007 after 10 of the 13 other drivers in the event either gave up and/or wrecked in front of her. But she earned the win, holding off the 3 most accomplished and experienced veterans, Matt, Chris, and Wes Stevens for 2 laps to score the unbelievably exciting victory, further adding to the lore of the Galletta's #3!

YouTube footage from the DVD showing Melissa holding off the three Galletta's Go-Karts Founders/Most experienced racers for two laps to score a win! The accident that led to her getting the lead is found here.

Melissa with kart owner and her (formerly fiancée, now husband), Matty-Jo Stevens.
---
2007-09 Q&A with Melissa:
Name: Melissa Stevens (formerly Gabel)
Nickname: Mel
Hometown: Red Creek, NY
Birth date: 11-03-1980
Occupation: Teacher-Aide/Pet Groomer
Marital Status: Married, fellow GKC driver Matt Stevens
Children: none  Daughter, Lilybeth
Year Started Racing: 2007
Year Started Racing at Galletta's: 2007
Career Wins at Galletta's: Three (2007-09)
What do you do when you are not racing and/or in the off-season? Bowling and spending time with my Wonderful (formerly fiancée, now husband) Matty!
Karts: Galletta's Greenhouse/Scissors-N-Fur #80, which is a virtual clone of Matt's Galletta's #33, except for more bumpers. She also drove the Galletta's Greenhouse #3, the very first and most legendary Galletta's Go-Kart in 2007 and most of 2008.
Fun facts about the Galletta's #3: It is her (formerly fiancée, now) husband Matt Stevens' backup kart in which he won countless races between 1990-2006 (including 7 Klassics) in. Matt still rips off track record times in whenever he tests it. The kart used to belong to Chris' childhood friend, David "Screw-a-not" Scruton, who sold it to a small engine shop, who in turn took a good motor off of it, put a crappy motor on it, and then sold it to Matt for a profit in 1990. If Dave knew that Matt was shopping for a kart back then, he would have sold it to him for the better price with a better motor and Matt would have saved a few bucks. The kart has been rebuilt and painted so many times that it no longer resembles its original neon-green Manco yard kart form, but the ratty-looking old kart has won more races than anything found at the Oswego Speedway Kartway or any other local karting track. Period. Think it ain't all that? Come race against it with Matt behind the wheel and see.

__________________________________________________