2018/07/15 – Rookie & Makeup Points Race won by Kevin Galletta [+YouTube]
2018/07/15 – Rookie & Makeup Points Race won by Kevin Galletta [+YouTube]
Sunday, July 15th, 2018 – Due to race video, points, and karts not getting done during the week, Matt and Chris sat out this event, making it a make-up points / rookie bonus race. (We usually don't take victory pictures for makeup races, but maybe we should, since it makes nice cover photos for the website.)
START:
1. (R) Steve Sixberry (Team Galletta's Greenhouse #9)
2. Kevin Galletta (Team Galletta's Greenhouse #43)
3. Josh Arnold (Team Arnie Racing #93)
4. (NR) Nick Klaben (Team Galletta's Greenhouse #2)
5. (NR) Jeff Vincent (Team Galletta's Greenhouse #1)
(R)  = Rookie with less than 1 season experience on track)
(NR) = Newbie Rookie's 1st race on track
Unedited Video Playlist

Steve Sixberry led the entire show until getting loose in turn 4 when he slid a bit too high, enabling returning veteran Kevin Galletta to execute a pass and take the win. This makes for the 1st time the #43 kart has won a feature since it was re-numbered from its original number–the former Brian Galletta #13! 2016-2017 Defending Visitor's Points Champion Josh Arnold's #93 was plagued with motor problems as he was not a factor in the lead battle and faded as the race went on.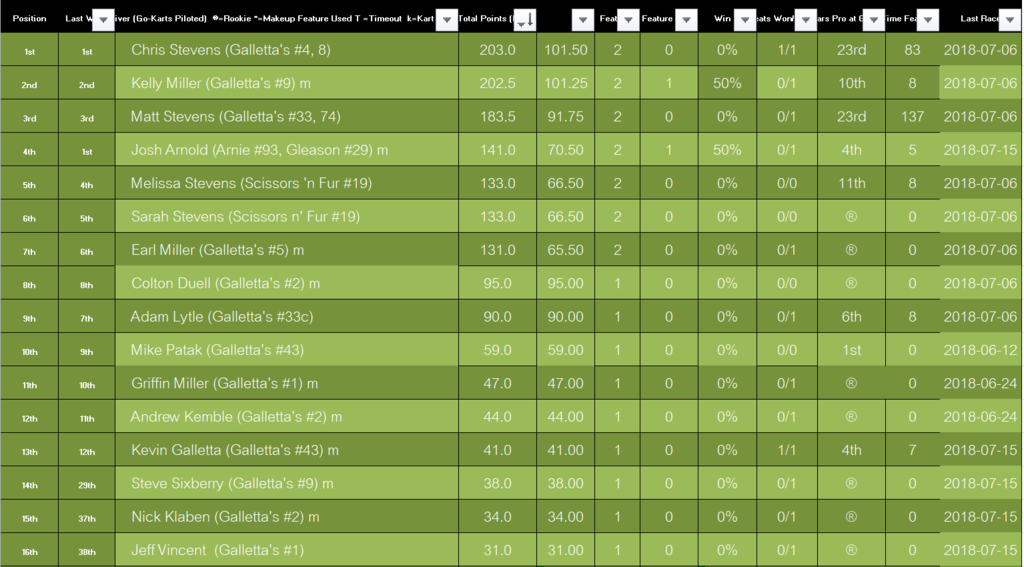 Scoring: This race is counted as a make-up event since all of the drivers missed at least one race, three were rookies, and Matt (and thus Chris) elected to sit out due to all of the trouble with videos, points, scoring, and unfixed karts from the prior week. The drivers were scored accordingly below.
FINISH:
1. Kevin Galletta (Team Galletta's Greenhouse #43) good for 10th in 6/10/2018 25-lap race
2. (R) Steve Sixberry (Team Galletta's Greenhouse #9) good for 11th in 6/10/2018 25-lap race
3. (NR) Nick Klaben (Team Galletta's Greenhouse #2) good for 12th in 6/10/2018 25-lap race
4. Josh Arnold (Team Arnie Racing #93) good for 9th in 7/6/2018 40-lap race
5. DNF – (NR) Jeff Vincent (Team Galletta's Greenhouse #1) good for 13th in 6/10/2018 25-lap race
(R)  = Rookie with less than 1 season experience on track)
(NR) = Newbie Rookie's 1st race on track
DNF – Did Not Finish
2018 Point Standings for 1-WD Gas Flathead Backyard Karting World Championship at Galletta's Greenhouse Backyard Karting Speedway
After the 6/10/2018 through 7/15/2018 Races:
Reminder: Photobucket sucks @$$!

<-This site used Photobucket from 2006-2018 for our pictures. That changed when they decided to extort users top-dollar to use their own photos on their own website. I could see a light watermark, or small, yet reasonable fee to go ad-free… but this is blurring stampage crap is ridiculous. Bye, Photobucket. Now Flickr, don't fail me now…