2016
---
9/4/2016 – Adam Lytle and Kelly Miller are Oswego's Labor Day Karting Champs via Twin-30s!
Sunday, September 4th, 2016, Week 13 – As a handful of the drivers enjoyed the Oswego Speedway Classic weekend, we capped off our traditional post-Oswego Classic Sunday with a race — this year the ever popular Twin-30s. Adam Lytle emerged from his mostly rough season as winner of the 1st 30 lap feature, and in the 2nd it appeared as if Keith Raymond was going to pick up a win until the chain system broke, leaving the points leaders of Kelly Miller, Matt Stevens and Chris Stevens again getting top-3 in the 2nd, with Kelly taking his 4th feature of the season.
More info: Higher resolution Victory picture | YouTube Video | Race page with video, pictures and points.
7/31/2016 – Kings of Harborfest are crowned: 'King Kong' Kevin Galletta & Partner Adam Lytle – Team 'You-Don't-Know-Where-You-Are' Take the Twin-30s!
Sunday, July 31st, 2016, Week 8 – Finally! It took eight weeks, but finally someone else was able to crack victory line besides Matt Stevens (3 wins), Chris Stevens (3 wins) and Kelly Miller (2 wins). Kevin Galletta ended a winless (and hell, FINISH-less) dry spell that lasted over a year with a victory in the 1st feature and a 2nd place in the 2nd. And Adam Lytle was the only one beating him to the stripe in feature #2. While Chris, Matt and Kelly enjoy winning and getting top-threes, it's still good to see new faces in victory lane, but none of the three were even able to get near the front tonight. Everyone was strong and the points leaders just did not get it rolling. In fact, not just that, but Chris had a pretty nice little crash. See for yourself: The complete race video on YouTube video is here. The video is also available with full breakdown of the race and points on the race page here.
2015
---
9/26/2015 – The 20th Annual Galletta's Greenhouse Karting Klassic Championship 200!
Saturday, September 26th, 2015 was the date for our 20th Annual Klassic 200. The race decides both the Track Championship and the Klassic 200 Champion in one fell swoop, as the race counts as the biggest AND the final points race of the season:
8/28/2015 – Adam "AJ" Lytle leads green to checker in a Full-Moon, 14-Kart, 40-Lap event!
FRIDAY, AUGUST 29th, 2015, OSWEGO, NY – Eight newbie 1st-timer rookies showed up (although some had prior racing experience), and with four 2015 regulars and a returning veteran (former Klassic 200 and multi-time flatty and 1/4 midget champ Kyle Reuter), FOURTEEN karts started the 40-lap feature! The biggest feature we've had in a handful of years, and the most in recent memory to say the least (one may have to go back to 2007 or 2008 to find a field that big)! As usual with many 1st-time racers on the track at once AND a full-moon, many cautions slowed the evening down considerably. But after things settled down, the rookies proved that they could race (at least between the cautions). But polesitter Adam Lytle picked up another full moon race, which he clearly specializes in, as all but one or two of his wins have come on such evenings! Points, pics, and more up. Vid soon!
8/16/2015 – Adam "AJ" Lytle scores an odd 50 49 lap victory, per what he requested!

SUNDAY, AUGUST 16th, 2015, OSWEGO, NY – With the unfortunate cancellation of a scheduled memorial race due to not enough drivers Friday, racing was rescheduled to Sunday. Adam Lytle used his rebuilt steering well, as he successfully guarded the pole position for 50 laps, fighting off pass attempts by Keith Raymond, Matt Stevens and Chris Stevens (which just happened to be the last three feature winners!). In the past, Lytle jokingly requested an oddball numbered feature race, and he somewhat got it, as a rookie spun off the tack on the 2nd to last lap, the tower signalled caution while the starter tower did not, and despite running 50 under green, he technically got his oddball 49-lap number and his 4th career feature win (We're still counting 50 though)! Results, pics, points & YouTube video soon!
7/10/2015 – Adam Lytle survives War of Attrition 40-Lapper for his 4th career feature win!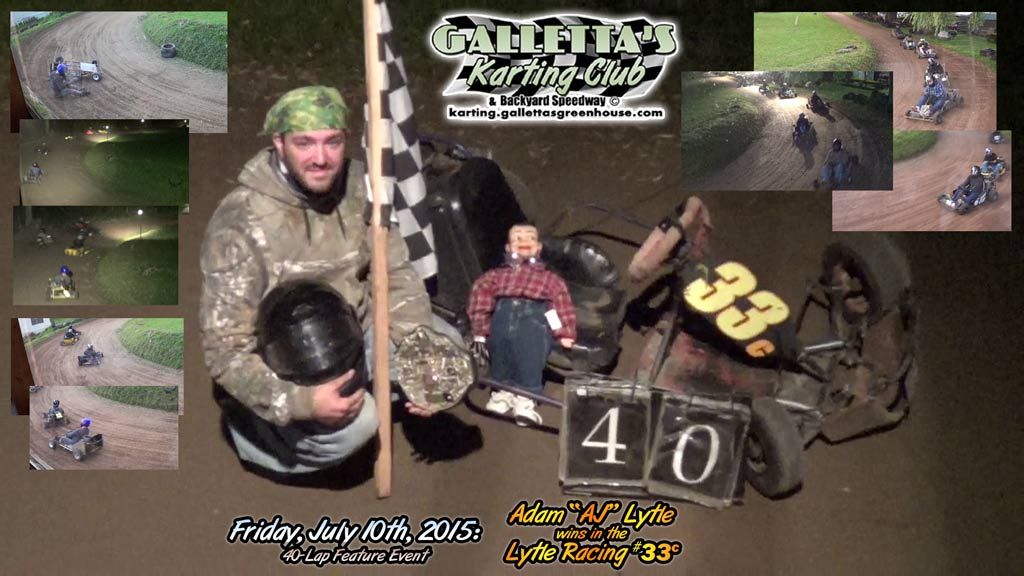 FRIDAY, JULY 10th, 2015, OSWEGO, NY – George Sweeting, Keith Raymond, Kevin Galletta, Chris Stevens and Matt Stevens all either had 1st and/or 2nd place and all had mechanical problems or an unfortunate caution to put them in the rear. In fact EVERY DRIVER who raced in the 40-lapper was involved in at least a minor mishap. But it was Adam Lytle who impressively wins his 4th career feature (though he noted after the race that it may have been his 1st where a full moon was not out)! FULL STORY.
2014
---
10/11/2014 – 19th Annual Galletta's Greenhouse Karting Klassic 200 won by Matt Stevens; Adam Lytle Clinches Visiting Driver Track Title!

SATURDAY, October 11th, 2014, OSWEGO, NY –  200 laps.  Only 6 cautions. No fuel refills. And 79 consecutive green flag laps to the finish. Matt Stevens again proved why he is the best karter in Oswego County for 19 years now. He not only prepared 23 on-site karts and made them all within 0.66 seconds of each other (we defy anybody on the planet to do that in any motorsport race anywhere at any time!), but he time trialed on the pole for the 19th running of the area's largest, longest-running, and hardest to win kart race, took it easy for a bit and then dominated the 2nd half of clinched what he already led almost all season – the Galletta's Greenhouse Karting Speedway Track championship. Can't buy it. You have to earn it. There are only five drivers in the world that have won a Galletta's Klassic, and only 2 drivers in the world that have won Galletta's Track Championships (see above) and Matt has won more of them than everybody else combined. Adam Lytle time trialed 3rd, led a chunk of the early race, and finished an extremely respectable 3rd place in the 19th Annual Galletta's Klassic 200. In doing so, he clinched his spot as the Galletta's Greenhouse Karting Speedway's 2014 Visiting Driver Points Champion! Congrats to Adam, by far his best year yet!

8/23/2014 – Not Enough Drivers = No Points / For Fun Race Night Twin 30s won by Kelly Miller & Adam Lytle
SATURDAY, AUGUST 23rd, 2014, OSWEGO, NY –  Due to a lack of camera operators and with only five drivers able to make it on track at the drop of the first green flag, a non-summer points twin-30 night was held. Kelly Miller (Galletta's Greenhouse #7) passed early leader Keith Raymond early on and won the 1st feature race, holding off Matt Stevens at the stripe, and Adam Lytle (Galletta's Greenhouse #9) won the 2nd feature, leading it from the pole position due to an inverted finish of the 1st. UPDATE: Although at first, we did not have enough cameras and drivers to count it for a full-points Summer show, due to locating the files to the 2nd camera that showed the 2nd half of the 2nd feature, the race is now retroactively counted for points, albeit with no top-3-bonus-lap points (due to not enough drivers). Full story Here.
8/10/2014 – Adam Lytle wins "The Bad Moon Rising" 40 25 in the Lytle #33c!
SUNDAY, AUGUST 10th, 2014, OSWEGO, NY –  It happens every year. When a full moon rises over the Galletta's Greenhouse Backyard Karting Speedway, some odd things happen. And the "Super-Moon" indeed live up to that ominous promise. Even though we started at a decent time, a rough track and many odd breakdowns took their toll on the time and the field – and not even multi-time champions / co-founders Chris and Matt Stevens were safe, as both of them had uncharacteristically continuous breakdowns, wrecks and spins. The 40-lap feature was therefore shortened to 25, but one person avoided all of the bumps, spins and mechanical failures in the main event: It was an impressive 2nd career win for Adam Lytle in his #33c, who passed early leader Keith Raymond and held off Kelly Miller for the victory! More details here!
2013
---

Adam before the 18th Annual Galletta's Greenhouse Karting Klassic 200-Lapper in his Lytle Racing #33c.

9/18/2013 – Adam Lytle wins "A Klassic is a Comin' 50" Full Moon mid-week Special in the Lytle Motorsports #33c. his 1st career feature win!

WEDNESDAY, SEPTEMBER 18th, 2013, OSWEGO, NY –  The race that was scheduled for Sunday, September 15th, 2013 got the heats in (won by Adam Lytle in Lytle 33c and Chris Stevens in Galletta's #5), but the feature rained out before lap 1 was completed. So, we were able to get almost all of the drivers who qualified in the heats back for a special mid-week race, and made it a 50-lap shakedown for Klassic, which may be our next race depending on weather and driver availability. And some crazy full moon incidents went down, including Matt Stevens (driving his pregnant wife's karts) taking the lead then sputtering, Lytle passing him back, then Chris Stevens breaking tie-rods on the #5 by hitting his bro and becoming the newest entrant into the Nature Boy Club by crashing into the woods THEN having the throttle stick on the #0 and almost going BACK into the woods FROM the pit (WOW!), a few drivers breaking before the checker, and finally Lytle getting passed by Kevin Galletta, then getting him back and holding on for his 1st career win. As if you couldn't tell with that ear to ear smile! Whew! Quite a race! And Lytle earned and deserved it, as he has run most of the schedule for 2 years and has had all kinds of freakish bad luck, late restart passes and mechanical problems take him out of near-victories before. Now, the race page is finally complete!
2012
---