Welcome to the Galletta's Greenhouse's Karting Club & Backyard Karting Speedway's 19th Season – 2014!
Founded in the early 1990s, Galletta's Karting Club & Backyard Speedway was created to race go-karts as competitively as we can for as purposefully affordable as we can (via rules), using karts that are hybrid – something between a prefabricated racing kart and a yard kart that can race fast and safe on both pay tracks and backyard tracks alike, all the while having drivers that are highly talented and experienced racers. You may think you are good if you race flatties, clones, or Champs, but in reality, you didn't prove a thing unless you raced and competed for wins at Galletta's! The original, longest-running, and largest karting class in the area, we are also the easiest to join – we often have several unused, fast, feature-winning, arrive-and-drive karts to join into the races immediately, and if you like it, build or buy your own for a few hundred dollars to join and compete instead of a few thousand like most classes take to join and compete. And, the talent levels of the more experienced drivers at Galletta's is far superior to the pay tracks – they've been racing more than a decade before the local pay tracks were built. Read on to see our nineteenth year history of weekly points racing (with videos and complete rundowns of each season since 1995 – and race from 2005) every June through October in the Town of Oswego, NY! Enjoy!
Complete 2014 Season Race Videos
That's right. You don't have to pay to watch our races. They are free to watch live, free to watch on YouTube. Basically the only thing we ask is… join us racing!
That's a lot of racing that we do on BARE BONES cash. We're talking gas money, parts money, and elbow grease. That's our club. The karts cost only a few hundred to buy used or build. Specs are easy and you don't break the bank competing for wins. All the arrive-and-drive karts are very close in speed and all have won features with experienced drivers (most wins are experienced drivers in competitive vehicles. That's all you can ask of ANY motor racing sport). You're welcome to have delusions of grandeur and race flatties and champs and clones for thousands of dollars and new $#!t every year in hopes of going up and spending even more thousands on SBS in hopes of spending even countless more thousands on Supermodifieds. Or you could just race for what it costs to racing modified yard karts for a fraction of what the very next cheapest racing class costs. Join us.
2014 Regular Season Year In Review
---
6/7/2014 – 19th Annual Galletta's Greenhouse Speedway Season Opener won by Eric Woolworth in the #88 After early leader Brian Galletta has a spectacular crash!
SATURDAY, JUNE 7TH, 2014, OSWEGO, NY – The original, longest-running, and most experienced karting class in Oswego, NY began it 19th point season, and it was another tremendous, highly-skilled battle from front to back and start to finish. Melissa Stevens, Adam Lytle, Eric Woolworth and Brian Galletta all took turns leading. Kelly Miller, Matt Stevens and Chris Stevens battled back and forth all night behind them. But after then-leader Brian Galletta's brand-new #42 plowed into the 1st turn wall (when his left front hub imploded) taking out 3rd place Matt Stevens as well, Eric Woolworth held off defending track champ Chris Stevens for the rest of the way for a triumphant win. A kart that he sold to a newbie in 2013, bought it back (for a measly $110?! The motor alone was worth more than that!), and was a rocket-ship with a replaced drive tire with an experienced driver at the helm. More points, pictures, videos and details are here, son!
---
6/21/2014 – Kevin Galletta & Matt Stevens win in the first Twin-Features Night of 2014!
SATURDAY, JUNE 21st, 2014, OSWEGO, NY – The 1st twin-feature night of the young season went down on Saturday June 21st, and it was pole-sitter Kevin Galletta who led all 35 laps of the 1st feature in his most impressive performance of his career thus far. In the 2nd feature, Matt Stevens dispatched a few karts on the drop of the green and beat his brother Chris to the lead to win the time-shortened 25-lap feature of the night. Eric Woolworth – points leader and winner of the 1st two features of the season – had a few wild rides and finally had his win streak snapped. More details, including pics, points and complete race videos are up now.
---
7/5/2014 – Matt Stevens wins 5th of July 50-Lapper in Galletta's Greenhouse #6!

SATURDAY, JULY 5th, 2014, OSWEGO, NY –  After taking a weekend off due to not enough drivers (we don't believe less than 8 drivers makes a class), sometimes Chris and Matt Stevens have to show that their karts aren't better than everyone else's. They are ALL fast and ALL capable of winning races with an experienced and talented driver at the helm. Many drivers have proven it through the years, but still, from time to time, the sometimes neglected backups that nobody thinks are fast need time to shine. So sometimes they go out in backups that sometimes get scoffed at as inferior, or a newbie will think are junk. For America's birthday 2014, Matt hopped into the often-ignored/scoffed-at Galletta's Greenhouse #6, and Chris hopped into the often-ignored/scoffed-at Galletta's Greenhouse #0, and they promptly scored 1st and 2nd with a half track to to spare. Dave Turner and then Kelly Miller led early with Adam Lytle and Chris Stevens in chase, but a wreck took the top-3 out and set Matt up for the win (although Chris did get back into it and challenge him before settling for 2nd with mechanical problems – no brakes and stuck throttle). Points leader Eric Woolworth took a crazy wreck into the tower as well. More details, pics, points and complete race videos now!
---
7/12/2014 – Matt Stevens wins Fast 40-Lapper in Galletta's Greenhouse #5!

SATURDAY, JULY 12th, 2014, OSWEGO, NY –  Matt Stevens did it again! He hops in a backup kart that is available for rent every weekend (and usually sits idle) and DOMINATES the field en route to another Feature victory, padding his total feature wins again – a total that no karter in Oswego (and points beyond) can touch. But it wasn't easy to get into the lead. In fact, Brian Galletta, Chris Stevens and Kelly Miller all got trapped behind some zany lapped traffic to get picked off en route to Matt's win, which means that Matt has now taken 3 straight feature triumphs in 3 different Galletta's Greenhouse racing karts. And again, considering the local pay tracks pack in dozens and dozens of drivers, and less than a dozen race with us (when we can field more than 20 on our larger track – INCLUDING KARTS LIKE THE #5 WHICH CAN WIN ANY RACE AT ANY TIME IF YOU HAVE TALENT? HINT DROPPED!), it exposes how most local pay track drivers are snobby wanna-bes. We don't care about your expensive race chassis and rigged-up motors. You ain't shit as a karting driver unless you win at Galletta's. Period. Come on out and show your stuff. Or keep feelin' good at Kiddie Kartways!  More details, pics, points and race videos are located here, son.
---
7/19/2014 – Randy Platt returns to win 45-Lapper in Galletta's Greenhouse #5, as Chris "Crusher" Stevens gets legs and ribs hurt in wreck!

SATURDAY, JULY 19th, 2014, OSWEGO, NY –  Randy Platt (AKA The Bobandinator, or Bobambikiller) has been MIA for most of the last two years. Family and work have kept him busy enough to miss many races – even living around a minute's drive from the track. But he happened to stroll up before the feature event started, and was talked into racing. He promptly hopped into the Galletta's Greenhouse #5 and wound up in victory lane, although Matt Stevens and Kelly Miller did give him a couple of challenges. 2nd week in a  row the kart won, as Matt Stevens won in it last weekend. And the kart sits idle most weeks. Oh well. Oh, and a scary wreck between Brian Galletta, Adam Lytle and Chris Stevens in the early stages of the feature put Chris on the sideline for the show after the Lytle #33c LANDED on him during the race. Bummer. Ow. Still hurts.  More details forthcoming.. sorry it's taking a while… very busy webmaster with 2 jobs (1 seasonal), a third job that doesn't pay, and a VERY pregnant wife – this karting stuff is just a hobby. Read more here, along with pics, points and exciting race videos of the race and crash within!
---
7/25/2014 – 19th Annual Har-bored-Fest Avoidance 50 won by Kyle Reuter in Galletta's Greenhouse #5!

FRIDAY, JULY 25th, 2014, OSWEGO, NY –  Every late July comes Oswego's Harborfest, which is great for fireworks and a few places deep in the heart of Oswego, but many of its citizens prefer to stay out of the city because it makes it extremely FAR more difficult to traverse through than usual. What's better than having a race in the fairly car-free roads in the Town of Oswego, then? Well, our 19th Annual "HAR-BORE-MESS AVOIDANCE RACE" went down and it was a 10-kart extravaganza. Let me be quite clear. A clinic of driving skill was displayed for the lead between two of the winningest karters in the Oswego area – Matt Stevens and Kyle Reuter. Nobody can dispute the talents of Kyle and Matt, as everyone who has ever raced against either of them knows the only way to beat them is to be on the top of your game and have a great vehicle under you. Period. (And Chris, still recovering from the leg and rib injuries from his wreck on 7/19. was sad to miss it, but enjoyed the show from the video/announcing tower!) This exhibition was no exception. It was a torrid race with Kyle holding off a hard-charging Matt for the win! But it was not without controversy, as a few feathers did get ruffled along the way, including one threat of a helmet throw! In the end, the same kart won 3 weeks in a row WITH A DIFFERENT DRIVER! Two of which come back for their 1st race in over a year! A kart that usually sits idle and sat unused during the last Galletta's Greenhouse Klassic 200! Now everyone's going to be fighting over racing it every week! More details, pics, points and race videos here!
---
8/3/2014 – Brian Galletta wins the [Your Sponsorship Here] 45-Lapper in the Platt-Num-Galletta #28!

SUNDAY, AUGUST 3rd, 2014, OSWEGO, NY –  The best karters in Oswego proved it again! Originally planned for a two-night, Saturday & Sunday twin-feature event, but we rescheduled for driver availability and around dark skies to just Sunday instead (5pm for newbie/rookies and 6pm for veterans). And despite the impending gloom of overcast skies and distant rumbles of thunder, we got the show in with only a light sprinkle which actually helped the track conditions out as the race went on. And although 1st-year driver Keith Raymond looked strong, lapped traffic did him in and it was Brian Galletta who fought tooth and nail to hold off his cousins Chris and Matt Stevens en route to his 1st feature win of 2014. He also snapped the Galletta's Greenhouse #5's victory streak at 3 straight wins with 3 straight drivers – although it did score a very close 2nd with Chris Stevens who tried to be the 4th driver in 4 weeks to take 4 wins, but came up just short when he and bro Matt ran out of track space trying to slingshot their cousin at the stripe. As usual, we had 9 drivers but *again* missed a full field, as 5 rookies replaced 5 regular veterans who didn't make it and missed a good one. Seriously, can we get that 20-kart race I have been clamoring for on this website for for around a decade? We have enough karts to do it, we just need driver's butts in kart seats! Well, we race again next weekend: Rookies that aren't here by 5 getting coached-up and settled into karts may not qualify for the veteran feature. Veterans who do not arrive on time lose their handicap starting spot. Rookies must know flags and understand that there is a 3-caution-and-you're-out rule in effect. See you there! Read more about this race along with pics, points and videos here.
---
8/10/2014 – Adam Lytle wins "The Bad Moon Rising" 40 25 in the Lytle #33c!
SUNDAY, AUGUST 10th, 2014, OSWEGO, NY –  It happens every year. When a full moon rises over the Galletta's Greenhouse Backyard Karting Speedway, some odd things happen. And the "Super-Moon" indeed live up to that ominous promise. Even though we started at a decent time, a rough track and many odd breakdowns took their toll on the time and the field – and not even multi-time champions / co-founders Chris and Matt Stevens were safe, as both of them had uncharacteristically continuous breakdowns, wrecks and spins. The 40-lap feature was therefore shortened to 25, but one person avoided all of the bumps, spins and mechanical failures in the main event: It was an impressive 2nd career win for Adam Lytle in his #33c, who passed early leader Keith Raymond and held off Kelly Miller for the victory! More details here!
8/13-21/2014 – Off-Week in Memoriam of Paul Galletta Jr. (…and the birth of Miss Faith Marie Stevens!)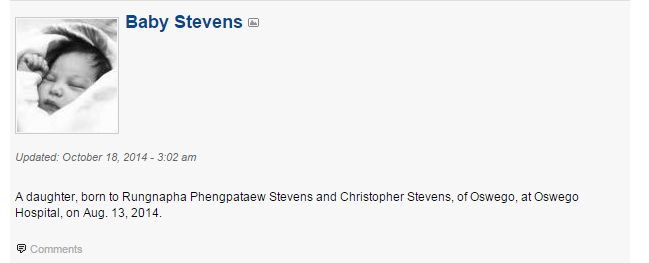 WEDNESDAY, AUGUST 13th, 2014, OSWEGO, NY –  In an extremely odd series of circumstances, this week of the racing season was cancelled. Firstly, the 8/10/2014 show exposed that the track was in dire need of repairs, and several karts also needed work due to the bumpy road. Secondly, co-founder/racer Chris Stevens welcomed the birth of he and his wife's (camera woman Rungnapha Stevens) first child, Miss Faith Marie Stevens, much like last September, with Matthew and Melissa's first child, Miss Lilybeth Stevens, there's just not enough time to get everything prepped and race (not to mention our lead camera person just had a c-section days earlier and is nursing an infant). But thirdly, and in a most shocking, terrible and completely unforeseen event, Paul Galletta Jr. passed away unexpectedly of heart problems at 33 years of age. Paul Jr. was 1st cousin to current and former Galletta's racers Matt Stevens, Chris Stevens, Brian, Kevin, Timmy, Bobby and Gary Galletta, cousin once removed to Justin Galletta, and brother of long-ago "for fun/non-points" driver Anthony Galletta. Paul Jr. and Anthony raced a few times for fun in the early-1990s before we counted races for points and documented them on the website. The collective circumstances led to us call for a bye week and pay our respects, thoughts and prayers to to Paul Jr. and his immediate family.
---
8/23/2014 – Not Enough Drivers = No Points / For Fun Race Night Twin 30s won by Kelly Miller & Adam Lytle (Retroactively Scored)
 SATURDAY, AUGUST 23rd, 2014, OSWEGO, NY –  Due to a lack of camera operators (one just gave a c-section birth 10 days earlier) and with only five drivers able to make it on track at the drop of the first green flag, a non-summer points twin-30 night was held. Kelly Miller (Galletta's Greenhouse #7) passed early leader Keith Raymond early on and won the 1st feature race, holding off Matt Stevens at the stripe, and Adam Lytle (Galletta's Greenhouse #9) won the 2nd feature, leading it from the pole position due to an inverted finish of the 1st. At the start of the 2nd feature, a sixth driver (Chris Stevens, who had to man the camera for the 1st) was able to join due to  the availability of camerawoman Rungnapha Stevens able to record. However, when incompetent starter Wesley Stevens disregarded the established handicap start rules and directed Chris to start in the rear (instead of 2nd under our 2nd-of-a-twin-feature night inverted finish rules that we established in 2009), Chris pulled himself from competition and threatened to cancel the rest of the season's points, schedule, website and videos unless more people show up to race and Wes learned the f***ing rules instead of dictating his preferences. The winner of the 2nd feature should not have been placed on the pole under Galletta's handicapping rules – he was erroneously placed on the pole despite winning a week before – a cardinal sin in our points/wins handicapping system that Wesley Stevens brought on!], but with the handicap order disregarded, and only 5/6 divers, the race will not count for summer points and will only count for All-Time points when the season concludes. UPDATE: Due to locating the 2nd camera that showed the 2nd half of the 2nd feature, the race is now retroactively counted for points. Points, pics and videos are here.
---
9/1/2014 – 19th Annual Labor Day 50-Lapper stolen by Matt Stevens in Galletta's #1

MONDAY, SEPTEMBER 1st, 2014, OSWEGO, NY –  Due to a severe lack of drivers (3), and camera operators (0), our Saturday, August 30th 2014 race was postponed a few days for Monday, September 1st, 2014 at 5:30pm. Pushing the date back meant that it wound up being a good 8-kart feature (remember, our for-points race cutoff is usually 8) that saw 1st year driver Keith Raymond lead early on (in the Galletta's Greenhouse #5) before drive system problems parked the kart, ending his bid at his 1st career feature win. Chris Stevens then inherited the lead (in the Galletta's Greenhouse/Chrusher.com/Oswego Price Chopper R&C Sushi Bar #4) and looked like he was going to take his first win in over a whole calender year. But on a late-race restart, Chris lost traction in turn 1 and Matt Stevens used that opportunity to put the oft-unused Galletta's Greenhouse #1 into victory lane, something that it rarely gets a chance to do since usually only raw rookie renters run it (again, another lesson that our karts are all of very close and near-equal ability – it's the driver skill and a bit of luck that determines the outcome). During the post-race photos, Chris was a little peeved to see that while he has a bald slick on his drive-wheel tire, the #1 had a treaded tire on the drive-wheel! Something we ruled against in 2008 due to racing on both Oswego dirt tracks at the time. Oh that tricky, underhanded lil' Mr. Matty-Joey! As if the most wins of all karters in Oswego wasn't enough? Maybe this is why the small horde of pay track drivers epically puss-wuss out year after year and don't try to take him on? Sheesh! There may be penalties involved for this one. Videos, points and more? Then go here!
---
9/6 – 9/20/2014 – Races Planned… but no drivers show…?
SATURDAY, SEPTEMBER 6th, 2014, OSWEGO, NY –  Due to cold/wet weather, the birth of webmaster Chris Stevens' child, a severe lack of drivers and camera operators, and all-new ways for drivers to quit or unintentionally be forced out due to scheduling conflicts, our race season hinges on people showing up for race day. We plan to run anytime between 3pm and 4pm Saturdays and finish well before dark, but where are the drivers? We only have a handful of regular drivers and need more. We do not run without more than 6 or 7, preferably 8-18! Yes, that's not all classes, that's ONE class on the same track at the same time. And no weekly fees or dropping a few grand on a kart capable of competing. If you raced with us before, we'd like you back (minus the small 0.01% of those who left on bad terms and backstabbed us to everyone within earshot. You guys can suck it).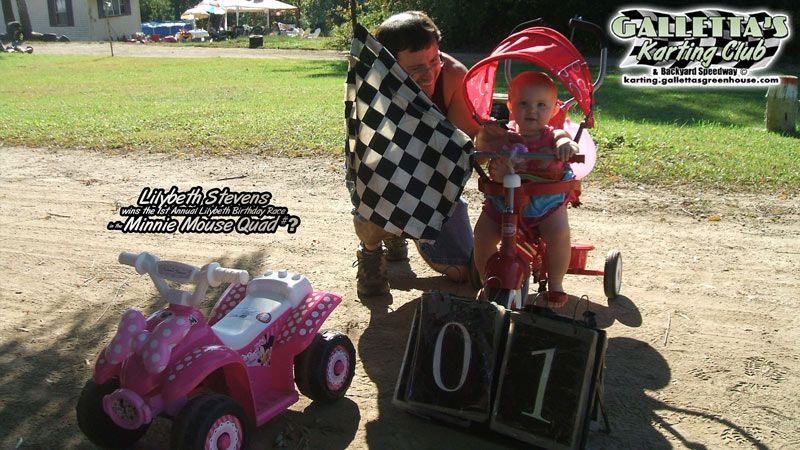 If you want to get into it, now is the time, as we have plenty of karts and no drivers. If interested, here is how to enter, and to find out when we race and how many karts are available, contact us at 315-343-0879 and ask Matt about the next kart race. SATURDAY, SEPTEMBER 27th, 2014, OSWEGO, NY –  Lilybeth took her brand-new Minnie Mouse Quad to the win on 9/27/2014 to win the 1st Annual Lilybeth Birthday Bash 1. Pictured here with her proud papa, Oswego Karting Living Legend Matt Stevens. Read on.
---
9/27/2014 – Chris Stevens wins the "Welcome Back Karters!" 40 in the Chrusher.Com/Galletta's/R&C Sushi #4

SATURDAY, SEPTEMBER 27th, 2014, OSWEGO, NY –  Nearly a month passed before enough drivers were rounded up to have a finally race (unlike many pay tracks around, we prefer 10-20 karts on track and not limit to 1-9 kart classes – we LIKE competition and seeing who is best more than making everyone feel good by finishing well in itty-bitty races). And it was Chris "Chrusher" Stevens who collected his first feature win in over a year! Despite Chris being the 2013 Galletta's Defending Track Champion (and, we all know, that means Overall Oswego Karting champ), it took over a  year for the drought to finally end for the the leading feature-winner of 2013. GGKC&S now takes a weekend off to prep for the Galletta's 200. But for more on this race, go here.
---
10/9/2014 – 19th Annual Galletta's Greenhouse Karting Klassic 200 is this Saturday!
 – 23 Karts Available. All time trialed less than 1 second apart. Drivers needed! – 


THURSDAY, October 9th, 2014, OSWEGO, NY –  For 19 years, late September through early August has been the date of the largest Karting event in Oswego. And it has never had anything to do with a pay track and its big price tags, and seemingly never-ending age, weight and engine divisions. Hell, no. Yes, the Galletta's Greenhouse Karting Klassic 200-Lap Point Season Finale – the premiere, original, longest-running, biggest, longest, most uncut-est and most prestigious single karting race in Oswego, NY – is this Saturday (barring excessive rain, rain date will likely be the following Saturday, 10/18) at 3pm (time trials at 2pm). There are 23 feature-winning/race-ready go-karts available to be raced at Galletta's Greenhouse Backyard Karting Speedway. The most ever filled were 18 (and not since 2005!), and most races in the last seven years have been ten or less. This year in particular, we've only been filling six to eight. I thought Oswego was a racer city? A speedway and a few kart tracks. The local pay track fills up with 100 people who pay a lot of money to get a fleeting few minutes on a small track. Here, we race for an hour or two on a track twice as big. So… where are they? Snobs? Afraid? Don't know about us? Someone talked trash about our club and they believed it? Beats us… we just want to race, and pit our races and the closeness of the karts against any other race division's. The only thing we need is simply drivers on race day. Any karter with bawls shows up. Anybody who wants to ace in an equalized format will want to race with us. The ones who don't… sorry. More details will be posted later this week. DRIVERS WITH BALLS SHOW UP AT GALLETTA'S ON 10/10/2014. Those who don't? Well. We know. We know. Swollen baboon asses. Meanwhile, read about our KLASSIC HISTORY!
OCTOBER 2014… TWENTY-THREE KARTS, ALL TIMING WITHIN 0.66 SECONDS OF EACH OTHER (AND MOST WITHIN 0.37 OF A SECOND ON A HIGHLY INCONSISTENT DIRT TRACK) ARE AVAILABLE FOR THE 19TH RUNNING OF THE KLASSIC 200. MOST ARE UNFILLED. WHY DON'T YOU BECOME THE NEXT GALLETTA'S KARTING CLUB DRIVER AND TRY TO BECOME THE NEXT GALLETTA'S KLASSIC CHAMPION? Well… guess what? Only 7 people had the balls to start, and only two made it to the 200th lap…
10/11/2014 – 19th Annual Galletta's Greenhouse Karting Klassic 200 won by Matt Stevens; Clinches Track Title & Overall best karter in Oswego, NY. Again.

SATURDAY, October 11th, 2014, OSWEGO, NY –  200 laps.  Only 6 cautions. No fuel refills. And 79 consecutive green flag laps to the finish. Matt Stevens again proved why he is the best karter in Oswego County for 19 years now. He not only prepared 23 on-site karts and made them all within 0.66 seconds of each other (we defy anybody on the planet to do that in any motorsport race anywhere at any time!), but he time trialed on the pole for the 19th running of the area's largest, longest-running, and hardest to win kart race, took it easy for a bit and then dominated the 2nd half of clinched what he already led almost all season – the Galletta's Greenhouse Karting Speedway Track championship. Can't buy it. You have to earn it. There are only five drivers in the world that have won a Galletta's Klassic, and only 2 drivers in the world that have won Galletta's Track Championships (see above) and Matt has won more of them than everybody else combined. Sadly, the only downfall was the club has lost drivers. 23 karts were race-ready at 2pm. We waited. And waited. And waited. We settled for 7 drivers, including the un-retirement of former 2006 Klassic Champ Wes "Ogre" Stevens! But still… only 7?! From 2004-2009, the track was filled with 10-15 drivers on track a week, by far the largest karting class in Oswego, NY. Now, we are averaging 4-10. Now, while that is still above average for a karting class, but we don't limit by weight, age, and karts on track – if 23 people showed up, we could have a 23 kart race. For our 20th anniversary of point racing at Galletta's, which resumed next Spring 2015, more drivers are badly needed. See you next year at Galletta's, but sin the meantime, check out the 19th Annual Galletta's Klassic page complete with finalized 2014 point standings. Matt Stevens wins overall Oswego/World Gas Flathead /Galletta's Karting Points Championship, and Adam Lytle wins the 2014 Galletta's Visiting Driver Track Championship. God bless!
2014 Gas Flathead National Championship / 2014 Galletta's Greenhouse Karting Speedway Point Standings
(FINAL. As of completion of 10/11/2014's race event – the 19th Annual World Championship pf Clockwise Gas Stock Flathead Karting.)
Position
(Last week)
Name (Go-Karts Piloted)
[Hyperlinked Borders have Driver Profile]
®=Rookie *=Makeup T =Timeout
BOLD = Raced in Big Points Klassic 200
Total Points (Place)
Average Points Per Feature
Features
Feature Wins
Win %
Heats Won/
Entered
Years Pro at Galletta's
All-Time Feature Wins
1st
Matt Stevens
(Galletta's #3, 74, 33, 6, 5, 2, 1, 43)
2014 Overall World / Oswego
Gas Flathead Karting Track Champion

2,448.50

163.23

15

5

33%

1/7

19th

125

2nd
Chris Stevens
(Galletta's #8, 4, 0, 5) *

2,332.00

155.47

15

1

7%

1/7

19th

71

3rd
(4th)
Adam Lytle
(Lytle #33c' Galletta's #9)
2014 Galletta's Visiting Driver
Track Championship

1,991.00

132.73

15

2

13%

1/8

3rd

3

4th
(3rd)
Melissa Stevens
(Scissors 'n Fur #19, 80)

1,914.00

127.60

15

0

0%

3/7

8th

7

5th
(8th)
Kevin Galletta
(Plattnum-Galletta #28)
*

1,524.00

152.40

10

1

10%

1/5

2nd

2

6th
(7th)
Brian Galletta
(Plattnum-Galletta #42, 28, 54) *

1,445.50

144.55

10

1

10%

1/6

8th

7

7th
(5th)
Keith Raymond
(Raymond #88, Galletta's #1, 6)
® **

1,322.00

94.43

14

0

0%

2/7

®

0

8th
(6th)
Kelly Miller
(Galletta's #7, 9, 5)

1,198.50

108.95

11

1

9%

0/5

7th

3

9th
Eric Woolworth
(The Raven #88, #78/02)

680.50

113.42

6

2

33%

0/3

3rd

4

10th
(Last)
Wesley Stevens
(Galletta's #4)

487.00

487.00

1

0

0%

0/1

12th

20

11th
(10th)
David Turner
(Plattnum-Turner #43,
Galletta's #9)
® *

478.50

95.70

5

0

0%

1/2

®

0

12th
(11th)
Jon Raymond
(Galletta's #9, 6, 1, 0) ®

251.00

125.50

2

0

0%

0/3

®

0

13th
(12th )
Branden 'Tumor' Matott
(Galletta's/Matott #1872 ,
Galletta's #1)

214.00

107.00

2

0

0%

0/0

2nd

1

14th
(13th)
Kyle Reuter
(Galletta's #5)

170.50

170.50

1

1

100%

0/0

6th

5

15th
(14th)
Alex Bennett
(Galletta's #9, 2) ® (*$)

159.00

79.50

2

0

0%

0/0

®

0

16th
(15th)
Randy Platt
(Galletta's #5)

152.50

152.50

1

1

100%

0/0

5th

7

17th
(16th)
Clifford Crowe
(Galletta's #1) ® (*$)

143.00

71.50

2

0

0%

0/0

®

0

18th
(17th)
Chris Larkin
(Galletta's #9) ®

141.00

141.00

1

0

0%

0/2

®

0

19th
(18th)
Chad Combs
(Galletta's #9, 2) ® (*$)

132.00

132.00

1

0

0%

0/2

®

0

20th
(19th)
Mike Harrington
(Galletta's #1) ®

132.00

132.00

1

0

0%

0/2

®

0

21st
(20th)
Eddie Bristol
(Galletta's #42) ®

128.00

128.00

1

0

0%

1/2

®

0

22nd
(21st)
Grover Sixberry Jr.
(Galletta's #2) ® *

120.00

60.00

2

0

0%

0/1

®

0

23rd
(22nd)
Matthew Daniels
(Galletta's #1) ® (*$)

91.00

91.00

1

0

0%

0/1

®

0

24th
(23rd)
Ray Castaldo
(Galletta #54)

88.00

88.00

1

0

0%

0/0

®

0

25th
(24th)
Lilybeth Stevens
(Tootles) ®

83.00

83.00

1

0

0%

0/0

®

0

26th
(25th)
Unknown Rookie N00b from 8/10/2014
(Galletta's #1) ®

61.00

61.00

1

0

0%

0/1

®

0