2018/08/05 – Twin-15's for Rookies & Make-Up Points [+YouTube]
2018/08/05 – Twin-15's for Rookies & Make-Up Points [+YouTube]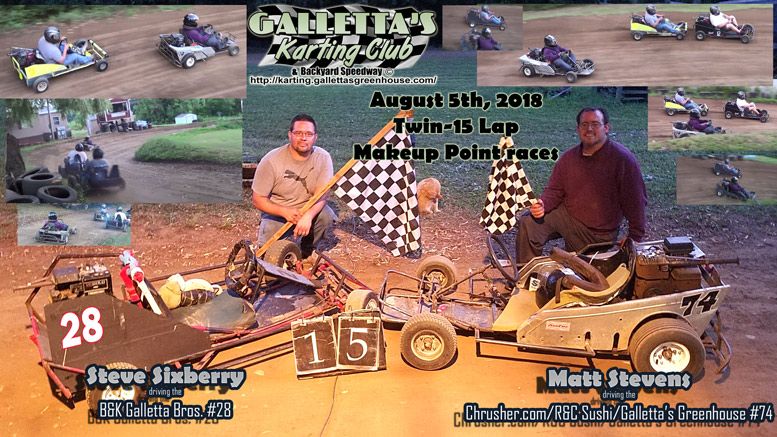 Sunday, August 5th, 2018 – In an unfortunate twist, most of our regular drivers could not make it, but 1st year driver Steve Sixberry brought two rookies who look to be getting accustomed to the racing and hopefully will come back often. Due to only three visiting drivers, we rescheduled to a "Make Up Points / Rookie Race" — although you can't keep Matt Stevens off the track and races with no points or feature wins at stake. Chris Stevens took the opportunity to try and get a wide variety of different shots, not just the tower angle which everyone who knows us is accustomed to. Enjoy!
15-Lap Makeup Race #1 – START:
1. ® Steve Sixberry (Team Galletta's Greenhouse #9)
2. ® Chris Smith (Team Galletta's Greenhouse #12j)
3. ® Mark Vincent (Team Galletta's Greenhouse #7)
4. * Matt Stevens (Team Galletta's Greenhouse/Chrusher.com/OswegoSushi.com #74)
* = Matt is just racing for fun/post-Klassic/non-regular bonus points.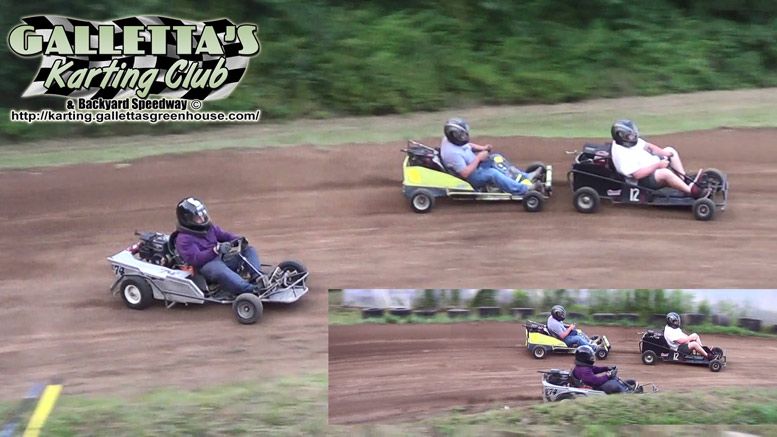 15-Lap Makeup Race #1 – FINISH:
1. * Matt Stevens (Team Galletta's Greenhouse/Chrusher.com/OswegoSushi.com #74)
2. ® Steve Sixberry (Team Galletta's Greenhouse #9) +78 pts for 7/6/2018
3. ® Chris Smith (Team Galletta's Greenhouse #12j) +25 pts for 6/10/2018
4. ® Mark Vincent (Team Galletta's Greenhouse #7) +22 pts for 6/10/2018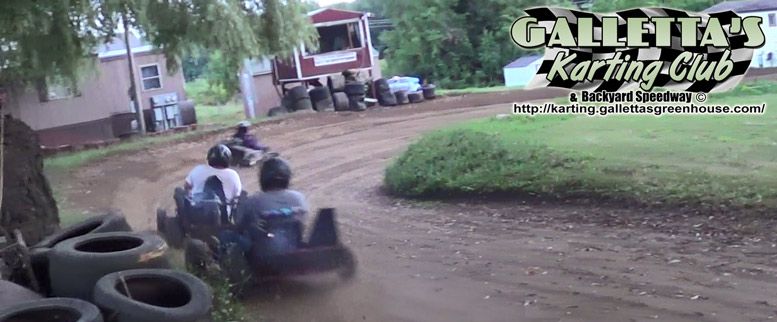 15-Lap Makeup Race #2 – START:
1. ® Steve Sixberry (Team Galletta's Greenhouse #28)
2. ® Chris Smith (Team Galletta's Greenhouse #12j)
3. ® Mark Vincent (Team Galletta's Greenhouse #7)
4. * Matt Stevens (Team Galletta's Greenhouse #1)
15-Lap Makeup Race #2 – FINISH:
1. ® Steve Sixberry (Team Galletta's Greenhouse #28) BANKED BONUS POINTS
2. * Matt Stevens (Team Galletta's Greenhouse #1) BANKED BONUS POINTS
3. ® Chris Smith (Team Galletta's Greenhouse #12j) +78 pts for 7/6/2018
4. ® Mark Vincent (Team Galletta's Greenhouse #7) +73 pts for 7/6/2018
Unedited Video Playlist

2018 Point Standings for 1-WD Gas Flathead Backyard Karting World Championship at Galletta's Greenhouse Backyard Karting Speedway
After the 6/10/2018 through 8/05/2018 Races: