JOSH ARNOLD (2015-current)
Driver Name:
Josh Arnold
Karts:
Arnie Racing #93 (formerly the Dann Racing #86 / Tim Galletta #54 / Dave Spanfelner #54 / Brian Galletta #54 kart which has been in many races at Galletta's and Oswego Kartways since 2006 scoring many wins; originally built by Dick Dann and later rebuilt by Matt and Wes Stevens for Tim Galletta), Gleason Racing #29, Galletta's Greenhouse Racing #43, 2, 6, and more.
Career Achievements:
2016 Rookie of the Year; 2016 Visitor's Points Champion; 2017 Visitor's Points Champion.
Tagged Races:
Josh Arnold, Josh Arnold win, Arnold #93 win
Career Highlights
Usually updated after the last race driver won, or at season's end:
2020
---
Josh did not race much in 2020 and sold his kart (to Chris and Matt Stevens, making it a full-time part of the Galletta's Karting Club 'Arrive-and-Drive' fleet), but he plans to occasionally come out and race.
2020 Races:
2019
---
7/14/2019 – 3rd Set of Twin-25s Go To Josh Arnold & Matt Stevens [+YouTube]
Sunday, July 14, 2019 – After a week off for the fireworks of Independence day, the racing resumed at Galletta's. And twin-25s made for another two winners: In the 1st feature, Josh Arnold led all 25 laps from pole position in his #93 in a race that saw almost no passing. In the 2nd, Chris Stevens led almost the entire race until the Galletta's #78 slipped off the track into some grass which enabled his brother Matt Stevens to capitalize and scoot by his brother in the Galletta's/Chrusher.com/OswegoSushi.com #74 for the win.
Josh was unable to race the entire 2nd half of the season, much to everyone's chagrin, as he is a top competitor capable of winning any race and also has his own kart on track. He also claimed he may sell his kart, but we hope he changes his mind and returns to semi-regular racing soon.
2019 Races:
2018
---
9/22/2018 – 23rd Annual Galletta's Greenhouse Go-Kart 200-Lap Klassic Championship [YouTube]
Josh entered the 2018 Klassic 200 on September 18th, 2018. The race was extremely clean and had only six cautions spread out between the 200 laps — all mundane and uneventful breakdowns and fender-sticks. However, one was a nasty-looking one, when Josh Arnold's #93 tie rod broke entering turn one and sent him into the Supermodified tire barrier under the scoring tower. He was then struck from behind when Keith Raymond driving the Galletta's #0 had nowhere to go. The wreck took out both competitors. Josh seemed fairly shaken up, but reported back to us that he was fine by the next day with less soreness than he anticipated. The wreck can be seen here.
2018/08/12 – Josh Arnold wins 20-Lap Makeup-Race [+YouTube]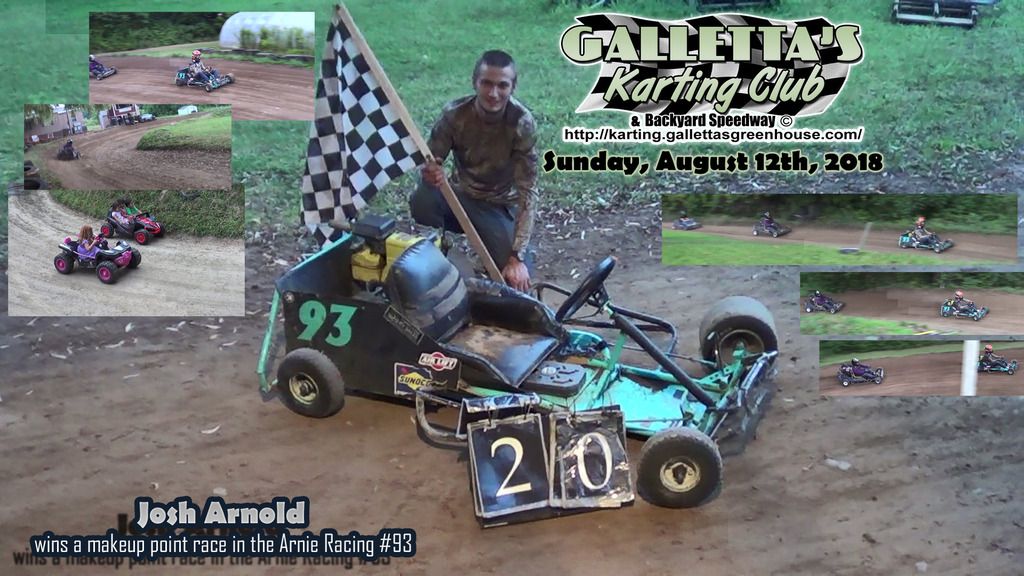 Sunday, August 12th, 2018 – For the 2nd week in a row, we had track and karts ready to go early–but unfortunately, only two drivers showed up, so we had a makeup race. Josh Arnold, one of three new racing dads this summer, took advantage and scored some makeup points.
However, we're getting sick of scheduling races that never happen and I'm personally sick of typing it… where are the so-called karters of Oswego, NY? Cookie-Cutter-Kiddie-karts on take-your-money-herd-you-on-herd-you-off bullring tracks don't prove a thing if you aren't racing against the All-Time Winningest karter in New York State – Matt Stevens.
More pictures, race results, and complete race videos on YouTube are found here.
6/10/2018 – Josh Arnold wins the 23rd Annual Galletta's Karting Season Opener [+YouTube]

Sunday, June 10th, 2018 – Well, our 23rd Season Opener at Galletta's Greenhouse Backyard Speedway saw Josh Arnold continue his impressive ways of the last three years (two time defending Visitor's Points Champion) and won (driving his father-in-law's #29; his #93 was still in need of repairs for breaking during last year's Klassic 200). Josh again is looking like the top visiting driver and also looking at being the 1st driver in our history to knock Matt and Chris out of their 1-2/2-1 perch on top the point standings for all 22 prior seasons. But it's kind of easy for the top three drivers in the past two seasons when nobody else has the balls to show.
More: Race Page with YouTube Videos & Points | Victory Photo
2018 Races:
2017
---
2017/10/13 – 22nd Annual Galletta's Greenhouse Go-Karting Klassic 200 [+YouTube Video]
October 13th, 2017 – The Galletta's Greenhouse Go-Karting Club completed it's 22nd season with another 200-lap Klassic. It was down between the big three drivers all season — veteran brother duo of Chris and Matt Stevens, and impressive young gun Josh Arnold. Kelly Miller returned from taking almost the entire year off (assisting his son, Steven Perez in stock car racing) to time-trial the pole, and for the 1st 150 laps it was all Kelly (until his kart broke down) and Matt Stevens (until he decided to refuel on lap 150), until Chris Stevens once again proved to be the champion of kart and fuel conservation to inherit the lead and hold off Josh and Matt en route to another Track Championship and Klassic Championship sweep! Josh Arnold also sealed his Visitor's Track Championship with a 3rd place finish. More…
8/26 – 8/27/2017 – WILD crash during Saturday Night 40-Lapper AND Sunday Night 35-Lapper for a Double Show Weekend; Josh Arnold and Matt Stevens Victorious!
SATURDAY, AUGUST 26th, 2017: Several drivers (a few that raced with us before a couple of years ago) enabled us to get a show in and it wound up a good one. There was also a nasty wreck late in the feature with bodies flying. But why read my words? Go to the race's page and watch it!
7/23/2017 – Matt Stevens & Josh Arnold Repeat as Winners of Twin 33's! [+YouTube]

Sunday, July 23rd, 2017 – Deja-vu to opening night '17, as Matt Stevens win a feature in the Galletta's Greenhouse / Chrusher.com / OswegoSushi.com #74, and Josh Arnold in his Arnie Racing #93 won the other! Lots of cautions and kart breakdowns this evening, but nonetheless — as the video shows —  the racing was entertaining! Full Points, Pics & Video Race Page | YouTube Video |  Higher-resolution picture 
6/17/2017 – The 22nd Annual Galletta's Go-Kart Points Season Opener: Josh Arnold & Matt Stevens win Twin 35s! [+YouTube]
Saturday, June 17th, 2017 – Due to several setbacks (including no track vehicle), we missed the first two weekends of our usual race season. However, thanks to Brian Galletta and his Jeep, we can FINALLY get the season started. Saturday evening was the goal instead of our usual Sunday (for Father's Day & avoiding possible showers), and TWO features were in store to make up for the two week delay. The Arnie #93 driven by owner Josh Arnold passed Mike Patak (who later went on for a WILD flip) to win the 1st Feature, while in the 2nd feature, Matt Stevens stormed into the front and never looked back in the Galletta's Greenhouse/Chrusher.com Frankenfreak #74! Video is up: Race Page & Complete YouTube Race Videos Here | Higher Resolution Victory Lane picture here.
2017 Races:
2016
---
9/24/2016 – 21st Annual Galletta's Greenhouse Karting Klassic 200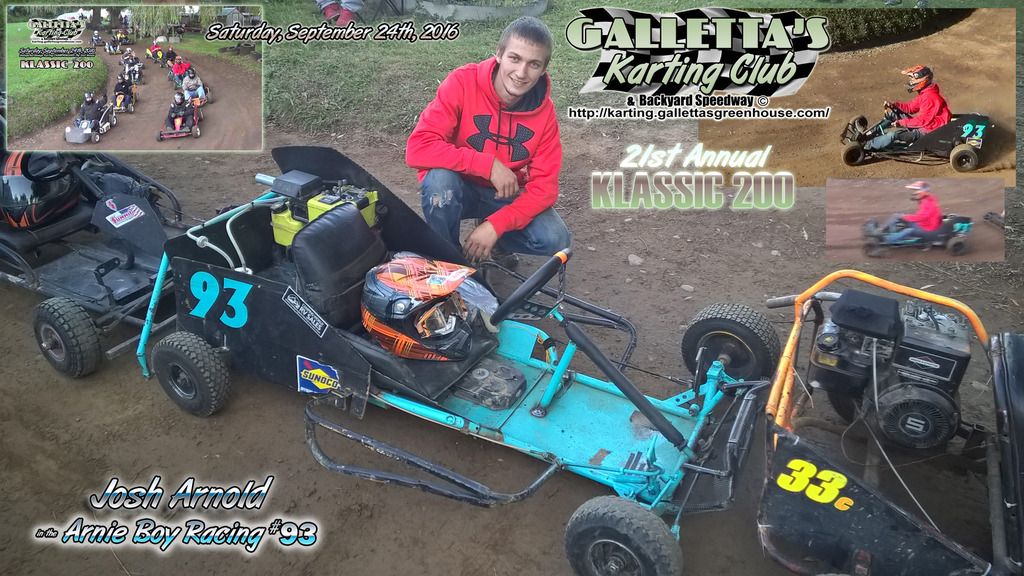 September 24, 2016 – Josh timed 3rd row and set a fast pace in the lead early in the 2016 Galletta's 200, but mechanical problems took him out of the lead (and later, the running). However, due to his steady improvement during his 1st full season, Josh literally (and shockingly) stole the Visiting Points Championship from longtime racing vet Kelly Miller–who was in the top 3 all season with a shot at all three season titles (Visitor's Points, Overall Points, and Klassic 200 Titles) until Miller pulled himself out of the event just before the karts lined up for these photos.
8/7/2016 – Keith Raymond and Josh Arnold Split the Twin-30s!
Sunday, August 7th, 2016, Week 9 – Did the floodgates finally open last week? Finally we got some new faces in Victory Lane, and anybody watching the races is seeing how close and intense the action is! Keith Raymond executed a precise pass on leader of 29 laps, Jason King to take the 1st feature, stealing what would have been King's 1st career win. Then it was a 1st-time winner, Josh Arnold, leading all 30 laps of feature #2, holding off some challenges from Jason King, Keith Raymond and the Chris Stevens/Matt Stevens/Kelly Miller points leader trio en route to his 1st career feature victory (Josh did win a 2015 Fall all-rookie race, but this was his 1st regular, veteran points race win). Points will be up as soon as they are tallied, and the complete race video is posted both above and on YouTube here.
2016 Races:
2015
---
11/5/2015 – Josh Arnold wins All-Rookie / Fall Bonus 45-Lapper Race
On an unseasonably warm November 5th, 2015, A second all-rookie non-points show was won by rookie Josh Arnold, the new owner of the former Dick Dann #86/Tim Galletta #54/Dave Spanfelner #54/Brian Galletta #54 machine, which he purchased and repainted and re-numbered #93, ready for the 2016 season!
[This race was not recorded in the All-Time points because it was Post-Klassic, all-rookies, and we did not get everybody's names. However, we can add it retroactively if we got everybody's names.]
9/26/2015 – 20th Annual Galletta's Greenhouse Go-Kart Klassic 200
Josh Arnold (and the GallettasGreenhouse.com/Chrusher.com/OswegoSushi.com #43) at the 2015 Galletta's Greenhouse Karting Klassic 200 held on September 26th, 2015. Josh and a few of his friends basically were raw rookies in the race, but the ones that came back improved race by race.
2015 Races:
---
Page last updated after the conclusion of the 2020 Season.