ERIC WOOLWORTH | WOOLWORTH RACING (2012-up)

Eric before the 21st Galletta's Greenhouse Karting Klassic 200, held on September 24th, 2016. His helmet-cam footage can be seen on the race page.
Name: 
Eric Woolworth
Karts: 
Woolworth Racing #78
(formerly the Sereno #WTF? and Tumor #78)
Woolworth Racing #87/88b
(formerly the Dann #02/68, Nason Racin' #35, Truax #02, Ruggio #02, now STOLEN from a buyer who raced ZERO times. *sigh*)
Woolworth racing #88
(formerly the Ruggio #02b, Lindsley Racing #14, originally the L&K Small Engine #04, Good Guys Barber Shop #88, now Lee Gleason Racing #29)
Galletta's Greenhouse #1
Galletta's Greenhouse #2
Race Notes / Career Highlights / Fun Facts:
2012-2016: Eric was unable to secure a heat or feature win in his rookie season of 2012. He raced various Galletta's Team karts during the entire regular season of his rookie 2012 campaign (the #2 and #1 primarily). But by Klassic, he had finished his own Woolworth Racing #78, a kart that was simply an old yard kart chassis donated by Gary Miller (but oddly he still sold it to Bill Ruggio despite that he already donated it to the club). Built by a combined effort of Matt and Wes Stevens, and Randy Platt, the kart debuted in the Klassic (seen above). Eric also bought the former Larry Phillips #04 from Bill Ruggio, who himself purchased the kart from its second owner, Kenny Lindsley III. It is a former Thunder Island kart that was transformed to a hybrid Galletta-class racing kart purchased the original owner/builder. He purchased or sold several karts a few times over, but if he races, he just rents now (one of his old karts, the #78, is now a Team Galletta's Greenhouse Arrive-and-drive kart). Eric has a unique ability of looking to be the fastest guy on the track one lap, then the slowest the next. If he could master consistency, he'd be a tough kart to beat.
Retired or… not?:
Eric is in a state of retirement due to stomach pain and back issues. However, he still also raced (and still rides) dirt bikes almost religiously. Some question if dirt bikes are just as hard (if not harder) than dirt bikes and if he can do that, he can do both, but that's a question only he can answer. 😉

2020 Update: Eric gave up dirt biking and races part time. He'd race more if we had earlier starts and days that don't conflict with his work schedule.
All-Time Points Standings:
Click here to see his place in the Galletta's All-Time Points & Wins Standings!
Career Highlights:
---
ERIC'S COMPLETE WINS LIST w/YOUTUBE VIDEOS!
Tags: Eric Woolworth, Eric Woolworth win, 
2015
---
6/19/2015 – Twin-35's swept by R&C Sushi Bar Crew – Eric Woolworth & Chris Stevens!
FRIDAY, JUNE 19TH, 2015, OSWEGO, NY – After the Sunday, June 14th, 2015 race was rained out (due to a track that didn't dry all week and a few showers showing up before all the drivers arrived), and Sunday, June 21st, 2015 looking to have more rain, we had an emergency pre-emptive strike race. And due to missing last weekend, it was scheduled to be a twin-feature event. And some excellent racing on a nice track was in store! The 1st race had Keith Raymond leading strong in his Good Guys Barbershop #88… until disappointingly a motor let loose. Eric Woolworth then took the lead and held off Matt Stevens, Adam Lytle and Chris Stevens for the win. Then, in the 2nd feature, Keith again led this time in the Galletta's Greenhouse #6 and looked again like he was going to take the checker. But the 1st win for Keith is proving extremely elusive, as he got sideways fending off Matt and Chris Stevens, and then opened up the track for Chris Stevens to take off and hide in the Galletta's Greenhouse #0 for the win. This means that 2/3rds of the Oswego, NY Price Chopper R&C Sushi Bar Chef crew swept the features! (If only Rungnapha 'Aou' Stevens raced too! 😉 ) Updated points, pictures and YOUTUBE VIDEO are up!
---
2014
---
6/14/2014 – Eric Woolworth takes the 1st two features of 2014 in the Raven Tavern #88!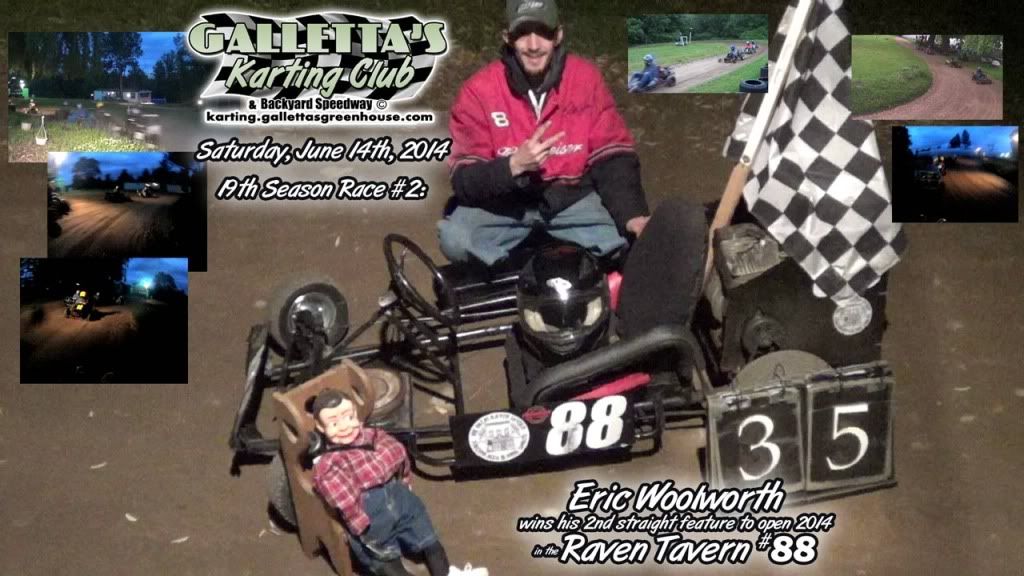 SATURDAY, JUNE 14TH, 2014, OSWEGO, NY – Another tremendous race with a lot of passing, wheel-to-wheel racing and a few surprises! One of which was 3rd year vet Eric Woolworth starting handicapped in the rear to pass the entire field – including winningest area karter Matt Stevens, defending track Champ Chris Stevens, and defending Klassic champ Kelly Miller – and surviving a few accidents around him in the process to win his 2nd straight feature win, the very 1st two of 2014. To say Eric has been impressive this young season would be an understatement, blistering the track all the first two weekends thus far with one powerful motor. And a kart that he bought for $110. Stories like that don't happen at Kiddie Kartways, folks, sorry. More details are for your viewing pleasure here.
6/7/2014 – 19th Annual Galletta's Greenhouse Karting Speedway Season Opener won by Eric Woolworth in the #88!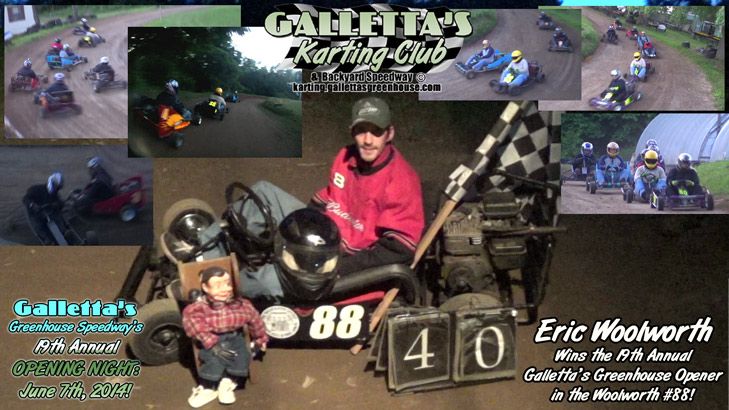 SATURDAY, JUNE 7TH, 2014, OSWEGO, NY – The original, longest-running, and most experienced karting class in Oswego, NY began their 19th point season, and it was another tremendous, highly-skilled battle from front to back and start to finish. Melissa Stevens, Adam Lytle, Eric Woolworth and Brian Galletta all took turns leading. Kelly Miller, Matt Stevens and Chris Stevens battled back and forth all night behind them. But after then-leader Brian Galletta's brand-new #42 plowed into the 1st turn wall (when his left front hub imploded) taking out 3rd place Matt Stevens as well, Eric Woolworth held off defending track champ Chris Stevens for the rest of the way for a triumphant win. A kart that he sold to a newbie in 2013, bought it back (for a measly $110?! The motor alone was worth more than that!), and was a rocket-ship with a replaced drive tire with an experienced driver at the helm.
---
2013
---
10/12/2013 – 18th Annual 200-Lap Galletta's Greenhouse Karting Klassic:
Eric Woolworth starts 10th in the #88!

Eric Woolworth with his #88 before the 18th Annual Galletta's Karting Championship 200 on 10/12/2013, the final picture of the former Nick Dann #02/Ruggio #02 kart before it was purchased by someone we don't know (named Scott Hill or something? He never raced a single race and he only watched Eric race a time or two, so we don't know him from Adam) and then stolen from his yard, which was the final straw for Club Founders Chris and Matt, who now buy every Galletta-type racing kart that comes up for sale to avoid them being lost or stolen ever again. [The karts are designed and set up to only be effective racing clockwise on our track and are semi-useless for any other form of racing or joy-riding… but that don't stop a thief! Nice.]
8/18/2013 – Eric Woolworth wins his 2nd career Feature in the Raven Tavern #88!
SUNDAY, AUGUST 18th, 2013, OSWEGO, NY –  Eric Woolworth swept the night's heat and feature in his Raven Tavern #88 by passing Dave Spanfelner in the early stages,  running away and hiding enough on late-charging Matt and Chris Stevens to collect his 2nd career win, both this season. 10 karts were used, and c'mon… we have so many open karts people. I guess it is true… people really do fear us as the best karters in Oswego and puss out on race day. Period. Word. Pass it. Do you think don't want more people to beat? Bring it, son.  More details are on the race page here! All drivers raced hard. 
6/9/2013: Eric Woolworth picks up 1st career win in Raven Tavern #88!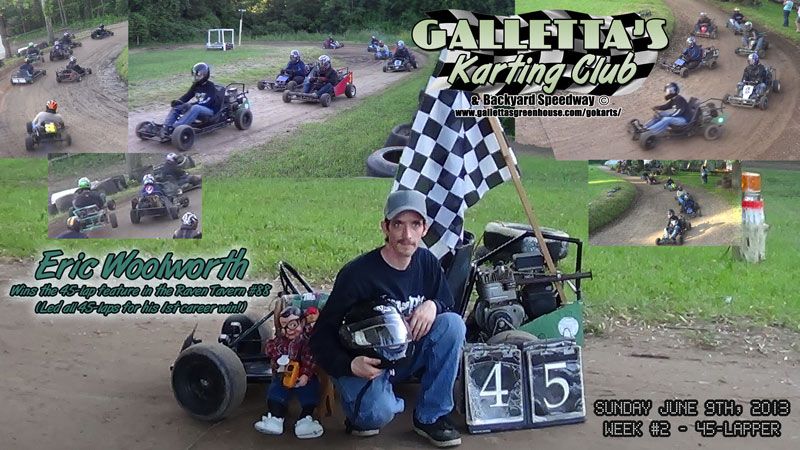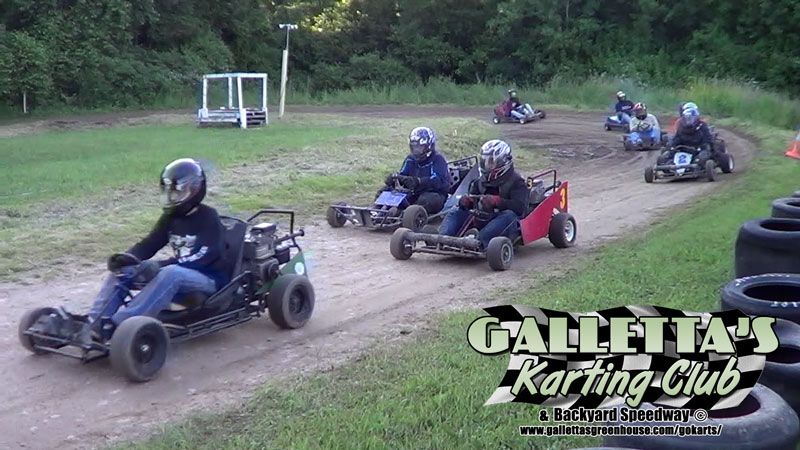 SUNDAY, JUNE 9TH, 2013 – Eric Woolworth had flirted with victory lane a handful of times in his rookie season last year, but always had a freak luck break or lose control of his kart at the worst time. Not today. Eric led all 45-laps  from his pole starting position, and — although Brian Galletta pulled alongside of him, and Matt and Chris Stevens kept him within sight — none of the nine other competitors could get him. More details are found HERE!
---
2012
---

…as a rookie posing before the 17th Annual Galletta's Greenhouse Karting Klassic 200 on 10/6/2012.
Like and/or Comment on this picture via Facebook
---
ERIC'S COMPLETE RACE LISTINGS AT GALLETTA'S SPEEDWAY:
[Last updated after the 2020 Season]
Jul 26, 

2020

7/26/2020 – 17 Drivers Battle to Win 40-Lapper; Matt Stevens Wins 150th Galletta's Career Win since 2000 [+YouTube]

Jul 12, 

2020

7/12/2020 – The Return of the Barber: Chris Stevens and Keith Raymond win the Twin-25s! [+YouTube]

Jun 14, 

2020

6/14/2020 – 25th Annual Season Opener: 14 Karts, 45-Laps, Chris & Matt Stevens Survive to Take the Wins!

Jul 06, 

2018

2018/07/06 – Kelly Miller wins Friday Night Independence Day Race [+YouTube Video]

Sep 24, 

2016

9/24/2016 – 21st Annual Klassic 200: THE World Championship of Gas Flathead Karting & Undisputed Karter Of Oswego – Sponsored by Good Guys Barbershop! +YouTube

Jul 31, 

2016

7/31/2016 – Kings of Harborfest: 'King Kong' Kevin Galletta & Adam Lytle +YouTube

Jul 02, 

2016

7/2/2016 – Chris Stevens Survives a Bumpy 21st Annual Independence Day 45! +YouTube

Jun 17, 

2016

6/17/2016 – 18-Karts, 35-Laps – Kelly Miller wins 2nd straight to start '16! +YouTube

Jul 03, 

2015

7/3/2015 – Chris Stevens runs to Independence Day '15 45-Lap Triumph. +YouTube

Jun 26, 

2015

6/26/2015 – Matt Stevens Steals BOTH Twin-35s from bro thanks to new NO Passing Flag! PLUS: Lytle ON FIRE!!! [+YouTube]
Jun 19, 

2015

6/19/2015 – Twin-35's swept by R&C Sushi Bar Crew – Eric Woolworth & Chris Stevens! [+YouTube Video]

Jun 07, 

2015

6/7/2015 – 20th Annual Galletta's Greenhouse Karting Season Season Opener won by Chris Stevens in #8! [+YouTube]

Jul 25, 

2014

7/25/2014 – 19th Annual Har-bored-Fest Avoidance 50 won by Kyle Reuter in Galletta's Greenhouse #5! +YouTube

Jul 05, 

2014

7/5/2014 – MAN RUN OVER BY GO-KART while Matt Stevens Dominates 5th of July 50-Lapper in Backup Galletta's Greenhouse #6! +YouTube Video

Jun 21, 

2014

6/21/2014 – Kevin Galletta & Matt Stevens win in the 1st Twin-Features Night of '14 (+4 YouTube Videos)!

Jun 14, 

2014

6/14/2014 – Eric Woolworth takes the 1st two features of 2014 in the Raven Tavern #88!

Jun 07, 

2014

6/7/2014 – HUGE Brian Galletta crash [YouTube] During 19th Annual Galletta's Greenhouse Speedway Opener (won by Eric Woolworth)!

Nov 03, 

2013

2013 Season: 1-WD Gas Flathead Karting National Championship Invitational – In our 18th Season at Galletta's!

Oct 12, 

2013

10/12/2013 – 18th Annual 200-Lap Karting Klassic at Galletta's won by Kelly Miller in the Galletta's Greenhouse #7! +YouTube

Sep 18, 

2013

9/18/2013 – Adam Lytle wins "A Klassic is a Comin' 50? Full Moon mid-week Special in the Lytle Motorsports #33c, his 1st career feature win! [+YouTube]
Sep 08, 

2013

9/8/2013 – Brian Galletta and Ryan Palmer win The Track is Loose as Heck Twin-30s! +YouTube Videos

Sep 01, 

2013

9/1/2013 – Branden "Tumor" Matott & Matt Stevens Win The 18th Annual Oswego Karting Labor Day Championship Twin-30s! +YouTuve Videos

Aug 25, 

2013

8/25/2013 – All Racers Raced Hard and Had Fun. (Won by Matt Stevens in the Chrusher.Com/Galletta's Greenhouse #74) +YouTube

Aug 18, 

2013

8/18/2013 – Eric Woolworth wins his 2nd career Feature in the #88 (& another funny wreck with Brian)! +YouTube

Aug 11, 

2013

8/10 – 8/11/2013 – Justin Galletta, Chris Stevens & Kevin Galletta won the "Triple 30 Lappers for Tim Galletta" weekend +YouTube

Aug 04, 

2013

8/4/2013 – Dave Spanfelner Dominates "Mr. Oswego Karting 10,000-Rocks-To-Win" 45-Lapper in the D.S. Humphrey's #54! [+YouTube]

Jul 28, 

2013

7/28/2013 – Chris Stevens wins the 10-kart "Chrusher's Declaration of Bestism 40" in the Galletta's/Chrusher.com/R&C Sushi LLC #4! [+YouTube]

Jul 21, 

2013

7/21/2013 – Joe Sereno wins the 10-kart "Full Moon 45? in the Galletta's #5 +YouTube

Jul 14, 

2013

7/14/2013 – Matt Stevens Breaks Bro's Streak in 45-Lap Feature Triumph +YouTube Videos!

Jul 07, 

2013

7/7/2013 – Chris Stevens wins 3rd Straight Feature at 18th Annual Independence Day 45! +YouTube
Jun 30, 

2013

6/30/2013 – Chris Stevens Sweeps the Twin-35s in his Galletta's Greenhouse #4 & the #0! +YouTube

Jun 23, 

2013

6/23/2013 – Matt Stevens Sweeps the Twin-35s in his Galletta's Greenhouse #3 & 33! +YouTube

Jun 19, 

2013

6/19/2013 – Dave Spanfelner and Brian Galletta take the Mid-Week Twin Features! +YouTube

Jun 09, 

2013

6/9/2013 – Eric Woolworth picks up 1st career win in Raven Tavern #88! w/HARD Truax Crash YouTube!

Jun 05, 

2013

6/5/2013 – 18th Annual Galletta's Greenhouse Karting Season Opener (45-Laps) won by Chris Stevens in The Deuce! +YouTube

Jun 05, 

2013

6/5/2013: 18th Annual Galletta's Greenhouse Karting Season Opener

Dec 25, 

2012

2012 Season Recap: 17th Annual Points & Klassic 200 Championships!

Nov 10, 

2012

11/10/2012 – 2012 Fall Challenge Series (+ D.S. Humphrey's Twin-30s Night) wins go to Matt Stevens, Brian Galletta & Dave Spenfelner! +YouTube

Nov 10, 

2012

2012 Fall Bonus Points Series (including the D.S. Humphreys Twin 30s!)

Sep 15, 

2012

9/15/2012: "It Felt Like A Samoan Wrestler Landed On My Lap! 45" +YouTube
Sep 07, 

2012

9/7/2012 – "The "Now THAT'S What I Call Racing!" Twin 30s go to Matt Stevens & Joe Sereno! +YouTube

Sep 01, 

2012

9/1/2012: Matt Stevens wins "The "Dan Buske is an Ignorant, Irrational, Argumentative Busket Case AND A TERRIBLE Driver… 73?! " +YouTube

Aug 26, 

2012

8/26/2012: "Anything Joe Can Do Chris Can Do Better" Twin-30s (+YouTube)

Aug 19, 

2012

8/19/2012: "Chris Stevens On A Tear" 45-Lapper +YouTube Videos

Aug 13, 

2012

8/13/2012: "Awww Yeah, Son" – Raindate Twin-30s won by Chris & Ran +YouTube

Aug 08, 

2012

8/8/2012: "One More For Tim" – Mid-Week Twin-30s Joe Sereno & Chris Stevens win! +YouTube

Aug 06, 

2012

8/6/2012: "Brotherly Love" – Raindate Twin-30s won by 1-2 in NY State Karting, Matt & Chris Stevens! +YouTube Videos!

Jul 29, 

2012

7/29/2012: Justin's Got Soft, He's In Love 45 (+YouTube)

Jul 15, 

2012

7/15/2012 – Twin 30s Night: The Brian Finally Got One / Melissa Too! 60 +YouTube

Jul 08, 

2012

7/8/2012 – Twin 30s Night (w/Father-&-Son Love) swept by Father-&-Son Tim and Justin Galletta! +YouTube