2016 Season at Galletta's Greenhouse Karting Club's Backyard Speedway!
Welcome to the Galletta's Greenhouse Karting Club & Backyard Speedway's website!
Founded in the early 1990s, Galletta's Karting Club & Backyard Speedway was created to race go-karts as competitively as we can for as purposefully affordable as we can (via rules), using karts that are hybrid – something between a prefabricated racing kart and a yard kart that can race fast and safe on both pay tracks and backyard tracks alike, all the while having drivers that are highly talented and experienced racers. You may think you are good on pay tracks, but in reality, you didn't prove much unless you raced and competed for wins at Galletta's! The original, longest-running, and largest karting class in the area, we are also the easiest to join – we often have several unused, fast, feature-winning, arrive-and-drive karts to join into the races immediately, and if you like it, build or buy your own for a few hundred dollars to join and compete instead of a few thousand like most classes take to join and compete. And, the experience and talent levels of the more experienced drivers at Galletta's equal or better than can be found on any pay track – they've been racing more than a decade before ANY of the local pay tracks were built and have hundreds of more races under their belts. Read on to see our twenty year history of weekly points racing (with videos and complete rundowns of each season since 1995 – and race from 2005) every June through October in Oswego, NY! Enjoy!
---
8/28/2016 – 1st Time Winners! Chad Crouse & Jason King Take the Twin-25s!
Sunday, August 28th, 2016, Week 12 – An extremely packed, 17-kart field led to two more 1st-time winners visit Victory Lane! Pole-sitter Chad Crouse led all 25-laps of the 1st race and Pole-sitter Jason King did the same in the 2nd 25-lapper. However, that does not mean that there was no passing behind them! The racing was tight, wheel-to-wheel, bumper-to-bumper and very competitive, especially between the points leaders battling back and forth midfield, as we are running closer and closer to the 21st Annual 200-Lap Galletta's Go-Kart Klassic, tentatively scheduled for September 24th. NOTE: Internet connectivity issues and work have blocked the YouTube video from going up today and almost prevented the page from updating as well. We will try again tomorrow. More info: Higher resolution Victory picture | YouTube Video | Race page with video, pictures and points.
---
8/22/2016 – Kelly Miller Wins a Highly Competitive Monday Night Raw 50-Lapper!

Monday, August 22nd, 2016, Week 11 – The track was vastly improved this week, but unfortunately, last week's abuse (rocky track and broken karts) in addition to a Monday rain date led to a somewhat smaller field than usual (and two regular vets could not make it). However, that did not affect the racing action. The closest top-3 points race in Galletta's Karting Club history continues as Kelly Miller, Matt Stevens and Chris Stevens were again 1-2-3 in the opposite order of the points going into the week and put on a clinic of incredible racing for the lead. This time, Kelly joins Chris and Matt with three wins this season and may have taken the lead of the points (come back soon for updates). Includes bonus YouTube footage of Oswego Speedway Supermodifieds from Saturday, August 20th, 2016! More info: Higher resolution Victory picture | YouTube Video | Race page with video, pictures and points.
---
8/14/2016 – Kevin Galletta Survives Another Episode of Night of a Thousand Cautions!
Sunday, August 14th, 2016, Week 10 – Every year, we have a week or two where the cautions just pile up. A spin here. A crash there. Oops, a flip. Broken chain. Blown Tire. Bent Axle. Just one of those nights, and after a dry summer and a downpour for most of the weekend, we expected a better track, but rocks saw that not to be. But Kevin Galletta braved the obstacles and actually survived two close calls before him (including a HARD flip to then-leader Mike Patak right in front of him) to take home his 2nd win of '16. Top-3 Points leaders were not immune to the disasters, as all three of them got to 2nd and all three of them had mechanical failures, something that they have not had much of until tonight (but none of the trio could get around Kevin tonight even when they got to 2nd). This makes for some VERY interesting points battles as the Klassic 200 Championship creeps closer. Higher-res victory picture here. Race page with points is up here, and the YouTube video is above and here. 
---
8/7/2016 – Keith Raymond and Josh Arnold Split the Twin-30s!
Sunday, August 7th, 2016, Week 9 – Did the floodgates finally open last week? Finally we got some new faces in Victory Lane, and anybody watching the races is seeing how close and intense the action is! Keith Raymond executed a precise pass on leader of 29 laps, Jason King to take the 1st feature, stealing what would have been King's 1st career win. Then it was a 1st-time winner, Josh Arnold, leading all 30 laps of feature #2, holding off some challenges from Jason King, Keith Raymond and the Chris Stevens/Matt Stevens/Kelly Miller points leader trio en route to his 1st career feature victory (Josh did win a 2015 Fall all-rookie race, but this was his 1st regular, veteran points race win). Points are up as soon as they are tallied on this page, and the complete race video is posted both above and on YouTube here.
---
7/31/2016 – Kings of Harborfest are crowned: 'King Kong' Kevin Galletta & Partner Adam Lytle – Team 'You-Don't-Know-Where-You-Are' Take the Twin-30s!
Sunday, July 31st, 2016, Week 8 – Finally! It took eight weeks, but finally someone else was able to crack victory line besides Matt Stevens (3 wins), Chris Stevens (3 wins) and Kelly Miller (2 wins). Kevin Galletta ended a winless (and hell, FINISH-less) dry spell that lasted over a year with a victory in the 1st feature and a 2nd place in the 2nd. And Adam Lytle was the only one beating him to the stripe in feature #2. While Chris, Matt and Kelly enjoy winning and getting top-threes, it's still good to see new faces in victory lane, but none of the three were even able to get near the front tonight. Everyone was strong and the points leaders just did not get it rolling. In fact, not just that, but Chris had a pretty nice little crash. See for yourself: The complete race video on YouTube video is here. The video is also available with full breakdown of the race and points on the race page here.
---
7/24/2016 – Master of Oswego Karting Matt Stevens DOMINATES Week 7's 45-Lapper!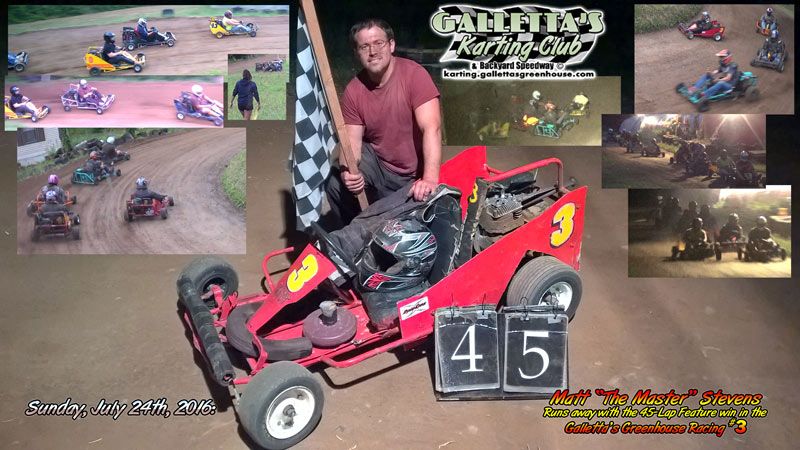 Sunday, July 24th, 2016, Week 7 – Thus far this season, three drivers–Matt Stevens (3 wins), Chris Stevens (3 wins) and Kelly Miller (2 wins)–have been have been hogging all of the wins and the high-point-earning top three positions, and it shows in the point standings. Between the three, it has been whomever can get to the lead first… wins. And today it was Matt Stevens, who pulled away from the rest of the field when he secured the lead after avoiding a mid-feature pileup in turn 2. The track held up much better this week, so Matt's work paid off in two ways – satisfied racers and a victory for himself. Point standings is here and the complete race video on YouTube video is here.
---
7/17/2016 – Chris Stevens Inherits 3rd Win in a row, Even His Wife & Kid Won't Applaud!
Sunday, July 17th, 2016, Week 6 – A few 1st-year-drivers have been battling back and forth for the lead and making strong cases for their 1st career regular season feature wins – on the cusp of convincing victories all season! But a low-precipitation summer thus far has made for a dry track, and a dry track eventually kicks up ruts and create an abnormally rough racing surface (too bad we don't have anybody funding the dumping tons of clay on ours! 😉 ), and the 1st season drivers keep getting taken out by the bumps. Kelly Miller (2 straight), Matt Stevens (2 straight) and now Chris Stevens (3 straight) have been there to capitalize on the unfortunate breaks of the young guns. And while it may looks on the cover page here like Chris is on a dominant streak, his wife calls "fluke" and "lucky!" His own loving, "stand-by-her-man" wife! He can't even get her or their daughter to pose in the victory photo any more. Sometimes winning isn't as fun as it looks. What am I saying… it's still fun. Especially posing while zapping mosquitoes. Chris hates mosquitoes. 🙂 – NOTE: Video is uploaded and points are ready to view. 
---
7/10/2016 – Chris Stevens Again Emerges on top after Leaders Drop off for 2nd Week in a Row!
Sunday, July 10th, 2016, Week 5 – Another great race was in store as a 13-kart / 45-Lap Feature Event went down. Track was a little better than last week, but still had some bumps in turns 1 and 3 that created problems for all. And for the 2nd week in a row, a few capable 1st Year Drivers battled for the lead but via failed pass attempts, breaks and a wreck while up front, and Chris Stevens emerged on top. This makes a unique string of feature wins this season for the 1-2-3 points leaders: Kelly Miller won 2-in-a-row, Matt Stevens won 2-in-a-row, and Chris Stevens won 2-in-a-row. Something's gotta' give, and any one of those 1st year drivers or veterans is sure to break into Victory Lane soon. Or will one of the top three in points get back up front again? Great season thus far! NOTE: Video is uploading and should be done editing and processing soon! Edit: It's up, as are the points!
---
7/2/2016  –  Chris Stevens Survives a Bumpy 21st Annual Independence Day 45! +YouTube
Saturday, July 2nd, 2016 – A refreshing change of pace for our racing this week, as we ran 2 heats and 45-lap feature with zero accidents and only a few breakdowns. Unfortunately, two 1st season drivers in search of their 1st regular season career wins – Josh Arnold and Jason King – had the lead and lost it when they broke (and a third – David Hall Jr. lost a piston rod to boot). Behind Josh and Jason, the racing consisted of a lot of passing, with points leaders Kelly Miller, Matt Stevens and Chris Stevens going back and forth after both failed pass attempts and hitting a few bumps that developed on the track. But after the two initial leaders broke down, it was Chris Stevens who inherited the lead late and survived the bumps to hold on for the win. The YouTube Video (with a 2nd angle thanks to Eric Woolworth) will be up as soon as it finishes uploading, editing and processing (likely Monday morning), so hold tight and keep coming back to see when it is up! Update: It's up.
---
6/26/2016 – Powder-puff Warriors Hospitalized in Devastating Crash; Matt Stevens Sweeps Victory Lane!
Sunday, June 26th, 2016 – We had an action-packed Twin-30s night that was unfortunately marred by a wreck between the two rookie powder-puff girl warriors coming together and taking a nasty spill in turn one, effectively ending the second race at 18 laps to get them medical attention. We will pass along more info later as we have it. UPDATE: We have it on the race page.
---
6/17/2016 – Week 2 of Galletta's Season – 21st Annual Father's Day Race: 17-Karts, 35-Laps – and Kelly Miller Triumphs for 2nd Week in a Row!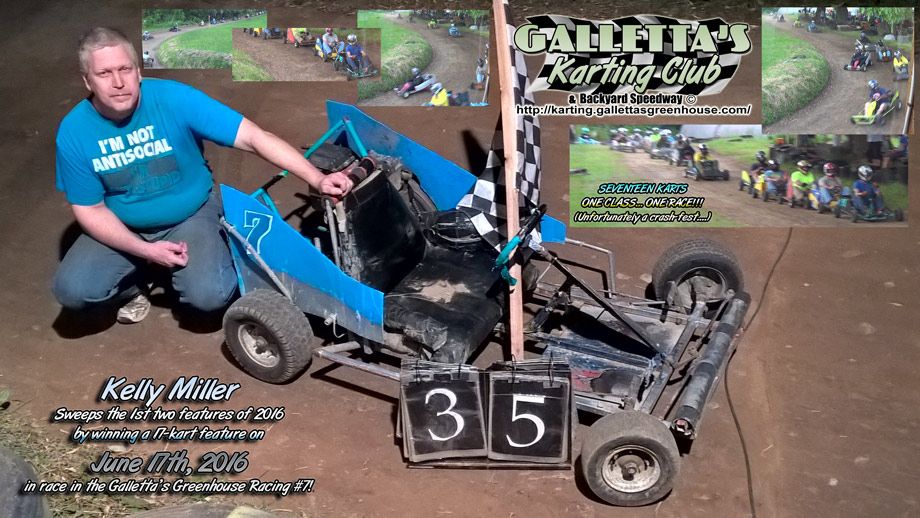 Friday, June 17th, 2016 – Due to Father's Day and per the request from a few of our drivers, we switched our 21st Annual Father's Day race from Sunday the 19th to Friday the 17th. And it was a rousing success driver-wise… we had SEVENTEEN drivers on track for the start of the race. That's one of our biggest races in history. Mind you, this is ONE class, on the track at the SAME TIME. And for the 2nd week in a row, Kelly Miller picked up the win in the Galletta's Greenhouse Racing #7, while Chris Stevens scored 2nd (this time in the Galletta's/Chrusher.com/OswegoSushi.com #8). A 2nd feature was scheduled, however, a long night of delays, frustrated drivers and busted karts basically cancelled that one. More info here.
---
6/12/2016 – Our 21st Season Opener begins with 15 karts, 3 heats and a 45-Lapper! And Kelly Miller wins it in his return!

Sunday, June 12th, 2016 –  Our 21st points-racing season begins with a promising new crop of rookies and along with a handful of regular veteran drivers were eagerly awaiting the season opener, and when it went down, 15 karts were on the track at the start of the feature! And Kelly Miller wins his 1st feature back from his self-imposed exile since 2014! The video and points are here!
---
2016 World 1-WD Gas Flathead Backyard Karting Championship Point Standings
After the 6/12/2016 – 8/22/2016 Races:
Place
Last Week
Driver (Go-Karts Piloted)
Total Points
Average Points Per Feature
Features
Feature Wins
Win %
Heats Won/
Entered
Years
Pro at Galletta's
All-Time Feature Wins
1st
2nd
Kelly Miller
(Galletta's #7, 9, 43)
1595.0
113.93
14
3
21%
0/4
8th
6
2nd
1st
Chris Stevens
(Galletta's #8, 4, 0) k
1575.0
112.50
14
3
21%
1/4
21st
80
3rd
3rd
Matt Stevens
(Galletta's #33, 3, 74, 19) k
1559.5
111.39
14
3
21%
0/4
21st
132
4th
4th
Josh Arnold
(Arnold #93, Galletta's #78) kk
1364.0
97.43
14
1
7%
2/3
1st
1
5th
5th
Jason King
(King #12J, Galletta's #9, 43)
1301.0
92.93
14
0
0%
3/4
1st
0
6th
8th
Keith Raymond
(Galletta's #0, 6, 1) ***** kkk
1126.5
86.65
13
1
8%
0/1
3rd
4
7th
6th
Kevin Galletta
(Galletta Bros. #28) ** t
1079.0
83.00
13
2
15%
0/3
3rd
5
8th
7th
Adam Lytle
(Lytle #33c, Galletta #28) k
1042.5
80.19
13
1
8%
0/4
5th
6
9th
9th
Mike Patak
(Galletta's #9, #2, #7, #43) *** k
910.5
82.77
11
0
0%
1/3
1st
0
10th
10th
Melissa Stevens
(Scissors 'n Fur #19)
862.0
61.57
14
0
0%
0/4
9th
8
11th
11th
David Hall Jr.
(Hall #29, Galletta's #1) k
691.0
86.38
8
0
0%
1/3
1st
0
12th
12th
Lee Gleason
(Galletta's Greenhouse #5, 2, 6, 78) *
669.5
95.64
7
0
0%
0/3
®
0
13th
14th
Chad Crouse
(Galletta's Greenhouse #5, 9, 1, 43) * k
527.5
87.92
6
0
0%
0/2
®
0
14th
13th
Mike Chrisman
(Galletta's #5)
441.5
88.30
5
0
0%
0/0
1st
0
15th
18th
Ken Town
(Galletta's Greenhouse #5, 9)
248.0
82.67
3
0
0%
0/0
®
0
16th
15th
Eric Woolworth
(Galletta's/Woolworth #78)
247.0
61.75
4
0
0%
0/1
5th
5
17th
16th
Taylor Barlow
(Galletta Bros. #42, er, p)
216.0
54.00
4
0
0%
0/0
®
0
18th
17th
Kristina McCann
(Galletta's #2) ®
169.0
56.33
3
0
0%
0/0
®
0
19th
19th
Noah King
(Galletta's Greenhouse #5) *
150.0
75.00
2
0
0%
0/0
®
0
20th
20th
Nick Roffo
(Galletta's #43)
147.0
73.50
2
0
0%
0/0
1st
0
21st
21st
David Hartpence
(Galletta's #1, 2)
141.0
70.50
2
0
0%
0/1
1st
0
22nd
22nd
Daniel Connors
(Galletta's Greenhouse #1)
138.0
69.00
2
0
0%
0/1
®
0
23rd
23rd
RJ Wyman
(Galletta's Greenhouse #43, 2) k
129.0
64.50
2
0
0%
0/1
®
0
24th
N/A
Neil Weigand
(Galletta's #5)
116.0
116.00
1
0
0%
0/0
®
0
25th
24th
Griffin Miller
(Galletta's Greenhouse #2)
112.0
56.00
2
0
0%
0/1
®
0
26th
25th
Joe Sereno
(Galletta's Greenhouse #5)
110.0
55.00
2
0
0%
0/0
3rd
5
27th
26th
Mark Raymond
(Galletta's Greenhouse #1, 6)
109.0
109.00
1
0
0%
0/2
®
0
28th
27th
Tony Cimilluca
(Galletta's #6)
93.0
93.00
1
0
0%
0/0
1st
1
29th
28th
Daniel Springer
(Galletta's Greenhouse #43)
87.0
87.00
1
0
0%
0/2
®
0
30th
29th
Nick Metcalf
(Galletta's #6)
53.0
53.00
1
0
0%
0/0
®
0
30th
30th
Michael West
(Galletta's #6)
45.0
45.00
1
0
0%
0/0
®
0
KEY: ®=Rookie *=Makeup Feature ) k=Kart Change
---
Complete Seasons are now available on our YouTube Channel!
During the last few months, webmaster (and 2015 Points and Klassic 200 Champion) Chris Stevens has been busy uploading all of our HUGE video library of race tapes to our personal YouTube Channel. We have videotaped every single race we have ever held at Galletta's Backyard Speedway between mid-2005 to current (including every Klassic from 1998-up and a few here and there between), along with every Oswego Speedway/Kartway race we were in from 2007 – 2008). Most are from standard DVD (a few early ones from even VHS!), but 2013-up are almost all available in stunning HD. Most races have two or three camera angles! We are still in the process of processing and uploading a handful a day, but around 85-90% of the videos are now up and ready to view, and in SEASON-centric playlists to boot! Yep, you can watch an entire season all in a row! This is thousands of video clips compiled into hundreds of races recorded over a decade, tallying hundreds of hours of our fun, clean and affordable racing action.
YouTube Season Playlists
* = Complete season is online!
** = In progress & nearly complete (will be completed as soon as I can get to it).
*** = Coming Soon (after the rest are done)!
---
9/26/2015 – The 20th Annual Galletta's Greenhouse Karting Klassic Championship 200 & Gas Flathead National Championship 20th Year in Review!
Saturday, September 26th, 2015 was the date for our 20th Annual Klassic 200. The race decides both the Track Championship and the Klassic 200 Champion in one fell swoop, as the race counts as the biggest AND the final points race of the season (although after Klassic, we may still have Fall Series races, which still count in the All-Time Points). All past veterans as well as future veterans are – as always – invited to battle it out for the longest-running (and we say premiere) Karting Title in Oswego NY for two decades. As a contest of driver talent, endurance, strategy, patience, and athleticism, it empirically decides the best kart drivers of
Oswego, period. There is no valid counter argument. If you want to be discussed as the best, you compete here. 200 laps! And it was a DOOZY in EVERY way! Race descriptions, pictures, the concluded points and race videos to one of the greatest races in Galletta's history – making it one of the greatest kart races in the history of Oswego by default are all here!
---
COMPLETE SEASON APPENDIX:
Enjoy each of our two decades worth of point-racing seasons with these over 200 race pages by clicking on the picture to each season. Each season will have its own list of full race descriptions and YouTube videos to each race:
Where else can you race for gas-and-parts pocket change weekly in competitive racing karts and hone your skills against the two most-experienced karters in Oswego, NY — Galletta's Karting Club founders and brothers Matt and Chris Stevens who have combined for 212 Feature wins out of 363 feature events the duo has run on both Galletta's and Oswego Kartway racing against 258 different drivers between the mid-1990s to now! You haven't truly raced in a go-kart race in Oswego, NY until you have raced against whom many refer to as the "Galletta's Brothers". And you can't say you truly won one unless you win one with them on the same track. ENJOY!