Galletta's Greenhouse Karting Club & Backyard Speedway 2018–Our 23rd Season!
Welcome to the Galletta's Greenhouse Karting Club & Backyard Speedway's website!
Founded in the early 1990s, Galletta's Karting Club & Backyard Speedway was created to race go-karts as competitively as we can for as purposefully affordable as we can (via rules), using karts that are hybrid – something between a prefabricated racing kart and a yard kart that can race fast and safe on both pay tracks and backyard tracks alike, all the while having drivers that are highly talented and experienced racers. The original, longest-running, and largest karting class in the area, we are also the easiest to join – we often have several unused, fast, feature-winning, arrive-and-drive karts to join into the races immediately, and if you like it, build or buy your own for a few hundred dollars to join and compete instead of a few thousand like most classes take to join and compete. And, some of the more experienced drivers at Galletta's have been racing more than a decade before any of the local pay tracks were built and some have hundreds of more races under their belts. Come race where Kyle Reuter once called, "the Rucker Park of karting." Read on to see our twenty year history of weekly points racing (with videos and complete rundowns of each season since 1995 – and race from 2005) every June through October in Oswego, NY! Enjoy!
---
Next race is scheduled Sunday, June 9th, 2019 – our 24th Season Opener
:
The track is open and races are scheduled every Summer Sunday (June – late-August) evenings and Fall Saturday (late-August – October) afternoons for both 'arrive-and-drive rental' or 'run-what-you-brung' karts, and usually closed all other times.
This is subject to change based on weather, track condition, and driver count, but 4:30 PM is the deadline for 1st-Time rookie drivers, 5:00 PM for veteran drivers TBA to be here and get situated for the start, which will happen as soon as we are all strapped in. 1st-Timer rookies should come a little earlier than veteran drivers to get situated with karts/rules/practice heat (while the vets already know the drill and just hop in). Any changes will be posted on this page, so check here if you want to know. If there is less than 4 veterans at race start, it will be for bonus points only, if no racers show up at all, no races will be held. Points will only be counted with video footage to score from.
---
9/22/2018 – 23rd Annual Galletta's Greenhouse Go-Kart 200-Lap Klassic Championship [YouTube]
Saturday, September 22nd, 2018 – Unedited video footage from the event. I'll be working on getting a properly edited video ASAP (hopefully within a week or two if I can find the time between work and family functions, I hope to finish it over Thanksgiving week). – Webmaster Chris
Matt Stevens wins his 13th (of 23) Annual Galletta's Greenhouse Karting Klassic Championship Races!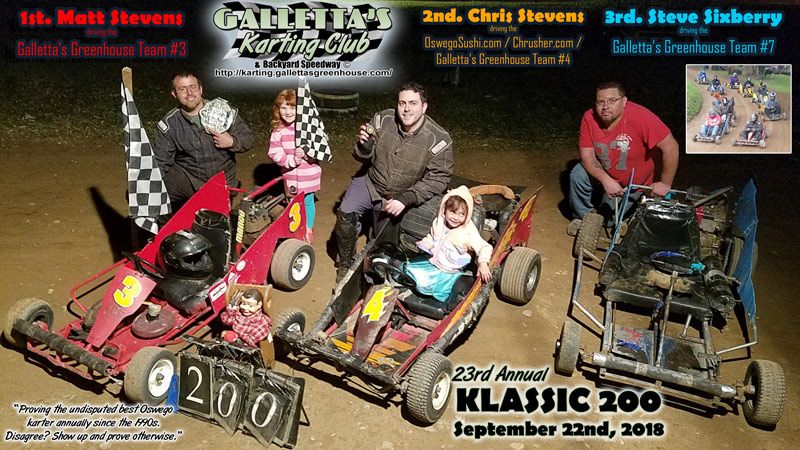 Matt Stevens used a 2/3rds of the way pass (catching his fuel-conscious brother Chris off-guard) and held on to win his 13th Galletta's Greenhouse Karting Speedway Klassic (His brother Chris has 7, while Wes Stevens, Kyle Reuter, and Kelly Miller each won 1). The final order of this year's Klassic could not have been more cut and dried, as it was also the (probable) final order of the point standings as well (not yet officially finalized), with Chris likely scoring 2nd and impressive rookie Steve Sixberry being a strong 3rd. Matt and Chris did not take on gas, and were very low at race's end, and were the only two drivers that led the race. Good racing from start to finish, only marred by a back-jarring crash early on. Read more and watch the video here!
2018 Point Standings for 1-WD Gas Flathead Backyard Karting World Championship at Galletta's Greenhouse Backyard Karting Speedway
After the 6/10/2018 through 9/22/2018 Races; Finalized after the Klassic Championship 200:
---
8/26/2018 – 35-Lapper won by Kevin Galletta [+YouTube]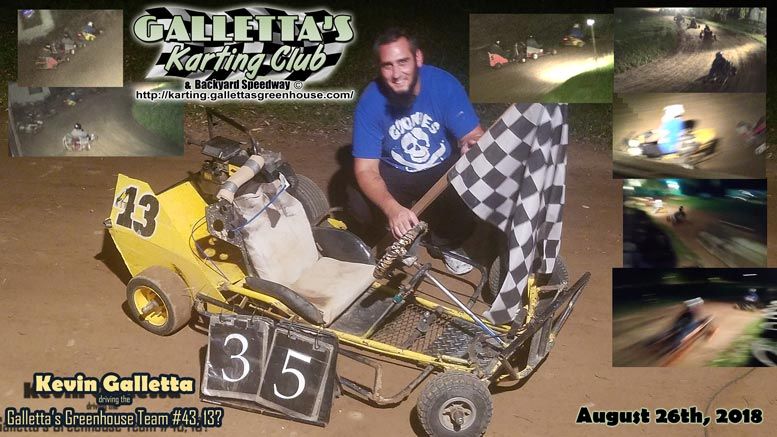 Sunday, August 26th, 2018 – In our neverending mystery that has been the last two seasons (either several 1st timer rookies show and no vets, a couple of vets show and no rookies, OR nobody at all), we had two vets show up and one rookie. Due to a late start (Chris and his wife got back from work and had to do a few things before they could join the race and record–one reason why we plan on switching to Saturdays after today). Brian Galletta got some nice shots, which we uploaded as well. POINTS, VICTORY PICTURE AND EDITED VIDEOS COMING SOON (work, kids, kids' school, seasonal events, not enough free time the past two weeks) but enjoy the unedited video here.
---
2019/08/19 – A Mostly Rookie-Filled 40-Lapper won by *shocker* all-time winningest vet Matt Stevens!!!!! [+YouTube]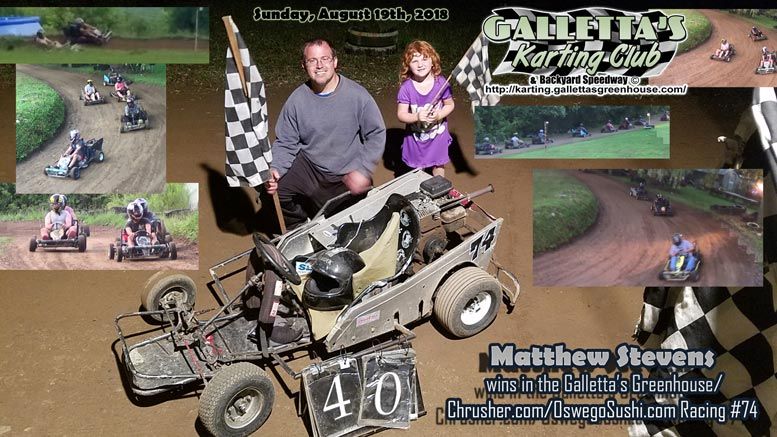 Sunday, August 19th, 2018 – Several rookies raced in a heat and a 40-lapper. With enough drivers, two vets could join for points (although perhaps they should not have, as a familiar face started 3rd and dominated after 2nd place blew a tire and 1st place had a sputtering engine, making it a relatively easy win for someone that you can probably guess who they are if you know our races or just keep scrolling through our history). POINTS, VICTORY PICTURE AND EDITED VIDEOS COMING SOON (work, kids, kids' school, seasonal events, not enough free time this past week) but enjoy the unedited video. Race video and points are not done yet, but when it is, it'll show up here.
---
2018/08/12 – Josh Arnold wins 20-Lap Makeup-Race [+YouTube]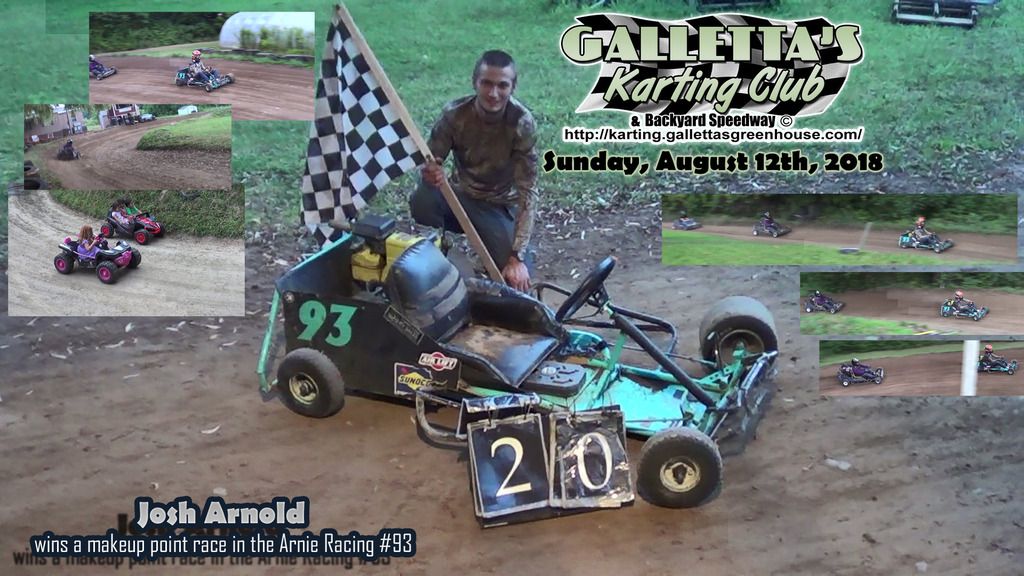 Sunday, August 12th, 2018 – For the 2nd week in a row, we had track and karts ready to go early–but unfortunately, only two drivers showed up, so we had a makeup race. More here.
---
2018/08/05 – Twin-15's for Rookies & Make-Up Points won by Steve Sixberry & Matt Stevens [+YouTube]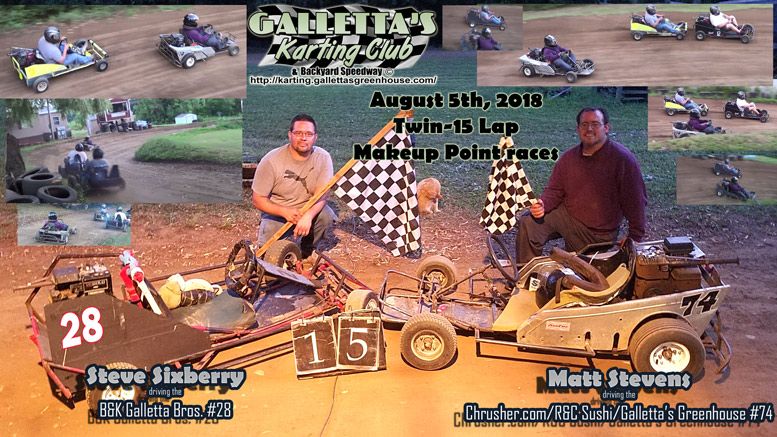 Sunday, August 5th, 2018 – In an unfortunate twist, most of our regular drivers could not make it, so due to only three visiting drivers, we rescheduled to a "Make Up Points / Rookie Race" — although you can't keep Matt Stevens off the track and races with no points or feature wins at stake. Chris Stevens took the opportunity to try and get a wide variety of different shots, not just the tower angle which everyone who knows us is accustomed to. Enjoy it here!
---
2018/07/29 – Oswego Harborfest Champ '18 CROWNED — Matt Stevens! [+YouTube]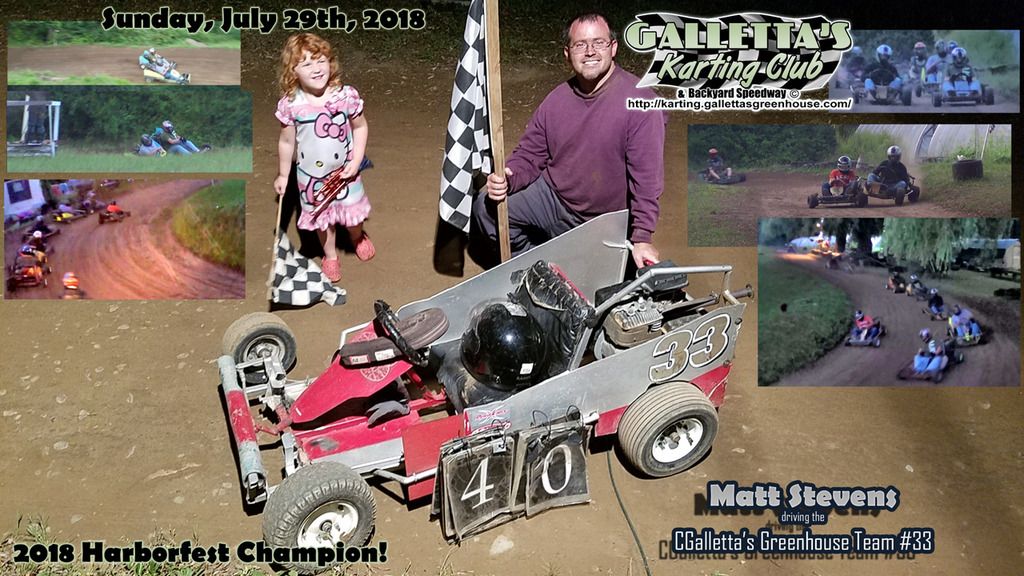 Sunday, July 29th, 2018 – Another year, another Harborfest champion has been crowned. Little do most people know, we see who is the champ of the Oswego gathering annually on our track on the outskirts of Oswego. It's top secret… except it's only been on this website every year since 2005! Two 8-lap heats and a 40-Lap feature were up for grabs for 10 competitors, and it was good, hard racing (with a few mishaps)! More — including complete race videos and point standings — can be found here.
---
2018/07/22 – "Mr. Galletta" 10,000 Rocks-to-win Twin Feature Nite Swept by Matt Stevens in the #74 [+YouTube]
Sunday, July 22nd, 2018 – Twin features on a loose and bumpy track were on tap, and both were exciting as usual. Matt Stevens was able to successfully navigate the low groove to sweep both features, although he needed two karts to pull off the 2nd one when his Team Galletta's Greenhouse #33 stalled with a clogged carb early on. Fantastic race action in both! Video, points and more coming on this below page.
---
2018/07/15 – Rookie & Makeup Points Race won by Kevin Galletta [+YouTube]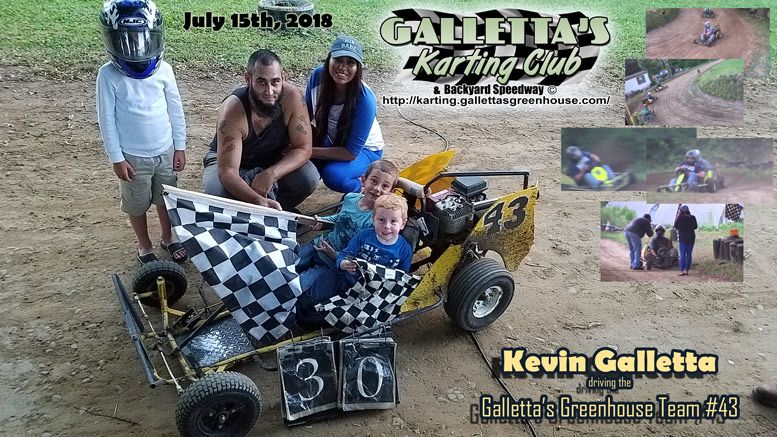 Sunday, July 15th, 2018 – Due to race video, points, and karts not getting done during the week, Matt and Chris sat out this event, making it a make-up points / rookie bonus race. (We usually don't take victory pictures for makeup races, but maybe we should, since it makes nice cover photos for the website.) Steve Sixberry led the entire show until getting loose in turn 4 when he slid a bit too high, enabling returning veteran Kevin Galletta to execute a pass and take the win. This makes for the 1st time the #43 kart has won a feature since it was re-numbered from its original number–the former Brian Galletta #13! Race video and full race info here.
---
7/6/2018 – Friday Night Independence Day Race Conquered by Kelly Miller
Friday, July 6th, 2018 – Hooray! We finally got enough people for a race! Kelly Miller recovered from an early wreck and capitalized to pass two karts to take the lead when he boxed in Chris Stevens on sputtering Eric Woolworth on a late race restart to take the win. Unfortunately, our usual camera person was recovering from a c-section and another declined (although they demand their way in every circumstance–including alter the rules and editing the website in favor of them). This meant two stationary camera angles and lots of editing with an expensive program was needed before you get a halfway decent video, and a newborn's dad doesn't have the most free time. Points and video may not be finished before next weekend's race (and because I have a problem with this, the races are being threatened to get shut down and drivers are losing patience with it). UPDATE: Race video and points are finally finished! Please go and watch the unedited race video from two angles on this page here.
---
6/28/2018 – Exhibition Race for Doug Didero by Kelly Miller, Matt and Chris Stevens!
Thursday, June 28th, 2018 – Doug Didero–Oswego Speedway Hall of Famer (three time Oswego Supermodified track champ, two time Oswego Super Classic 200 winner and 9th all time in Oswego Super Feature wins), not to mention a veteran of many other forms of racing, (including NASCAR Busch, IRL, and more)–stopped by to watch a 3 kart exhibition by Kelly Miller, Matt and Chris Stevens. Chris and Matt have been fans of Doug since the early 1990s and finally got him up to check out our big backyard speedway as Kelly was able to pull him and his car owner away from his Super for a bit to check it out. He loved it and wanted to see 10-15 karts out there! (We wholeheartedly agree! Where have the drivers been?) Sorry for no video… our usual camera woman was preparing for an early morning c-section and another declined. NOTE: Kelly was saddened that he had to leave before we got a picture in.
(Also: Really cool of the Oswego Speedway to shout out this picture on Facebook and Twitter!)
No race next weekend, as Chris Stevens and his wife Rungnapha (the usual tower camera woman) welcomed their second daughter–Celeste Nicha-Bella Stevens–to the world on Friday and were in maternity all weekend.
---
6/24/2018 – Rain-Postponed Makeup Race won by Kelly Miller
Sunday, June 24th, 2018 – In a strange string of bad luck for our race scheduling (which we have had an unbelievably large share of for around a year now), rain drenched the track most of the day and deterred several committed drivers from coming (while on the flip side, many weeks we have had great weekends and nobody make it up to race). But when the rain let up, Matt Stevens went to work and got the track suitable enough to run. Kelly Miller brought some racers up and we had a makeup points race (Matt will be scored for non-seasonal bonus points). We went live (stationary camera) AND tape delay (regular angle). Both videos and full race info are found here.
Next weekend's race is up in the air. Club racer/co-founder/webmaster/statistician/video producer Chris Stevens will be welcoming his 2nd daughter to the world this weekend (with his wife–and usual camera woman, Rungnapha "Aou" Stevens). Due to this, we may not be able to have a race. It really is a wait-and-see approach. Chances are we will have to either skip the week's race, schedule one mid-week, or if all else fails, just have another makeup race. We literally do not yet know. When we do, we'll post it.
Now, remember: We race every Summer Sunday and Fall Saturday unless we do not have enough drivers (minimum is usually 6, and we have a max of 20).
---
6/17/2018 – Father's Day is Cancelled! (The race, that is.)
Due to a lack of 6 committed drivers available and Father's Day, we have again cancelled our racing action until next weekend. Now, remember: We race every Summer Sunday and Fall Saturday unless we do not have enough drivers (minimum is usually 6, and we have a max of 20). This means confirmed entrants, not aloof, non-committal/no-show people.
---
6/10/2018 – Josh Arnold wins the 23rd Annual Galletta's Karting Season Opener [+YouTube]

Sunday, June 10th, 2018 –
Well, our 23rd Season Opener at Galletta's Greenhouse Backyard Speedway occurred. And Josh Arnold continues his impressive ways of the last three years (two time defending Visitor's Points Champion) and won (driving his father-in-law's #29; his #93 was still in need of repairs for breaking during last year's Klassic 200). Josh again is looking like the top visiting driver and also looking at being the 1st driver in our history to knock Matt and Chris out of their 1-2/2-1 perch on top the point standings for all 22 prior seasons. But it's kind of easy for the top three drivers in the past two seasons when nobody else has the balls to show.
More: Race Page with YouTube Videos & Points | Victory Photo
---
2018 Video Playlist
Live YouTube Race Video Feed
Enjoy! Maybe if you're lucky… you can catch a live feed? We need over 100 subscribers to do live feeds. (Oddly, every time we go over 100, someone out there in the interweb world unsubscribes [Gee, thanks, whoever you are out there. I've never unsubscribed to anybody]).
So, to watch our races live, SUBSCRIBE HERE.
---
2017-2018 Offseason updates:
In the meantime, feel free to view every single complete and unedited race video in our history that we have found from 2005-up is on this website. Simply find them by scrolling on the left-hand column's "Recent Races", or go to the menu on the top left of the screen and look through the "Archives." We've had race pages for every page for years, but we have slowly updated each to include COMPLETE race videos on every single one that we can find. Go ahead and look up some of your faves! It's 99.8% complete (and can only be more complete if we transfer crusty old VHS tapes or a few people brought videos that they took back in the mid-2000's).
And, for the first time since 2014 (due to losing my original work files in a series of computer breakdowns), the All-Time Points have been exhaustively updated! A few drivers rose in the ranks AND we updated a few driver profiles (and made a new one)! Whew!
Photobucket appears to have reversed its decision that it made last year to block embedded pictures (which was the entire point of services like it), so all of the older pages appear to have their photos back. I was in the process of fixing each page with our own hosting, but that was a time-consuming process considering I have a job and (now) two kids. Regardless, everything should be back to working order, so enjoy the videos AND the pics!
---
COMPLETE GALLETTA'S CLUB SEASON RACE AND COMPLETE VIDEO COLLECTION APPENDIX:
Enjoy each of over two decades worth of our competitive point-racing seasons with these over 200 race pages by clicking on the picture to each season. Each season will have its own list of pictured race descriptions, point standings, driver profiles and complete races on embedded YouTube videos to each race (as early as the 2002 Klassic and complete season videos dating back to mid-2005). This is exhaustively done, and I really hope you appreciate the work we put into the site and the hundreds of races we show you for no charge, just… all I ask is please don't use adblockers!
---
22nd Season – 2017: Lasted from June 17th through October 13th, 2017, and was one of ups and downs. It started slowly due in part to weather and inability to get the track ready for our usual opener. After that, we had great difficulty keeping enough drivers on the track on a weekly basis. Half of the season was cancelled due to nothing other than not enough butts in kart seats. In the end, we did have 34 drivers racing in 17 features, but this number was inflated by both double-feature nights and many one-race-and-done racers. Only 4 of 34 drivers raced in every event, 21 of 34 drivers were rookies (most raced only once let alone even half the season), all 14 year record lows. And our 22nd Annual Galletta's Go-Karts 200-Lap Klassic Championship was postponed after nearly a month of poor driver attendance & lousy weather. But the racing itself–when it happened– was exceptional. The story of the competition was the top 3 in points AND the Klassic as well: Chris Stevens, Matt Stevens, and Josh Arnold 1-2-3 DOMINATED the season, and because several regular veterans quit halfway into the season, 4th place wasn't even close in either. Of the three who traded wins all year, Chris Stevens–despite not being the fastest kart at any point all season–benefitted by not wrecking a single time and staying in the top-3 all year, holding on to sweep both the Points Title and the Klassic by outlasting every other racer on a single tank of gas during the 200, a feat that he has somewhat made his specialty of late. Every race, with rundowns, points, and complete race ideos found here!]
---
21st Season – 2016: From from Sunday, June 12th, 2016 through Saturday, September 24th, 2016, 30 drivers racing in 14 feature events won by 7 competitors (Chris Stevens, Matt Stevens, Kelly Miller, Josh Arnold, Keith Raymond, Kevin Galletta and Adam Lytle) for our 21st Points Season at Galletta's Greenhouse Backyard Karting Speedway. And for the 1st time in history, a driver challenged Chris and Matt Stevens' vice-grip stranglehold on 1st and 2nd the point standings! Kelly Miller was lap for lap, pass for pass, point for point, win for win dead even with the brothers all season long, and the three leap-frogged each other every week leading up to our 21st Klassic to decide it all. Would Kelly become the 1st visiting driver to ever sweep the Points and Klassic titles? Or would the class-founding brothers retain 1st and 2nd for the 21st straight year? Well, why not see what went with our 200-Lap Klassic! Here are all the season pages, complete with all of our uploaded YouTube videos!
---
20th Season – 2015: Our 20th Season was a relief from 2014's barren finish. Due to a few groups of rookies joining, we had 42 different drivers racing in 20 feature events won by 8 different feature winners (Chris Stevens, Matt Stevens, Adam Lytle, Keith Raymond, Melissa Stevens, Kyle Reuter, Eric Woolworth and Tony Cimilluca). The season was extremely competitive from start to finish, and it came down to a tremendous battle in the Klassic 200 between Chris Stevens, Matt Stevens and Kyle Reuter — arguably the best three lifetime karters in Oswego (anybody who has a beef with this? Show us what you got. Show up, put up, or shut up, thanks! We know why some never come, we know.). Chris and Kyle were the only two leaders in this year's event, with them trading the lead due to lapped traffic and empty fuel tanks. But late in the race, when Reuter passed the fuel-starved Chris Stevens, and Matt Stevens broke in a crash, Chris refueled and shocked all with a slingshot pass past Reuter on the final green-white-checker for the the most climatic win in the Galletta's Klassic history, and clinched his clean sweep of both the 2015 200-Lap Klassic and the 2015 Points Championship! One of our most exciting seasons in our history, capped by a fantastic Klassic finish, and probably the most exciting in our history! All of our complete race videos are available for viewing on our complete season index found here.
---
---
18th Season – 2013: The 2013 season was eventful, as 38 competitors raced in 24 features won by a staggering 12 different drivers (Chris Stevens, Matt Stevens, Eric Woolworth, Brian Galletta, Adam Lytle, Brandon "Tumor" Matott, Dave Spanfelner, Kevin Galletta, Joe Sereno, Ryan Palmer and Justin Galletta!)! And the most shocking surprise was the Klassic 200, where Kelly Miller became only the 2nd visiting driver (Kyle Reuter being the 1st) and 5th overall (counting Matt, Chris and Wes Stevens) to win a Galletta's Klassic 200, having a duel for the ages with the '13 track champion Chris Stevens and Oswego's All-time winner/points earner Matt Stevens, where lapped traffic and kart wear took it's toll and changed the outcome and made the finale an extremely exciting one. In fact, possibly the best 3-kart Klassic duel to date. The complete season is on YouTube video playlist and race pages, so go here for more.
---
17th Season – 2012: Had 39 drivers racing in 27 feature events that were won by 9 different savvy competitors (Matt Stevens, Chris Stevens, David Spanfelner, Brian Galletta, Melissa Stevens, Joe Sereno, Randy Platt, Tim Galletta and Justin Galletta). Matt Stevens was the performer of the year as he took the 2013 Points Title, but the Klassic would have a controversial finale. The founding brothers of Matt and Chris Stevens battled back and forth in the late stages of the Klassic, neither having an edge and only passing each other via lapped traffic. The controversy came when Chris got passed by Matt when a lapped kart got in his way, Chris backed off rather than hit the traffic and Matt passed them both. Chris dogged his bro down until the same lapped traffic came up, and Matt bumped the lapped kart out of the way, knocking him into Chris' way which then brought out the caution and prevented Chris from getting his brother back. Chris was furious, and Matt, exhausted, put himself in the back, leaving Chris was able to pull away for the uncontested win. Several people protested that Chris won, and Chris himself vacated the win, which their "uncle" (and Galletta's Mascot) Ogie Stevens took credit for it all. The complete race videos, race results and points info are found here.
---
---
---
---
13th Season at Galletta's – 2008: Between Galletta's and Oswego Kartway, we race a combined 27 drivers racing in a combined 27 events won by 10 different drivers (Matt Stevens, Chris Stevens, Russ Hockey, Melissa Gabel, Buddy Cottom, Dick Dann, Nick Dann, and Gary Miller Jr.), but it again was Matt Stevens winning the Track Championships on both, and technically, he won both Oswego Classic 50 and Galletta's Klassic 200 (although he needed to beat a very game Buddy Cottom tod do so), but there was a mystifying controversy to the Oswego one at least.

3rd Season at Oswego Kartway – 2008:  For the 3rd straight full season, the Galletta's Greenhouse 1-WD Gas Flathead Racing Club raced two tracks. We started in May at Kartway where Matt Stevens again proved he is capable of taking a kart with less horsepower and beat larger karts that used stock Animal engines (forced in our group by decree of the track operator), and he won the Mixed Motor Gas Stocker Point standings at Kartway (which they erased from their website, so you'll only see it and full race videos to every division here).
While we had 14 feature events won by 7 drivers (Matt Stevens, Chris Stevens, Wes Stevens, Dick Dann, Joe Hayden, Dave Melfi, and Nick Dann), after many arguments, late in the season we split the two gas kart motors into separate divisions, which ended the conflict for the drivers but yet seemed to increased it for the track operator. Matt Stevens dominated the '08 Kartway Classic (Gas Flathead 1-WDs), but last lap controversy had Wes Stevens take it (under a presumed yellow) and Chris Stevens take 3rd to sweep the pedestal spots for the 2nd year in a row. The track operator then saw that it to be the karting class' last race at the track that we were a part of since (even before) it started. Season rundown, final points TONS of FULL race videos from ALL karting divisions at the Kartway AND Galletta's, and the confusing ending to the '08 Classic video found here…
---
---