8/16/2009 – Chris Stevens endures the 12-kart "Night of A Thousand Cautions" 45 for win! (+YouTube)
Galletta's Karting Club – 2009 Season, Week 10:
The Gas Flathead Championship Series of The Planet continued on
Sunday, August 16th, 2009 at John J. Galletta Memorial Backyard Speedway:

Low-res highlight reel. Don't forget to vote and comment here.

Points-leader Chris Stevens survives The Night of a Thousand Cautions, AKA The Accidental Winner 45 on August 16th, 2009 and took a win that fell right into his lap! 12 drivers using 15 karts, 15 cautions, and only 5 made it to the end in this war of attrition. Chris himself felt like he probably deserved anywhere between 4th through 7th, but everybody seemingly faster either broke or wrecked in front of him. Jesse Vivlemore, Russ Hockey, Matt Stevens, and Kenny Lindsley III all had serious dibs on the win, but all had mechanical problems while leading or challenging, as the dry track was the only victor tonight, defeating all. We apologize for the conditions, as the track was worse than it has been in years due to the rains followed by hot dry temperatures. We are working on corrections this week via re-dragging and packing the track, so there will be smoother conditions, but since this is a donation-only track, we can only do so much. Matt and his wife have seriously considered making track work count for bonus points, as his hard labor on the track usually goes underappreciated and nearly always uncompensated (donations, please, people! We aren't getting paid and the rentals never even cover the kart damage let alone anything else, contrary to what people who have never been here always say).
Heat 1 was an "all-rookie" heat that went to Brian Paul followed by Ken Pierce (we apologize most of all to the 1st-time newbies, as the track is usually not anywhere near this rough. A bad first impression, and again, we're sorry for that. This forthcoming week it will be smoother. But even so, dude, even if you're a Limited Supermodified driver… that means you STIFF us? Nice! Way to make fans!).
The 2nd heat was taken by Jesse Vivlemore, followed by Melissa Stevens, Chris Stevens, Fred Collins, and Larry Phillips. Relatively little passing in this one, again proving how close we are in speed.
The third heat was the most exciting, as there was a 3-way battle for the lead, but it went to Matt Stevens when Russ passed both Matt and Gary Miller and then slid off the track to lose the two spots and take 3rd. They were followed by Buddy Cottom and Kenny Lindsley III, who both had faltering karts which cost them a few spots. Russ has been flying ever since he changed his seat and had Matt re-fresh his motor.
The feature had many cautions due to the dry track conditions. The drenching rains earlier this summer mixed with the lack of moisture blew most of the clay either away or into the lower, slower groove, which led to bumps and small rocks making the racing a rough ride. Our 20 degree banking makes it difficult to maintain the clay in the upper grooves. This is why we call our class Galletta's "Ironman Karting" – we not only race 20% – 50% more laps than our methanol karting brethren, but we can also tolerate a rougher track than they can. It makes for a more grueling, and hard-earned race win. Perhaps the most evidence of the rough track – in addition to the 15 cautions – was Matt Stevens and Kenny Lindsley both broke while leading – and with rather big leads I might add. Jesse Vivlemore – who was the original visiting driver at Galletta's as he is an old high school buddy of Matt's – led early on and looked like he could take it until Russ caught him mid-race. Jesse's taken a few races to get back into the swing of things. The same can be said for Kenny Lindsley III, who, due to his service in the Marines, can only make a few shows all year. He also led strongly late, and was pulling away from eventual winner Chris, until his chain broke.
Did someone mention potential winners breaking?  Russell Hockey's left-rear drive-wheel broke at the axle and went into the woods (or buckwheat as Fred says). Russ was the hard charger of the night, and probably would have taken both the heat and feature wins if not for falling off the track a handful of times and then losing the aforementioned rear axle while tracking down the leaders late. And after Kenny broke as well, then Chris Stevens inherited the lead to take his 2nd straight feature win. "Strategy more than speed won me this race. That is why I am the Cerebral Chrusher. Sometimes saving the kart pays off in the end, and this was one of those races…" said the handsome, smart, sexy, great, stud muffin of an awesome man known as Chris Stevens. (Okay, even my wife thinks I went a little overboard with this one.)
August 16th, 2009 45-Lap Finish:
1st. Chris Stevens (Galletta's #4, 8)
2nd. Melissa Stevens (Stevens #80)
3rd. Fred Collins (Galletta's #9)
4th. Larry Phillips (L&K Small Engine #04)
5th. Kenny Lindsley III (Galletta's #2, 1; DNF)
6th. Russ Hockey (Hockey #00; DNF)
7th. Matthew Stevens (Galletta's #3, 33 -7L)
8th. Jesse Vivlemore (Galletta's #0; DNF) ** DID NOT PAY
9th. Gary Miller (Miller #24; DNF)
10th. Buddy Cottom (Galletta's #6, 5; DNF*)
11th. Brian Paul (Galletta's #1, 7; DNF ®)
12th. Ken Pierce (Galletta's #7; DNF ®) ** DID NOT PAY
DNF = Did Not Finish
® = 1st-time racer/newbie rookie
Multiple kart use  = One -5 pt. penalty except *
* = Buddy did not get penalized the -5 points for changing karts because his kart change was before the 1st completed lap and we had a total restart due to a few drivers starting out of position.)
** = Driver did not pay rental donation, broke kart, and left. Not even a thanks. Nice! C'mon people, you take pride in this acting like a lowlife P.O. $#it? C'mon now! Especially those who actually can afford to drive big track cars and know what this racing stuff costs. Thanks a freakin' lot. Hope you don't do that at the big track… sheesh….
2009 Gas Flathead Dirt Karting Championship of Oswego Point Standings:  
After 10 combined events at John J. Galletta Memorial Go-Kart Speedway  from 6/8/2009 -thru- 8/16/2009.
Our complete Points Standings from the prior eight seasons are found on this webpage.
Rank

Name (Go-Karts Piloted)

Years Pro at Galletta's

Total Points (Place)

Average Points Per Event

Events

Features

Heat Wins

Feature Wins

Feature Win %

1

Chris Stevens
(Galletta's #8, 4, 5)

14th

1,524.5

152.45

10

13

0

3

23%

2

Matt Stevens
(Galletta's #33, 3, 1, 7)

14th

1,412.5

141.25

10

13

1

2

15%

3

Melissa Stevens
(Stevens #80)

3rd

1,351.5

135.15

10

13

2

1

8%

4

Buddy Cottom
(Galletta's #6, 4, 1, 2, 5)

3rd

1,345.5

134.55

10

13

1

1

8%

5

Gary Miller Sr.
(Galletta's/Miller #24, 0)

5th

1,269.5

126.95

10

13

0

1

8%

6

Russ Hockey
(Hockey #00, Galletta's #9)

3rd

1,195.5

132.83

9

11

1

1

9%

7

Larry Phillips
(L&K Small Engine #04)

2nd

980.0

122.50

8

10

0

1

10%

8

Fred Collins
(Galletta's #9)

5th

939.5

134.21

7

9

1

1

11%

9

Jason Mills
(Galletta's #2) $$

9th

482.5

160.83

3

5

1

1

20%

10

Nick Dann
(Galletta's #7, 4, 0, 1)

4th

460.5

115.13

4

6

0

1

17%

11

Kelly Miller
(Galletta's #7, 4)

3rd

320.5

106.83

3

5

1

0

0%

12

Kenny Lindsley III (Galletta's #2, 1)

2nd

250.5

125.25

2

2

0

0

0%

13

Jesse Vivlemore
(Galletta's #5, 0)

2nd

227.5

113.75

2

2

1

0

0%

14

Tony Gonyeau
(Galletta's #1, 7, 0)

®

226.0

113.00

2

3

0

0

0%

15

Soliman Barakat
(Galletta's #4, 1)

®

144.0

144.00

1

2

0

0

0%

16

Dick Dann
(Dann #68)

* = Methanol

4th

142.0

142.00

1

2

0

0

0%

17

Asaad Al-Hanini (Galletta's #2, 7, 1)

®

137.0

137.00

1

2

0

0

0%

18

Todd Sharp
(Galletta's #9)

®

135.0

135.00

1

2

1

0

0%

19

Justin Bonacquisti (Galletta's #5)

®

130.0

130.00

1

2

0

0

0%

20

Josh Chetney (Galletta's #1)

®

124.0

124.00

1

2

0

0

0%

21

Austin Hicks (Galletta's #24)

®

118.0

118.00

1

2

0

0

0%

22

Dan Woodard (Woodard #w5)
* = Stock 6.5hp

1st

118.0

118.00

1

1

0

0

0%

23

Andrew Miller
(Galletta's #0)

®

108.0

108.00

1

1

0

0

0%

24

Nazeha Al-Hanini (Galletta's #7)

®

108.0

108.00

1

2

1

0

0%

25

Terry Miller
(Galletta's #5)

®

106.0

106.00

1

2

0

0

0%

26

Jesse Newcombe (Galletta's #4)

®

106.0

106.00

1

2

0

0

0%

27

Neaiamh Al-Hanini (Galletta's #1)

®

104.0

104.00

1

2

0

0

0%

28

Zack Sawyer (Galletta's #1)

®

95.0

95.00

1

1

0

0

0%

29

Ray Castaldo (Galletta's #7)

1st

88.0

88.00

1

1

0

0

0%

30

Brian Paul
(Galletta's #1, 7, 2)

®

87.0

87.00

1

1

1

0

0%

31

Ken Pierce
(Galletta's #7)

®

86.0

86.00

1

1

0

0

0%

32

Mike "MFC" Howell (Galletta's #2)

3rd

83.0

83.00

1

1

0

0

0%
NOTES: All karts are 1-WD and all Motors are 1-WD 5hp Gas Flatheads with Stock '90s Carb, shaved head, and select pre-approved Dyno Racing Cams (different weight requires different ones allowed; 94-SS is the standard for light/medium weight groups – AKA anybody under 220 lbs.). This means fast, equal speeds and, cheater-free engine-builders, all for low prices. Two karts so far this season were not gas flatheads (a methanol flathead with raptor carb and a gas stock 6.5hp OHV), and although they were allowed to run and scored their full points, but their placement did not penalize anybody else with the same gas flathead motor, who were scored as if the other motored kart was not there.
Some notes about the race that need to be straightened out:
1. Cautions – When to count laps and when not to count: With all of the cautions due to the dry/rough track, the karts getting beat up, drivers dropping out like flies, Ogre again changing the scheduled laps, and the lateness factor, we had to count cautions, which led to 30 green + 15 cautions = 45 laps. Usually we ONLY count cautions with the Galletta's Klassic 200, but the conditions led to a compromise. Usually, if there is a caution and the leader hits the start/finish line, we count that lap unless it is the final lap. The final lap must always be a completed green. However, if someone spins or leaves the track on the final lap and is not in danger of being struck by another kart, then the rest of the competitors can race for the checker.
2. When is a pass official and why do sometimes we have to go back after a caution?: All of the cautions led to positioning errors. So, if a caution comes out, the karts must return to the order of the last completed lap (which counts when the leader crosses the line under the green). However, due to not enough spotters, we are supposed to police ourselves. However, if no official spotter saw the pass, the person passed during an incomplete/caution lap must be the one to go back in front before the race resumes. If there is a dispute for that position, we will consult the tape. Here is the clincher: if the person does not go back in front and does not challenge, then once the green flag falls, this makes it an official pass. However, if one driver does more than one or two of these passes during incomplete/caution laps, and an official spots it on the tapes, you can be docked points. This is how we have scored it for several years now, but I needed to reiterate it here because there was a few complaints of one driver doing this. If all else fails, and there is a dispute on who should lead whom, then the two in question must start side-by-side on the restart, with the person who had the lead on the prior lap on the outside.
3. Some people are getting mad about contact being made and risky daredevil passes.: This one is tricky. As far as Matt and Chris are concerned, if someone makes a clean pass where no contact is made, then this is in fact a legal pass and nobody can really say anything about it. However, some passes can be risky, and one of our visitors is upset with two or three fellow visitors for making these "risky" moves, so I wanted to explain them. We are open wheeled karts, which means that we cannot bump and grind karts out of position as much as the cookie cutter methanol karts with all those shells. So, we MUST give each other adequate respect and room. A little bumper-to-bumper contact or slight wheel brushing is okay, but excessive (meaning one guy gets knocked off enough to lose significant positioning) is usually not allowed at Galletta's because we do not want anybody getting hurt. Since we do NOT allow this type of racing, our accidents and fights are kept to an absolute minimum. I'll try to explain:
Risky move # 1: is what we call a 'banzai' or 'kamikaze' pass. Meaning, Driver A (on the inside) passes Driver B (on the outside) by pulling alongside Driver B on the inside at the end of the stretch and flooring it into the turn low, but NOT maintaining their low groove, thus creating a scenario where if Driver B does not either let off the gas or brake and give Driver A the room, then there will be an accident. While this is not illegal, it is an extremely aggressive/risky move, and occasionally reckless. If one can do it without causing a wreck, then it is a legal pass – although a rude one. But if contact is made, then it can be penalized by going to the rear or being penalized points. Why? Because it can cause an accident. We race clean at Galletta's, and we do not tolerate rough riding and on-track revenge crashes. We haven't had rough riding since 2005, so we like it that way.
Risky move #2: When it comes down to it, the driver behind can usually be blamed more times for an accident than the one in front. The reason being that usually the driver ahead can only see in front and to each side (some drivers have better peripheral vision than others, so each case if different), while the driver behind can see everything in front of them. So, the driver behind usually must be the one who uses discretion on when to make a pass and when to pull out and try again next lap. If you cannot show the driver in front a wheel (or a body), then the driver in front cannot be blamed for contact unless that driver us taking a bad groove and is swooping from line to line recklessly. This is especially bad if someone pushes another driver off the track, or hooks wheels to cause a pileup. This is to be avoided, so use patience and discretion. Do not do a move that you wouldn't want done to yourself. Pass clean, or stay where you are.
Unclean passes: Do NOT bump or push a driver out of a line (and ESPECIALLY do not bump them off of the track or into a barrier) to make a pass. We are not NASCAR, we are open-wheel, and we take pride in the fact that our races are the cleanest and most professional around. If we hook wheels, we can get hurt, and that is a no-no. Our track record of no serious injuries proves that we race clean and do not tolerate rough riders. As I typed above, a little bumper-to-bumper contact (letting someone know you are there) or slight wheel brushing (as long as you are holding a good line and not forcing the other off the track or into a wreck) is okay, but excessive (meaning one guy gets knocked off enough to lose significant positioning or off the track completely, or worse yet, one kart gets airborne) is not allowed at Galletta's because we do not want anybody getting hurt, nor fights breaking out because of perceived purposeful crashes. You will be sent to the rear and if it is a repeated offense, you will also be docked -10 points per time. If you are invading another kart's space (getting anywhere between the bumpers and wheels or getting into a driver's good line) then you are in the wrong. Now, sometimes the spotters do not see it live, and can't make an official judgment without consulting the videotape. If you have a dispute, take it up with a official that you want the tape consulted during a caution. If nobody sees it, we can't place someone in the back. But, if you want the scorers to examine a rough pass, a driver can be docked points after the race if they are found guilty of knocking a driver off the track for a pass on the videotape. We rarely do this, and only do it of it is a truly dangerous, repeated, or overly-aggressive/wreck-inducing/wreck-prone pass(es). Sometimes these are truly accidental, and we make note of that, as one can tell. Some brushing is okay, but truly dangerous or repeated unclean passes will be penalized.
Mostly everybody races well at Galletta's, but I always have to hear about someone cutting someone off or bumping someone. These above notes are considered some rules to stick by for safety and sportsmanship purposes.
Next weekend's race – Sunday, August 23rd, 2009 – has all of the Galletta's Racing Karts booked due to a special All-Galletta's Family Race before the regular season race, so likely only veterans that are in the point-race (drivers with 1 or more races under their belts can race, but only drivers with over 2-3 races are guaranteed a shot at qualifying spots). However, people with their own karts will be able to race regardless, so this does not apply to them – just Galletta's backup karts not already spoken for by regular drivers. We almost always welcome "Rookie/N00bs" but because of the special event, newcomers may have to look at the following weekend's race, or call at least a few days in advance to try and book a ride. Also, new spectators should also probably be kept to a minimum because a lot of people will be here for this event, and our track was designed for racing, not for very many spectators. These conditions will only apply to this event, because it has been booked in advance and also at the property owner's request. Most other races are open for new drivers and spectators. Thank you. OH… but "The Shovel Stalker" is welcome to come on out and have a word with all of the people that he anonymously insulted and threatened on a public forum on behalf of the Oswego Speedway's Dirt Kartway. But he won't, and we all know why.

YouTube And the complete and high quality races found on this site and YouTube can be purchased in ourGalletta's Go-Kart DVD store! Our race photos hosted by Photobucket.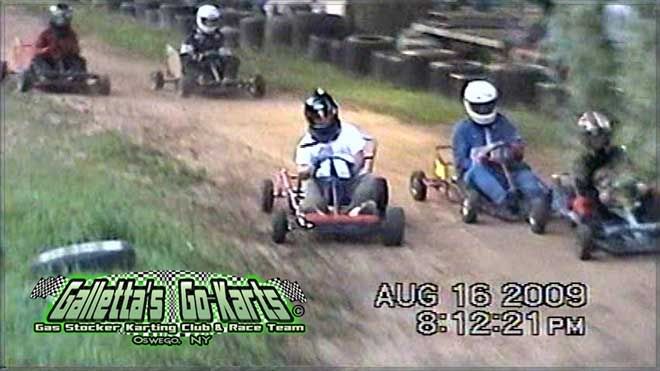 The Galletta's Kart Club 2009 Volume #10 DVD:
Two camera angles of the races held on August 16th, 2009. Twelve competitors, three heats, and a 45-lap feature. Over 1 & 1/2 hours in highest-quality resolution. 16:9 Anamorphic widescreen video, Dolby Digital 2.0 Stereo Surround, and two camera angles of all of the action. Price $5.